Uncategorized
Story Notes for Demolition Man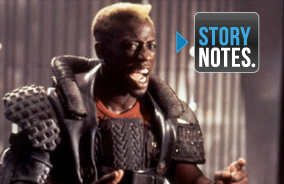 Weeknights during prime time on AMC, you can catch Story Notes — real time trivia and facts about your favorite movies! Below is the online version of the Story Notes for Demolition Man.
Automotive Notes
GM loaned $69 million worth of concept cars to the movie. One is a replica of GM's Ultralite 100-miles-per-gallon concept car.
GM had only one of the Ultralite cars, so Warner Bros. hired a crew to build 11 more.
The 1957 Cadillac Eldorado Brougham was the first car with electronic memory seats. The car could remember the driver's seat settings and adjust accordingly.
One car is a 1989 Cadillac Solitaire concept car. Instead of rearview mirrors, it has video cameras.
Google is developing a self-driving car that could be on the road by 2017. Some states, including California, have already passed legislation to regulate the vehicles.
The 442 car model is considered one of the sportiest Oldsmobiles in history. The other car they considered for the movie was the Pontiac GTO.
Award Note
Wesley Snipes was nominated for an MTV Movie Award for Best Villain (1994).
Biographical Notes
Demolition Man was produced by Joel Silver, who also made Die Hard (1988) and 48 HRS. (1982).
Demolition Man was director Marco Brambilla's first movie. Before this, he was a commercial director.
Two years later, Sandra Bullock would spend more time on a computer in The Net (1995).
In 1998, Wesley Snipes starred in U.S. Marshals, directed by Stuart Baird, the editor of this movie.
Snipes is a fifth degree black belt in capoeira, a Brazilian martial art.
One of Wesley Snipes' first big roles was Willie "Mays" Hayes in Major League (1989).
Sylvester Stallone started smoking cigarettes when he was 12 but eventually quit after F.I.S.T. (1977).
While You Were Sleeping is the name of Sandra Bullock's biggest romantic comedy of the '90s.
Kiss Kiss Bang Bang (2005) was also produced by Demolition Man producer Joel Silver.
Wesley Snipes is from New York. He grew up in the South Bronx.
Sandra Bullock and Denis Leary worked together again in Two If by Sea (1996).
In 1987, Wesley Snipes appeared in Michael Jackson's "Bad" music video directed by Martin Scorsese.
Casting Notes
1993 was a big year for Sylvester Stallone. Before Demolition Man, he'd been in the No. 1 hit, Cliffhanger.
In 1993, Wesley Snipes (Simon Phoenix) was one of the hottest stars in Hollywood. In the previous 2 years, Snipes had starred in White Men Can't Jump (1992) and Passenger 57 (1993).
Steve Kahan is Captain Healy. He also plays Captain Murphy in all the Lethal Weapon movies.
Demolition Man was Sandra Bullock's biggest role to date. A year later she co-starred in Speed (1994).
Denis Leary was just coming off his hit stand-up special, "No Cure for Cancer."
Rob Schneider plays Erwin. He had just become a regular cast member on SNL.
A year later, Bob Gunton played the Warden in The Shawshank Redemption (1994).
Benjamin Bratt was cast after the director saw him in Blood In, Blood Out (1993).
Adrienne Barbeau (Swamp Thing) is the computer's voice. She also voiced the computer in The Thing (1982).
Two years later, Nigel Hawthorne got an Oscar nod for The Madness of King George (1994).
Glenn Shadix is best known for playing Otho in Beetlejuice (1988).
Bill Cobbs (Zachary Lamb) plays a guard in Night at the Museum (2006). He was also in New Jack City (1991) with Wesley Snipes.
Troy Evans has been in a movie with Stallone before. He was in 1984's Rhinestone.
MTV Sports host Dan Cortese sings in the movie. Three months later he played a "mimbo" on Seinfeld
Model Lara Harris was the face of Armani's Gi? perfume.
Lenina Huxley was originally going to be played by Lori Petty (A League of Their Own). They recast the role with Sandra Bullock after filming began.
Jack Black appears in an early role as Wasteland Scrap.
Former wrestler and governor of Minnesota, Jesse "The Body" Ventura has a brief role.
Sylvester Stallone originally suggested Jackie Chan for Simon Phoenix. Chan turned it down because he thought his fans wouldn't like him as a villain.
Finance Notes
It cost $2 million to make 11 Ultralites.
Demolition Man earned over $159 million worldwide. It's the highest-earning movie of Snipes' career.
Historical Notes
At the time, Laserdiscs offered the best video quality. By 1996, DVDs were already replacing them.
Pancho Villa was a Mexican revolutionary, known for fighting for the poor.
Like John Spartan, the ancient Spartan warriors were known for their indifference to pain.
Location Notes
They shot outdoor scenes in business complexes to make the future seem bland.
Huxley's apartment building is really the Pacific Design Center in West Hollywood.
The Pacific Design Center is nicknamed "The Blue Whale" because of its cobalt-blue glass.
The 2nd St. Tunnel was also used in Blade Runner, which takes place in a future Los Angeles.
Some scenes were shot on the Imperial Highway in El Segundo. It hadn't yet opened to the public.
Music Notes
Sting re-recorded "Demolition Man," his song with The Police, on an album released with the movie.
Demolition Man was scored by Oscar-winning composer Elliot Goldenthal (Heat, S.W.A.T.).
Pop-Culture Notes
The freezing technique was borrowed from Cat's Cradle by Kurt Vonnegut. The filmmakers used a lot of futuristic novels as references for the movie.
HAL was the name of the computer in Stanley Kubrick's 2001: A Space Odyssey.
Simon Phoenix's blonde hair is the reason NBA Hall of Famer Dennis Rodman started dying his hair. Rodman liked the movie so much, he saw it two nights in a row.
Stallone had duplicates of the frozen John Spartan put on display at Planet Hollywood restaurants. He was one of the original investors in the restaurant chain.
San Angeles was going to be the name of the city in Blade Runner (1982).
Several websites claim to have figured out how to use the three seashells.
The Armour Hot Dogs jingle played in the movie is from the 1960s.
Phasers were created for Star Trek as an alternative to lasers.
Spacely Sprockets was where George Jetson worked on The Jetsons.
Raymond Cocteau's name is a reference to French visionaries Jean Cocteau and Raymond Radiguet.
Taco Bell used Demolition Man to unveil their new pink and purple logo.
Director Marco Brambilla used the movie Brainstorm (1983) as a reference for the virtual sex montage.
Fans have paid over $1,000 for a San Angeles Police Department uniform worn in the movie.
The Ken-L-Ration jingle from the '60s is based on Tom Paxton's "My Dog's Bigger Than Your Dog."
Behavior control of criminals was also in A Clockwork Orange, a favorite movie of director Marco Brambilla.
Press Notes
Phoenix's wild wardrobe was compared to Jack Nicholson's Joker in Batman (1989).
The Examiner ranks Demolition Man as one of the "Top 10 Sci-Fi Movies of the '90s."
Prop Note
The sex simulator was designed to look elegant, like something you stored in a jewelry box.
Quotation Notes
Stallone on the cryogenic freezing scene: "[That] was probably the worst five hours I've ever had on movie sets… I was terrified."
Director Marco Brambilla: "Even though everything seems to be perfect and beautiful and placid… it's boring as hell."
Brambilla: "Wesley at first actually didn't want to do the movie." Brambilla said producer Silver "won't take no for an answer.
Brambilla says Wesley Snipes has a "manic energy" and was always moving on set.
Sandra Bullock says she considered Stallone her big brother on set.
Director Marco Brambilla: "I wanted Phoenix to always have the upper hand each time they meet."
Script Note
Denis Leary's part was rewritten after he was cast. They wanted to let him rant.
Set Notes
The opening set was inspired by the L.A. riots that happened just six months before filming began.
The Department of Water and Power building in L.A. — which was already scheduled for destruction — was blown up for the movie.
The lifecast of Stallone was created by the effects team from Jumanji (1995).
During rehearsals, Wesley Snipes starting reciting his lines in Spanish and they thought it was funny.
Snipes moved so quickly during fight scenes, they had to ask him to slow down so the audience could follow the action.
They originally planned to have Snipes and Stallone meet face-to-face without a fight… but then decided it would be much better if they tried to kill each other.
The fight scenes in Demolition Man were all choreographed to be somewhat cartoonish. The violence was meant to be a little tongue-in-cheek.
Taco Bell was the only restaurant that agreed to be shown in the R-rated Demolition Man.
The giant fireplace made the set about 105-110 degrees Fahrenheit.
Spartan's apartment was inspired by contemporary Japanese architecture.
Source Note
Lenina Huxley is named after science-fiction writer Aldous Huxley (Brave New World). Her first name, Lenina, is a nod to one of that book's main characters, Lenina Crowne.
Tech Note
In 1991, IBM introduced personal computer video conferencing.
Trivia Notes
The first working retinal scanner was built in 1981 by Robert "Buzz" Hill.
In California, "187" really is the police code for murder.
The average police officer makes about 20 arrests per year.
There actually was a "Big One of 2010" in California. It measured 7.2 on the Richter Scale.
In mythology, the Phoenix is a bird that burns its nest and is reborn from the ashes.
In some foreign countries, Pizza Hut was used instead of Taco Bell. Both restaurant chains were owned by PepsiCo at the time.
The Love Boat premiered in 1977, less than a year after Rocky (1976).
Other stories that have restrictions on sex are The Handmaid's Tale and 1984.
As of 2012, Stallone has only died in two movies: F.I.S.T (1978) and Death Race 2000 (1975).
Even the cheapest Rolex is about $3,000.
In 1992, Jeffrey Dahmer was sentenced to 957 years in prison. In some cuts of the movie, the reference to Dahmer was edited out.
By 2011, there were still only about 200 people in the United States who had been cryogenically frozen. None were prisoners.
Wardrobe Notes
The futuristic civilian costumes were inspired by Japanese styles. They assumed clothes would have more fabric to protect people from the damaged ozone layer.
One of Bullock's dresses was made of stones and jewels and weighed 40 lbs. A seam split during one scene.
Wesley Snipes' shoulder pads are made out of tire treads and other car parts. Oscar-nominated Bob Ringwood (Troy) designed the costumes.
Some Story Notes movies give you a chance to win $500 via the Golden Note sweepstakes. Go to the Story Notes homepage for a full schedule of relevant films.
Read More