Comic Book Men
Q&A – Kevin Smith Answers Questions From Comic Book Men Fans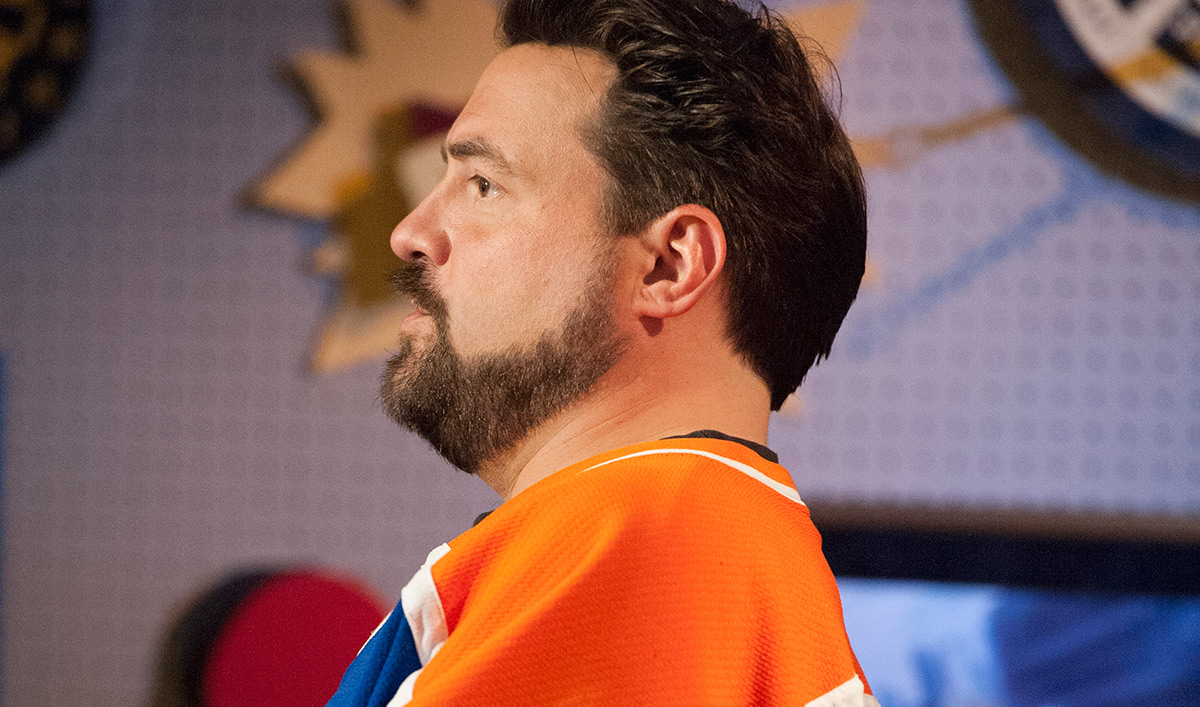 Comic Book Men's executive producer Kevin Smith sat down to answer questions from the fans. Read on to get Smith's thoughts on the future of print comics and his favorite comic book cover.
Q: If given the option, would you join the Justice League? – batsy
A: Yeah. Absolutely. But only in a desk job. I don't want to be on the streets. Are you kidding me? But put me on monitor duty. I'd be amazing. Justice League monitor duty! You're watching monitors from all over the world. I could do that.
Q: Which superhero do you think would be coolest to meet? – Chris M.
A: Superman always comes across as super-nice guy who knows how to deal with his public. He's like the Bono of superheroes. We all know I'm a Batman fan, so it's tempting to say Batman. But he seems more like the Bill Murray of superheroes. You want to appreciate his work from a distance.
Q: You've said you don't want to make movies anymore but if Disney asked you to make the Boba Fett movie would you do it? – Ben M.
A: If Disney asked me to see any Boba Fett movie, I would happily do it. Make it? No. I would refer to Joe Johnston, the director of The Rocketeer and the Captain America movie. Back in the day, Joe Johnston worked as a designer for George Lucas, so he designed the look of most of my childhood: the AT-ATs (the snow walkers from The Empire Strikes Back), the Millennium Falcon, and he designed the look of Boba Fett. That's chiefly why people like Boba Fett — it's what he looks like. Everything you like about Boba Fett came from the mind of Joe Johnston, so you might as well let that dude make the movie. And I'd buy the first ticket.
Q: Dynamite is publishing your Bionic Man comic. What other TV show would you like to see become an ongoing comic? – goof
A: I think Twin Peaks would make a great comic book. It was a dark, weird show that dabbled in the supernatural. And the super-heroic — just not with costumes or anything. So that, to me, would make a great indie comic book. It's certainly not a superhero comic, like most people think of comics. But the comics world is so wide and varied, there's room for lots of different story telling. There are a large portion of stories being told that don't involve dudes in capes and ladies in tights. It would be a great Vertigo title.
Q: What's your favorite comic book cover of all time? – Dan G.
A: Wow, what a great question. Hmmm… With this one I'm gonna go personal. There's a cover of Green Arrow #13. Its an issue that I wrote. Matt Wagner did my favorite comic book cover of all time and it just so happens to feature a villain that I created named Onomatopoeia. The cover is a dude surrounded by a bunch of onomatopoeia on the page. So a lot of "clang, zap, boom, crack." He is breaking a green arrow and in a word balloon — a tiny word within a larger word balloon — he says very quietly "snap." I have the original artwork and everything. That is my favorite cover of all time.
Q: If your daughter had been a boy, what Batman character would you have named him after? – goof
A: We would have named him Batman Jr. [Laughs] I did ask my wife, "If we have a boy, can we name him Batman?" She said no. Actually, we were so in love with the name Harley Quinn, if she had been a boy we were just going to name her Charlie Quinn.
Q: If you were a Jedi Master, what color would your lightsaber be? – Capgunkid
A: I'd go for black, because I've not seen that done yet. And, you know… always bet on black.
Q: What are your thoughts on digital comics, and how will they affect the industry? Do you ever see us going completely away from print? – Will S.
A: I don't know that we'll ever get completely away from print. You gotta keep the paper alive for the collectibility of it all. You can't collect a digital comic. You can't get it signed. You can't take it to your favorite creator and see them hold it. Can't bag and board it. Can't put it nicely on a bookshelf. That's what the collectors like about it. So I don't think paper will ever completely go away, no matter how dominant digital becomes. The numbers will vary and continue to shrink. But that's good news for the collectors in the future. Whoever's collecting these limited runs now, as they shrink and get smaller, that's how comic books become valuable. When the "Death of Superman" happened, a lot of people went out and invested in it. They call them speculators. They bought it thinking, This is going to be worth millions one day! The same way that the first issue of Action Comics is worth a lot of money. But that first issue of Action Comics is worth money because there weren't a lot of them in circulation. Plus, at the same time, a lot of mothers — you hear this story over and over again — as kids grew up, they just threw their comics out. So there's not a bunch of them to find in mint condition. That's why the book is valuable. Something like the "Death of Superman," there are so many of those available that they'll never be insanely valuable. However, with the low-print runs that they're doing in the world of paper comics now, a lot of these have a chance, in 20, 30, 40 years, of becoming the Action Comics #1 of today.
Q: Which comic book hero would you like to see as a villain, and which villain as a hero? – David
I'll go easy first: villain as hero would be Deadshot. He's a DC Comics character, he's a master assassin, has one of the coolest costumes in comic books. He's always trying to kill Batman, but even though he's a master assassin, he can never seem to get that job done. His character worked for the Suicide Squad at some point, which was indentured servitude to the government. These super-criminals were caught and the government gave them the choice: work for us and get your freedom or spend the rest of your life in jail. So Deadshot can be a force for good. His costume — he's like the Boba Fett of the DC universe — does most of the talking for him. He's got these wrist-gauntlet guns. So he'd be a cool-looking hero.
As far as the ultimate hero turned villain, I'm going to go with Ray Palmer as the Atom. Now follow me on this, this is terrifying: His ability is to shrink to microscopic, sub-atomic size. This guys gets into your pore, into your bloodstream, travels up to your brain on a red blood cell, and then goes normal size and just bursts out of your head. And I mean, how could you catch him? He's tiny. He could travel on cellphone waves. That's how tiny he can go! So, I say Ray Palmer as the Atom could be perhaps the greatest threat that comic books have ever known.
Read More