Uncategorized
Flashback Five – Adam Sandler's Best Movies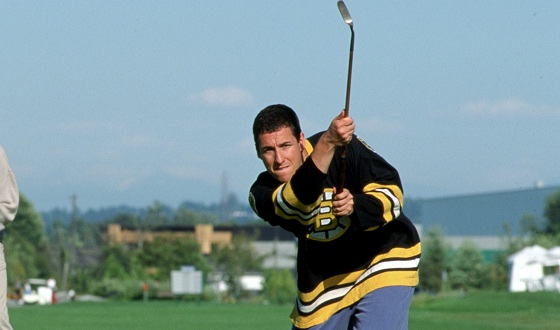 When it comes to being funny, Adam Sandler rules… literally. Many of his comedies have been No. 1 at the box office and rank among the highest-grossing of all-time. Sandler has also enjoyed critical acclaim, too — and not just when making people laugh. Who knows? One day Sandler could join the likes of, say, Tom Hanks and Robin Williams as a former comedian-turned-Oscar winner. But, for now, here's a look back at his best work….
1. The Wedding Singer (1998)
This sweet love story makes the most of the talents that propelled Sandler from SNL comic to movie star. Fans of "The Chanukah Song" will appreciate his tongue-in-cheek ballads like "Somebody Kill Me"; few can hold a candle to Sandler when it comes to making the sad sack with a broken heart hilarious.
?2. Happy Gilmore? (1996)
As a guy named Happy with anger issues, Sandler's turn-on-a-dime timing is at its best. His signature sotto voce that gives way to rage makes for big laughs whether he's trying to save grandma's house from repossession or getting his butt kicked in a brawl with The Price Is Right's Bob Barker.
3. Punch-Drunk Love (2002)
Paul Thomas Anderson (There Will Be Blood) directs Sandler in his first dramatic role. Once again, Sandler headlines as a guy with anger issues. This time around the results are lurid. It's a subtly nuanced performance that tackles a range of emotions from inner turmoil to tenderness.
?4. Billy Madison (1995)
On paper, a spoiled hotel heir who wastes his days with drinking and fart jokes isn't that sympathetic. But in the hands of Adam Sandler, the bigger the juvenile antics, the bigger the heart of gold underneath. Billy Madison's charms are hard to resist.
5. 50 First Dates (2004)
?Sandler reunites with his The Wedding Singer co-star Drew Barrymore for this romcom about a womanizer who falls in love with an amnesiac. Sandler makes for a convincing playboy and taps into a role that most ladies probably wouldn't expect from him: sex symbol.
Honorable Mentions
1. Big Daddy (1999)
Sandler's comedy about a slacker law student who ends up adopting a young boy offers an irreverent take on the trials and tribulations of parenthood.
2. Spanglish (2004)
As the father of an American family who finds himself falling for his Mexican nanny, Sandler gives a poignant portrayal of a man torn between two worlds.
3. The Waterboy (1998)
Sandler's Bobby Boucher, a dimwitted waterboy who finds he has a talent for football, is arguably one of his most endearing roles ever.
4. Reign Over Me (2007)
Sandler takes another foray into drama, this time as a man consumed by grief after losing his family in the 9/11 attacks.
5. Anger Management (2003)
This flick answers the question: What would happen if Sandler went up against the master of on-screen rage-a-holics, Jack Nicholson?

Don't see your favorite Adam Sandler flick on this list? Leave it in the comments below and it may be added in the future.
Click here for the full AMC schedule of Happy Gilmore.
Read More