Uncategorized
Story Notes for The Wedding Planner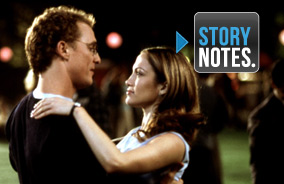 Weeknights during prime time on AMC, you can catch Story Notes — real time trivia and facts about your favorite movies! Below is the online version of the Story Notes for The Wedding Planner.
Biographical Notes
Jennifer Lopez's parents are from Puerto Rico. They met while living in New York City.
Director Adam Shankman is also a successful dancer and choreographer. He went on to direct the
movie musicals Hairspray (2007) and Rock of Ages (2012).
Golf Digest named McConaughey one of the "Top 20 Celebrity Golfers" in 2009.
Justin Chambers (Massimo) is a former Calvin Klein model. This was only his second movie.
In real life, McConaughey says he loves to run outdoors, especially in exotic locations.
Bridgette Wilson-Sampras married Pete Sampras at his Beverly Hills home.
In 2012, McConaughey married his longtime girlfriend, Camila Alves, in front of 100 guests at
their home. John Mellencamp played music, and McConaughey whispered his vows in his wife's ear.
McConaughey went to college at the University of Texas in Austin.
Justin Chambers (Massimo) helped build a real home on TV's Extreme Makeover: Home
Edition.
On opening weekend, Lopez became the first person to have a No. 1 movie and a No. 1 album in the same
week.
Blooper Note
The date for the wedding is Saturday June 6, 2001, but that year June 6th was on a Wednesday.
Casting Notes
Jennifer Lopez was just coming off dramatic roles in Out of Sight (1998) and The
Cell (2000).
Alex Rocco (Salvatore) plays Moe Greene in The Godfather (1972).
Frances Bay (Dottie) plays Grandma in Happy Gilmore (1996).
Justin Chambers (Massimo) is also Dr. Alex Karev on Grey's Anatomy.
The newsstand guy is The Wedding Planner cinematographer Julio Macat.
Kathy Najimy (Geri) is also in Sister Act (1992). She's also the voice of Peggy on King of the Hill (1997-2010).
Judy Greer (Arrested Development) was the first of 79 actresses to audition for the role of Penny. She also plays the best friend in 13 Going on 30 (2004) and 27 Dresses (2008).
The guy who gives the toast in the beginning is Kathy Najimy's husband, Dan Finnerty. He also plays a wedding singer in Old School (2003) and The Hangover (2009).
Bridgette Wilson (Billy Madison, 1995) married tennis player Pete Sampras after this
movie wrapped. This is the first movie where she's credited as Bridgette Wilson-Sampras.
Charles Kimbrough (Fran's dad) played news anchor Jim Dial on Murphy Brown (1988-
1998).
Tony winner Joanna Gleason (Mrs. Donnolly) has a career that covers three decades with roles on
stage, TV, and film.
Matthew McConaughey had just starred in the action thriller U-571 (2000).
Lou Myers (Burt) is on A Different World (1988-1993).
Fred Willard (Basil St. Mosley) is also in Waiting for Guffman (1996) and Best in
Show (2000).
Kevin Pollak (Dr. John Dojny) is also in The Usual Suspects and Casino (both
1995).
The band's piano player at Fran's wedding is Marc Shaiman, who co-wrote the Broadway musical
Hairspray.
Finance Notes
It opened at No. 1 and made almost $95 million worldwide.
The Wedding Planner made Jennifer Lopez the highest-paid ($9 million) Latina woman in film
history.
Health Note
Doctors say a beer in the morning only numbs the pain and can make your hangover worse.
Location Notes
Booking a wedding at Pasadena's Westminster Presbyterian Church cost $2200 in 2012.
The Wedding Planner is set in San Francisco. It was filmed there as well as in L.A.
The dance studio is the same one where Jennifer Beals auditioned in Flashdance
(1983).
The Filoli House and Gardens is estate is also featured on Dynasty (1981-1989).
Scenes from My Best Friend's Wedding, The Wedding Singer, and American
Wedding were also shot at Pasadena's Huntington Gardens.
Love Notes
Lopez was dating Sean Combs (P. Diddy) during filming. They split up soon after the movie
opened.
Justin Chambers married model Keisha Chambers in 1993. They have five children.
Music Notes
"In Good Time" by Jessica Sheely, 2001.
"I Honestly Love You" by Olivia Newton-John, 1974. The song was Newton-John's first No. 1 single
in the U.S. and won the Grammy for Record of the Year.
Original music was composed by Mervyn Warren who won four Grammys with a-cappella group Take 6.
"Adore You" by Nikki Anders, 2001.
"Plan on Forever" by Dana Glover and Mervyn Warren, 2001.
"We'll Find It" by Sister Hazel, 1997.
Pop-Culture Notes
In 2012, Rupert Murdoch was listed as the 24th "Most Powerful Person in the World" by
Forbes. The same year, Forbes named Jennifer Lopez the "Most Powerful Celebrity
in the World."
This was the first time either Lopez or McConaughey starred in a romantic comedy. Lopez later
starred in Maid in Manhattan (2002), McConaughey in How to Lose a Guy in 10 Days
(2003).
Marcus Welby was a fictional TV doctor from the late-'60s to early '70s.
Lopez was named People's "Most Beautiful Woman" of 2011. It was her 11th time on the list.
The movie playing towards the end of The Wedding Planner is Flirtation Walk (1934).
Press Notes
Critics called The Wedding Planner "the best date movie" of 2001.
The Washington Post compared this to Maria and Tony meeting at the dance in West Side
Story. West Side Story was Jennifer Lopez's favorite movie as a kid.
Roger Ebert: "When you have seen Jennifer Lopez ungluing marble genitals from the hand of the
man she loves, you have more or less seen everything."
Prop Note
The pillow Lopez cries on was so expensive that the props team freaked out when she got lipstick on
it.
Quotation Notes
Lopez: "[Planning a wedding] is almost like putting on a stage production."
Jennifer Lopez: "I don't alphabetize anything. I'm not a perfectionist about stuff like that…
In my personal life, I'm the most laid-back person, but when it comes to my work, I'm a total
perfectionist."
Director Adam Shankman: "Making this movie… was like multimillion dollar therapy [for] my
issues about love."
Judy Greer has said she likes to play the sidekick because "you get the funniest jokes, the best
lines…and you don't have to go to work every single day."
Director Adam Shankman: "This movie should have been called Two Ladies, a Doctor, and a Tube of
Lip Gloss."
Lopez said of all the characters she'd played, Mary was the closest to her real-life
personality.
Jennifer Lopez says romantic comedies are her favorite kind of movie. Her all-time favorite is
When Harry Met Sally… (1989).
Matthew McConaughey says he first fell in love at age 13.
Bridgette Wilson-Sampras: "Personally, I didn't have those moments [of doubt]."
She says her biggest worry before the wedding was not tripping in the aisle.
Matthew McConaughey: "It felt like being back in the ninth grade, that first…
relationship."
Dir. Shankman: "It's destiny when two people from different worlds meet. They need to come
together… This film is about risking your heart and not being afraid to go for it."
Random Notes
"Earwax" is one word.
Both "OK" and "YES" would score six points in Scrabble. "NO" would only score two.
Script Notes
Writers Pamela Falk and Michael Ellis got the idea for the movie from an ad for a wedding planner
class. They were a couple when they started writing the movie but broke up by the first
rewrite.
In the original script, Mary's family was from Armenia. It was changed to Italy to reach a wider
audience.
Screenwriters Falk and Ellis interviewed real wedding planners at the Los Angeles Festival of
Brides. Falk: "We had lunch with one wedding planner who told us that she didn't even believe in
marriage."
Geri was originally written as a man, but the writers decided a woman would more likely run this
company.
In the original script, Penny was an older British woman.
Screenwriters Pam Falk and Michael Ellis once spent eight months playing Scrabble every day.
According to the writers, Fran's parents met as singers on The Lawrence Welk Show.
Nancy Pong is the name of the screenwriters' old landlady.
Set Notes
It was Jennifer Lopez's idea to run when she's hidden behind the pillars.
Lopez kept a file of hairstyles she wanted to try in different scenes.
The "African safari" line was ad-libbed by Judy Greer.
Basil (Fred Willard) is based on dir. Adam Shankman's dance instructor from Juilliard who hit
him once with a stick.
McConaughey had a hard time saying his lines during the dance lesson scene. He was busy counting
his dance steps. It took about two months of lessons for McConaughey to learn how to tango.
Justin Chambers (Massimo) pulled a rib during filming.
During the horse riding scene, Jennifer Lopez is actually riding on a metal barrel on the back of a truck.
The stunt riders doubling for McConaughey and Lopez were brother and sister.
Justin Chambers (Massimo) had never attempted an accent on-screen before this movie.
Lopez rarely drinks. She did, however, drink vodka out of the beer bottle she's carries in the
movie
Trivia Notes
According to wedding expert Laura Pepper, a bride's biggest fear is not fitting into her dress.
Many wedding planners have tool kits with super glue, aspirin, contact lens solution, and breath
mints.
Based on the square footage, Mary's apartment would cost about $4 million.
Wedding planners make anywhere between $15,000 to over $100,000 a year.
The outer shell on M&Ms is sugar, not chocolate, so even the brown ones are dyed.
The tradition of breaking plates at Greek weddings originated as a way of warding off evil
spirits.
According to a 2010 survey by The Knot, 19 percent of brides hire a professional wedding
planner.
The average man can only do one chin-up.
In 2011, the most popular wedding colors were blue, purple, and green.
The most popular wedding flowers are peonies, according to New York Magazine.
According to a 2011 study, 86% of brides have at least one bridal shower.
Sugar Pie DeSanto was an R&B singer in the '50s and '60s.
Limos cost an average of $669 per wedding, according to a 2011 survey.
The tradition of not seeing the bride in her gown before the wedding day is from when most
couples had arranged marriages and met for the first time at the altar.
According to one study, 40% of brides and 50% of grooms have wedding anxiety.
Ten to fifteen percent of weddings are called off every year.
Over two millions couples marry in the U.S. every year. That's more than 6,200 a day.
As of 2012, Lopez has been married 3 times, to Ojani Noa, Cris Judd, and Marc Anthony.
Wardrobe Notes
Costume designer Pam Withers modeled Mary's style after icons like Audrey Hepburn and Jackie
Kennedy.
In the dance studio scene, Steve and Mary are wearing different shades of red to show that they
are clashing.
Fran's dress is Vera Wang. Bridgette Wilson-Sampras also wore Vera Wang at her wedding.
Some Story Notes movies give you a chance to win $500 via the Golden Note sweepstakes. Go to amcgoldennote.com for a full schedule of relevant films.
Read More