Uncategorized
Story Notes for The Transporter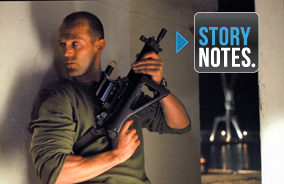 Weeknights during prime time on AMC, you can catch Story Notes — real time trivia and facts about your favorite movies! Below is the online version of the Story Notes for The Transporter.
Anthology Note
The Transporter's success led to sequels in 2005 and 2008.
Automotive Notes
Jason Statham's car is a one-of-a-kind BMW 7 Series.
The body of Frank's car might be a 735i, but the V12 under the hood is only available on the 750i.
Award Note
Action director Cory Yuen has been choreographing fights for over 40 years. He's been nominated 14 times for Best Action Choreography at the Hong Kong Film Awards.
Biographical Notes
When Jason Statham was a kid, he wanted to be a race car driver.
Frank's client is played by artist Didier Saint Melin. His paintings have been displayed at museums around the world.
Director Letterier and co-writer Besson made a movie in 2005 called Unleashed.
Jason Statham used to be a black market salesman on the streets of London.
Statham knew how to kickbox but had to train in martial arts before shooting began.
A year earlier, Matt Schulze starred as an assassin in Downward Angel (2001).
Jason Statham's first movie role was as a con man in Lock, Stock, and Two Smoking Barrels (1998). Statham won the part because he used to sell cheap (read stolen) jewelry and perfume to people on the streets of London. He met an investor at one of his modeling photo-shoots and the investor set up a meeting with Ritchie.
Jason Statham's "kind face" earned him modeling work for French Connection and Tommy Hilfiger.
Jason Statham was once a member of the British national diving team.
Shu Qi won Taiwan's equivalent of an Academy Award for Your Place or Mine (1998).
Co-writers Luc Besson and Robert Mark Kamen also wrote about human trafficking in Taken (2008).
Besides acting, Matt Schulze is an accomplished guitar player and once auditioned for Guns N' Roses.
A year later, Statham drove a much faster boat through the Venice canals in The Italian Job (2003).
Ric Young first worked with co-director Cory Yuen on Kiss of the Dragon (2001).
Co-director Louis Leterrier went on to direct The Incredible Hulk (2008) and Clash of the Titans (2010).
Ric Young also played the evil Dr. Lee, a.k.a. "Suit and Glasses," on Alias (2001-2004).
Casting Notes
The Transporter (2002) is the movie that made Jason Statham an international star. This part was written for Statham after producers saw him in 2001's The One with Jet Li.
François Berléand (Inspector Tarconi) stars in the Oscar-nominated movie The Chorus (2004).
François Berléand plays the boss on Le Bureau (2006), the French version of The Office.
Before The Transporter, Shu Qi starred in the Asian version of Charlie's Angels, also directed by Cory Yuen.
In 2001, Matt Schulze played Vince in The Fast and the Furious.
Ric Young plays Kao Kan in Indiana Jones and the Temple of Doom (1984).
Finance Notes
Bearer bonds don't have registered owners, so they're popular targets for thieves.
Since The Transporter, Statham's movies have earned nearly $2 billion at the box office.
The Transporter series has earned over $235 million at the box office.
Health Note
While preparing for a movie, Jason Statham goes on a strict 2,000-calorie-a-day diet.
Location Note
The opening chase was shot in Cannes, France, home of the annual Cannes Film Festival. It was the first time the famous Boulevard de la Croisette had ever been closed for a car chase.
Music Notes
The song playing in the bar is "Boogie 2nite" by Tweet, released in 2002.
"Muzik" by Knoc-Turn'Al, 2002. This song was produced by Kanye West two years before his first album.
"Fighting Man" by DJ Pone & Drixxxe, 2002.
"I Got Love" by Nate Dogg, 2001.
"Scream a.k.a. Itchin'" by Missy Elliott, 2001.
Music for The Transporter was composed by Grammy-winning bass player Stanley Clarke. He also scored 1991's Boyz N the Hood.
Press Note
The Washington Post called The Transporter "a poke in the adrenal gland."
Quotation Notes
Jason Statham on the opening car chase scene: "It was actually me who wanted to be sick, not the guy in the back."
Jason Statham says he failed his driving test "two or three times" before he got his license.
Jason Statham says he's not at all like his character in The Transporter. "I've got a big mouth and I break every rule in the book."
Matt Schulze wanted his character to be "slim and sort of like a raven…I lost like 40 pounds for the role. I fasted for 16 days."
Producer Steve Chasman: "[Matt Schulze] plays a very good bad guy. Very intense…. We wanted to have someone who could really go toe-to-toe with Jason."
Statham says Berléand hates Madeleines: "They're the most repulsive thing he's ever put in his mouth."
François Berléand (Inspector Tarconi) thinks of his character as a "French Columbo."
Ric Young: "He sees himself as helping all these poor people come to France and work."
Jason Statham: "I'm very fond of [that] T-shirt fight. I love that stuff."
Statham on actor Jean-Marie Paris: "Such a nice guy, but such a big old monster."
Press Note
Critics sometimes refer to Statham as the "British Bruce Willis." They've both appeared in The Expendables movies.
Script Note
The Transporter was written by Robert Mark Kamen (The Karate Kid) and producer Luc Besson (The Professional). Before this, they co-wrote Besson's The Fifth Element (1997).
Set Notes
Jason Statham did almost all the driving during the car chases.
Louis Leterrier directed the dialogue of the movie, and Cory Yuen, a veteran of Hong Kong action movies, directed the action.
Jason Statham's contract said that he would do all his own stunts. Statham: "I don't think there should be any shortcuts. Be a man! Take the blow! Don't be a wimp!"
Jason Statham learned how to hot-wire a car just for one scene. "Would've liked to know that when I was about 15."
Jason Statham pulled the tape off Shu Qi's mouth so many times she got a rash.
Shu Qi spoke almost no English when she was cast in The Transporter. Producers gave her the script early so she could practice with an English teacher in Hong Kong.
Shu Qi had trouble pronouncing "Madeleines" so they had her read it from the cookbook to make it easier.
Because of the language barrier, Shu Qi and Jason Statham couldn't communicate off-screen. Shu Qi: "It was like rooster and duck all day long."
One of the falling embers from the house explosion hit Statham and set his hair on fire.
Jason Statham took SCUBA lessons from Jean-Marc Barr. Barr was the star of producer/writer Luc Besson's movie about freediving, The Big Blue (1988).
They used a giant tow truck to pull the big rig down the highway. It had cameras mounted to the outside. It's really Jason Statham hanging off the bottom of the truck. "I had a wire up my leg and they assured me I was quite safe. There was a lot of hanging on to do."
Trivia Notes
According to The Economist, bank robbers in the United States are successful 90 percent of the time.
The fastest tire change ever was 2.31 seconds, done by a pit crew at the German Grand Prix.
The Michelin Man is named Bibendum, from the Latin for "drinking to be done."
The average person in France drinks over 70 gallons of milk per year.
An army pension comes to vets of the British military after 18 years of service.
Past tense doesn't really exist in the Chinese language. Verbs don't change tense.
Since 2003, France has contributed over $1.4 million for victims of trafficking.
In 2007, France banned smoking in all public places.
Marseilles is the second largest city in France and its largest port.
Jason Statham's favorite action movie of all time is Enter the Dragon (1973) starring Bruce Lee.
In 2009, a freediver set a world record by holding his breath under water for over 11 minutes.
During a freefall, a skydiver travels about 115 miles per hour.
Some Story Notes movies give you a chance to win $500 via the Golden Note sweepstakes. Go to the Story Notes homepage for a full schedule of relevant films.
Read More