Uncategorized
Story Notes for The Green Mile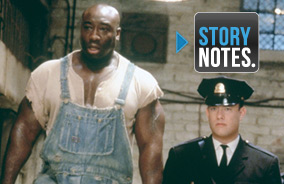 Weeknights during prime time on AMC, you can catch Story Notes — real time trivia and facts about your favorite movies! Below is the online version of the Story Notes for The Green Mile.
Awards Notes
The Green Mile earned an Oscar nomination for Best Sound.
Patricia Clarkson earned an Oscar nod playing a woman with breast cancer in Pieces of April (2003).
Michael Clarke Duncan won a Golden Globe and was nominated for an Oscar for this performance.
The Green Mile earned an Academy Award nomination for Best Picture.
Biographical Notes
Five years before The Green Mile, director Frank Darabont adapted another King story, The Shawshank Redemption (1994).
David Morse appeared in an episode of Tales from the Crypt written by Frank Darabont.
Doug Hutchison creeped out audiences with his guest turn as Eugene Voictor Tooms on The X-Files.
James Cromwell also plays a prison warden in The Longest Yard (2005).
Michael Jeter (Delacroix) later starred in Welcome to Collinwood (2002), another prison movie.
In real life, James Cromwell is two inches taller than Michael Clarke Duncan.
For emotional scenes, Michael Clarke Duncan would recall his father leaving him as a child.
Casting Notes
Dabbs Greer plays Reverend Robert Alden on "Little House on the Prairie" (1974-1983).
Mack Miles (Hector) plays Tyrell in The Shawshank Redemption. Director Frank Darabont uses many of the same actors in his movies.
In 2002, Barry Pepper (Dean Stanton) was nominated for a Golden Globe for playing Roger Maris in 61*.
David Morse (Brutal) starred in adaptations of Stephen King's The Langoliers and Hearts in Atlantis.
In 1999, Tom Hanks was the most successful movie star in the world. His previous 10 movies were all critical successes and earned over $3.2 billion worldwide.
Michael Clarke Duncan was coming off his first major movie role as Bear in Armageddon (1998).
Doug Hutchison (Percy) plays Horace Goodspeed on Lost (from 2007-2009).
After working with Duncan on Armageddon, Bruce Willis called The Green Mile director Frank Darabont. Willis told Darabont, "I've got your John Coffey."
William Sadler plays Heywood in director Frank Darabont's The Shawshank Redemption (1994).
n 1996, James Cromwell (L.A. Confidential, The Artist) earned an Oscar nomination for Babe.
Jeffrey DeMunn (Harry Terwilliger) also worked with director Frank Darabont on The Shawshank Redemption (1994).
Bonnie Hunt began her career as an improv comic and was in Jerry Maguire (1996).
Harry Dean Stanton starred in the critically acclaimed Paris, Texas (1984). He was also in Alien (1979), one of director Darabont's favorite movies.
Graham Greene (Bitterbuck) earned an Oscar nod for playing Kicking Bird in Dances with Wolves (1990).
Michael Jeter (Eduard Delacroix) also co-starred in Mousehunt (1997).
Sam Rockwell (Bill Wharton) went on to star in Confessions of a Dangerous Mind (2002).
Gary Sinise (Burt) also worked with Tom Hanks on Forrest Gump (1994) and Apollo 13 (1995).
Patricia Clarkson (Melinda) won two Emmys for her role on Six Feet Under (2002-2005). James Cromwell (Hal) plays her brother-in-law.
Finance Note
A dime in 1935 is worth $1.68 today.
Historical Notes
Louisiana didn't actually start using the electric chair until 1941. That's six years after this takes place.
The first electric chair was designed in 1890 by Edwin R. Davis, the electrician at New York's Auburn Prison.
Between 1941 and 1991, there were 87 people electrocuted in Louisiana.
Billy the Kid once escaped from prison by overpowering one guard and shooting another.
Around this time, 37 percent of all non-farm workers were unemployed.
The soda that Wild Bill drinks is Royal Crown Cola. It was invented in 1934, the year before this takes place.
Erotic comic strips like the fictional "Miss Lotta Leadpipe" were known as Eight-Pagers.
Location Notes
Part of the movie was shot in the Blue Ridge Mountains of North Carolina.
The prison is the Tennessee State Penitentiary. Frank Darabont once considered using it in The Shawshank Redemption.
Love Note
Michael Jeter: "The mouse was love. That's all."
Music Notes
"Charmaine" by Mantovani, 1951. This song was also used in One Flew Over the Cuckoo's Nest (1975) at medication time.
"Old Alabama" recorded by Alan Lomax, 1947. Lomax was a folklorist who recorded prisoners singing this blues song at the Mississippi State Penitentiary.
"Cheek to Cheek" was written by Irving Berlin and was nominated for an Academy Award.
"Old Fashioned Love" performed by Eddy Howard (from a show called "Runnin' Wild," 1923).
Composer Thomas Newman (American Beauty, Six Feet Under) is another Frank Darabont collaborator. He scored The Shawshank Redemption.
"Stardust" performed by Eddy Howard, 1940
"I Can't Give You Anything But Love" by Billie Holiday, 1936
"Did You Ever See a Dream Walking" performed by Gene Austin, 1933
Director Frank Darabont calls Thomas Newman's score "a rainbow of music and emotion."
Pop-Culture Notes
The movie playing is Top Hat (1935), starring Fred Astaire and Ginger Rogers.
Weird Tales is a fantasy and horror magazine that was first published in 1923. Stephen King loved it growing up.
The expression about the cheese slipping of the cracker was used in True Blood, which also takes place in Louisiana.
Press Note
Stuff magazine calls The Green Mile one of the "25 Best Prison Movies Ever."
Prop Note
Mr. Jingles' cigar box is from Marsh Wheeling, the oldest cigar manufacturer in the U.S.
Quotation Notes
Director Darabont says Doug Hutchison (Percy) "was a complete surprise walking in to audition for this…. He's so smarmy and oily and yet believable."
Tom Hanks says the movie is about "great myths that communicate the complexities of being a human."
Production designer Terrence Marsh says they gave the prison elongated cathedral-like windows… because there is a very mystical element in this movie, a supernatural element."
Tom Hanks: "If my job is to go and make things that are unique, then this is it."
Bonnie Hunt gained 15 pounds for this role. She jokes, "It only took half an hour."
Director Frank Darabont: "Gary Sinise just crept into my brain. I had always pictured him doing this [role]."
When Michael Clarke Duncan heard he got the part of John Coffey, he immediately called his mother. Duncan: "I said, 'Mom, I'm gonna be working with Tom Hanks!' We started crying."
Frank Darabont: "Sam was the one guy who walked into the audition and I believed he was that guy."
Sam Rockwell: "Wild Bill is a disgusting, racist… freak… But I'd been wanting to play a psycho — a juicy one."
Michael Clarke Duncan: "I'm used to being the big tough guy, the bodyguard type… I had never taken on a role like this."
Tom Hanks: "This is the best type of movie to make. It's that great mystery… It's that great injection of 'you'll never believe what happened here.'"
Michael Jeter said, "It's been the most difficult emotional work I've ever had to do professionally."
Frank Darabont: "There have been real executions that have gone [as wrong as Delacroix's]. I promise you this is not really over the top."
Sam Rockwell: "That's what I liked about Wild Bill — his bravado, his peacock quality. He's a braggart."
Sam Rockwell says he saw Wild Bill as "Huck Finn meets Satan."
Tom Hanks: "With Stephen King, you think you are going to get this particular brand of horror story… but this one is really not like that."
Michael Clarke Duncan: "John Coffey stands for everything that is good about the Earth."
James Cromwell (Hal) describes The Green Mile as "hopeful and bittersweet and complicated."
Frank Darabont: "Michael had this essence that lingered after he walked out of the room."
Patricia Clarkson says preparing herself for [the cancer eradication] scene "was like walking into hell."
Stephen King says Tom Hanks fits this part "like an old shoe."
Doug Hutchison said that every week on set was "a different chapter in Percy abuse."
Tom Hanks: "The logic of Paul Edgecomb was absolutely set in stone from the very beginning."
Director Frank Darabont: "There's something about Michael… You can see his soul shining through his eyes."
Tom Hanks: "I've never had the ensemble experience that I had on The Green Mile…There was a bona fide affection for one another."
Frank Darabont: "To this day, I don't know 100 percent what the story means."
Director Frank Darabont calls The Green Mile "the most satisfying movie of his career."
Set Notes
Fifteen mice were used in the movie. Each spent months being trained to do different tricks.
Many times the actors are looking at a laser pointing at the floor and not a mouse.
Stephen King visited the set and immediately asked to be strapped into the electric chair. He was.
Jeter hired his own dialect coach to perfect Delacroix's Cajun accent.
Mr. Jingles isn't pushing the spool. It's being pulled by a rig that was erased with special effects. The mouse is following a scent that was applied to the spool.
That giant brick wall in the background of the prison is made out of lightweight fiberglass. All the walls could be moved to make room for cameras and lighting.
Michael Clarke Duncan had to stop lifting weights while filming to look more like a man from 1935.
The crew made a small cannon to shoot chocolate goo at David Morse. The goo hit Morse so hard it went up his nose, in his eyes, and into his mouth.
David Morse wasn't amused by the Moon Pie prank. He's allergic to chocolate.
No mice were injured during the stomping scene. They used a puppet.
They patterned the movements of the bugs that come out of Coffey's mouth after swimming fish and swarming insects.
E Block was built as one giant set so cameras could follow actors for longer shots. It's that great injection of 'you'll never believe what happened here.'"
Director Frank Darabont controlled the lightning machine himself to create all the flashes. Darabont: "I have a little control panel with buttons on it and I get to go crazy."
Tom Hanks wasn't pretending to swipe his shirt. The mouse really pooped on him in this scene.
Delacroix is reciting the Hail Mary in Cajun French when he's in the electric chair. Michael Jeter came up with the idea himself.
Coffey's bed was built shorter in order to make Michael Clarke Duncan look like a giant.
Tom Hanks treated the entire crew to a meal every Friday night on set.
In order to make Melinda look strange, makeup artists made it look like she didn't have eyebrows.
Director Frank Darabont had Doug Hutchison wear squeaky shoes to make Percy more broken.
Sam Rockwell says he felt really bad delivering some lines in the flashback sequence because the two little girls liked him.
To make John Coffey look big, this electric chair is smaller than the chair used in other scenes.
Michael was the soul of the cast, according to producer David Valdes. He remembers Tom Hanks crying on Michael's last day of shooting.
Originally, Tom Hanks was also going to play the older version of himself, but the makeup was too distracting.
Source Notes
The Green Mile (1999) is based on Stephen King's novel of the same name.
The Green Mile novel was published in paperback a few chapters at a time. When the first installments hit the shelves, King still didn't have an ending.
The name John Coffey comes from a former professor at Emerson College named John Coffee. Stephen King met him once and liked his name so much he decided to use it in his novel.
In the novel, the guards wonder if the electric chair is powerful enough to kill a man as big as Coffey.
From Stephen King's novel: "If mice had a natural enemy, Percy Wetmore was it."
In the novel, it says Percy was "vain about his hair. Could hardly keep his hands off it."
In the novel, Wild Bill fights off a total of seven guards.
In the novel, Paul estimates that he has a 104-degree fever.
Stephen King was never that specific about what came out of John Coffey's mouth. In the novel, it's described as "tiny black insects."
In the novel, the smell is described as "a mixture of burning hair and organic sponge."
In the novel, Paul compares Coffey's touch to "some strange and wonderful doctor."
The novel said after John healed Melinda, he was "the color of ashes, and he looked ten years older."
In the novel, Paul estimates John weighs 350 pounds.
In the novel, Percy's eyes are described as "wide and blank-double zeros."
In the novel, Paul doesn't reach for John's hand. He investigates Coffey's case on his own.
In the novel, Paul said he wanted to die after Elaine passed away.
Symbolism Notes
Director Frank Darabont says the electricity is meant to sound like a beast being unleashed.
St. Christopher is the patron saint of travelers. He is usually depicted as a giant man.
Director Darabont says it's no coincidence that the projector is creating a halo over John's head.
Tech Notes
The sequence of what Paul sees when he takes John's hand was shot at a slower speed in order to give it a dream-like quality.
Michael Clarke Duncan was holding a light bulb when he resurrects Mr. Jingles, but most of the glow is done with effects.
Trivia Notes
David Morse is 6′ 4″ tall
D.O.E. is short for Date of Execution.
Laughing about a serious event like an execution is appropriately known as gallows humor.
An electric chair shocks the victim with about 2,000 volts. A lightning bolt can deliver up to one billion volts.
In the 1930s, less than half of homes in rural areas had indoor plumbing.
During the Great Depression, one person out of every thousand was in prison. That was the highest rate of imprisonment in the United States until 1980.
Tom Hanks also took a famously long bathroom break in another movie: A League of Their Own (1992), That one lasted 52 seconds.
On average, married couples in the U.S. are intimate 58 times per year.
Stephen King also wrote about a vicious dog in Cujo.
Fire hoses like the one used on Wild Bill can spray about 100 gallons of water per minute.
Baton Rouge is about 60 miles southwest of the state penitentiary in Louisiana.
Dog U in Tallahassee isn't real, but there is a University of Doglando in Orlando.
Delacroix's last words to Mr. Jingles in French are "Goodbye, my friend. I love you, my little one."
Without water, the electricity from the electric chair is dispersed and the person's entire body is cooked to death.
Anyone that helps a convict escape could face over a decade in prison.
Solitary confinement was tried in U.S. prisons in 1829.
"Cassie" likely refers to Cassiopeia, a constellation in the northern sky.
"Old Sparky" was a common nickname for electric chairs, but Louisiana's was called "Gruesome Gertie."
Top Hat (1935) was nominated for 4 Oscars, the same number as The Green Mile.
If Coffey wore the necklace during the execution, it could fuse to his skin.
By the end of the movie, Mr. Jingles is over 60 years old. The average field mouse lives about two years.
Some religions believe "108" represents one, nothing, and everything (infinity).
Some Story Notes movies give you a chance to win $500 via the Golden Note sweepstakes. Go to amcgoldennote.com for a full schedule of relevant films.
Read More