Uncategorized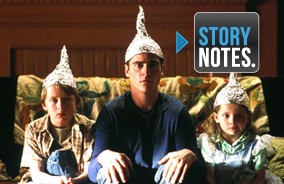 Weeknights during prime time on AMC, you can catch Story Notes — real time trivia and facts about your favorite movies! Below is the online version of the Story Notes for Signs.
Awards Notes
Cherry Jones won a Tony in 2005 for Doubt. Meryl Streep played her role in the movie.
Three years after Signs, Joaquin Phoenix earned his second Oscar nomination for Walk the Line (2005).
Composer James Newton Howard won an ASCAP Award for the Signs score.
Biographical Notes
After Signs, Gibson wouldn't star in another movie until Edge of Darkness eight years later.
Cherry Jones and Joaquin Phoenix also worked together in Shyamalan's next movie, The Village (2004).
Composer James Newton Howard has scored every Shyamalan movie since The Sixth Sense (1999).
Director M. Night Shyamalan also used flashbacks in the endings of The Sixth Sense and Unbreakable.
Director M. Night Shyamalan is best known for The Sixth Sense (1999), but it's this movie that prompted Newsweek to call him "the next Spielberg."
Gibson's known for his strong Catholic faith.
Joaquin Phoenix is a vegan. His favorite food is tofu. It's been reported that Mel Gibson's favorite foods are "hot curries."
Joaquin Phoenix pretended to be crazy for a full year in the 2010 documentary I'm Still Here.
M. Night Shyamalan was named one of the "10 Most Powerful People in Hollywood" around this time.
Mel Gibson played a loner who believed in aliens in Conspiracy Theory (1997).
Rory Culkin is the youngest of seven children, including brothers Macaulay and Kieran.
Shyamalan grew up with both Christian and Hindu influences.
Signs (2002) is the fifth movie from writer/director M. Night Shyamalan. It followed 2000's Unbreakable.
Casting Notes
Director Shyamalan first considered Paul Newman and Clint Eastwood for Gibson's role.
Graham's wife is played by Patricia Kalember. She was Georgie on Sisters (1991-1996).
Joaquin Phoenix got this role at the last minute after Mark Ruffalo (The Avengers) had to drop out.
Michael Showalter (Lionel Prichard) is a founding member of sketch troupes "The State" and "Stella."
Abigail Breslin (Bo) went on to star in Little Miss Sunshine (2006).
Cherry Jones won an Emmy for her role as President Taylor on 24.
Lanny Flaherty played Soupy Jones on Lonesome Dove (1989).
This is Rory Culkin's fifth film. He was only 13 at the time.
This was Mel Gibson's second movie in 2002. We Were Soldiers came out five months before.
Joaquin Phoenix was just coming off his Oscar-nominated performance in Gladiator (2000).
You might recognize Merritt Wever. She plays Zoey Barkow on Nurse Jackie.
Finance Note
Signs grossed over $400 million. As of 2012, it was Mel Gibson's most successful starring role.
Health Notes
Asthma rescue medications loosen the muscles around the airway, making it easier to breathe.
During an asthma attack, the airways narrow, causing rapid, shallow breathing.
History Notes
Artist Doug Bower is the "nerd" credited with creating the crop circle phenomenon in the 1970s.
The Oxford English Dictionary says "douchebag" was first used as an insult in 1967. It meant "unattractive coed."
Location Notes
The crew built the farmhouse on 100 acres of cornfields in rural Pennsylvania.
They actually did shoot Signs in Bucks County, PA. Director Shyamalan usually sets his movies around Philadelphia, where he grew up and currently lives.
They transformed an old billiard hall into the Army recruiting station shown in the movie.
Music Note
Director Shyamalan thought about not using any music at all in Signs.
Pop-Culture Notes
Abigail Breslin (Bo) did another, more risqué dance at the pageant in Little Miss Sunshine (2006).
Another movie that had a major influence on Signs: Spielberg's Close Encounters of the Third Kind (1977).
Bo watches an episode of Dexter's Laboratory (1996).
Shyamalan had the cast watch Hitchcock's The Birds several times during production. He said that movie was a big inspiration when making Signs.
Shyamalan is heavily influenced by director Alfred Hitchcock.
Pop-Culture Notes
Entertainment Weekly called Signs a "well-crafted tease" with a "high-octane doomsday vision."
Roger Ebert said Signs is about the "fear in the wind, in the trees, in a dog's bark."
Roger Ebert says he "cannot think of a movie where silence is scarier, and inaction is more disturbing."
Roger Ebert: "The worst attack in the film is Morgan's asthma attack."
The Boston Herald says Signs is director "Shyamalan's darker, post-Sept. 11 version of E.T."
Quote Notes
Director Shyamalan says, "Crop circles are intriguing…(They're) a nice starting point for a creepy story."
Gibson says great movies do three things: "Entertain, educate, and take you to a higher plane of existence. I think [Shyamalan] has pulled off the hat trick with this one."
Gibson says he doesn't give "much credence" to the theory that crop circles are from extraterrestrials.
Mel Gibson says standing in front of the actual circles is awe-inspiring and "it helps you get into character."
Shyamalan on humor in the script: "I want you to laugh before you start screaming."
Shyamalan says Signs is his "most popcorn movie."
Shyamalan says the movie's title has two meanings. "One is the crop signs but it is also about faith and the existence of signs from above."
Shyamalan says this was the easiest of all his movies to write and direct.
Shyamalan thinks the scariest thing in Signs is that a good man could lose his connection with God.
Shyamalan wanted Gibson because he's "the guy you believe would protect his family at all costs."
Shyamalan: "I happen to like movies that take their time setting the mood and the story in motion."
This was an unconventional role for Gibson, who says he doesn't play characters so "introspective."
Script Notes
Ninety minutes into the movie, the aliens have only been on-screen for 11 seconds. In total, they're only in the movie for about one and a half minutes.
Director Shyamalan was so secretive about the script that Gibson joked it "came with a padlock."
Disney gave Shyamalan $5 million to write Signs, making him the highest-paid screenwriter at the time.
One of the main themes in Signs is whether or not life is based on a divine plan.
Shyamalan considered calling the movie "The Alien Bulletin" or "Visitors" before settling on Signs.
Signs grew out of Shyamalan's idea to show an alien invasion from the point of view of one family.
The aliens were originally going to be invisible, but Shyamalan couldn't get the effect he wanted.
War of the Worlds was one of the first stories Shyamalan thought about when he began Signs.
When he first read it, Gibson said he "couldn't put the script down. It's suspenseful from the first frame."
Set Notes
Director M. Night Shyamalan's six-year-old daughter drew some of the artwork in Signs.
Gibson didn't even know Shyamalan was playing the part of the veterinarian until he showed up to shoot the scene.
Just like Alfred Hitchcock, Shyamalan uses long, continuous shots to create suspense.
Shyamalan also worked with cinematographer Tak Fujimoto on The Sixth Sense (1999). They would work together again on The Happenning (2008).
Shyamalan set Signs in cornfields because the stalks are taller and more ominous than wheat.
Signs's sound design was created by Oscar-winner Richard King (Inception, The Dark Knight).
Sports Notes
As of 2012, the high jump record is held by a Bulgarian.
The real minor league home run record belongs to Joey Meyer, who hit a 582-foot homer in 1987.
Symbolism Notes
Luke 21:25 – "There will be signs in the sun, moon, and stars."
There is an empty spot on the wall where a cross used to hang. Religious themes are a big part of the movie.
Tech Notes
According to NPR, around 80% of Americans do believe in miracles.
As of 2013, Shyamalan has appeared in seven of his own movies.
Hundreds of crop circles are discovered every year, usually in England, the Netherlands, and Canada.
The average American watches around 1,500 hours of TV every year.
The SETI Institute in California employs around 70 scientists to search the skies for extraterrestrial life.
The study of crop circles is called Cerealogy. It began in the 1990s.
The United States has enough nuclear weapons to blow up the planet several times over.
Some Story Notes movies give you a chance to win $500 via the Golden Note sweepstakes. Go to amcgoldennote.com for a full schedule of relevant films.
Read More