Uncategorized
Story Notes for Mrs. Doubtfire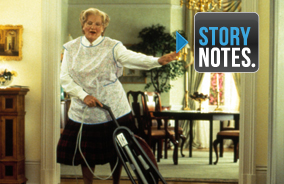 Weeknights during prime time on AMC, you can catch Story Notes — real time trivia and facts about your favorite movies! Below is the online version of the Story Notes for Mrs. Doubtfire.
Award Notes

Mrs. Doubtfire was one of the most popular movies of 1993. It won a Golden Globe for Best Comedy.
Robin Williams won an Oscar for playing a therapist in Good Will Hunting (1997).
Mrs. Doubtfire won an Academy Award for Best Makeup.
Mrs. Doubtfire won a People's Choice Award for Favorite Comedy Motion Picture.
Both Matthew Lawrence and Lisa Jakub were nominated for Young Artist Awards for this movie.
Biographical Notes
Director Chris Columbus is known for family films like Home Alone (1990) and the first two Harry Potter movies.
Williams also acted like a kid in Hook (1991) and Jack (1996).
Harvey Fierstein co-wrote the Broadway musical La Cage Aux Folles, about men dressing as women. La Cage was adapted into the 1996 movie The Birdcage, starring Robin Williams.
Mara Wilson was only five years old when she played Natalie.
Set decorator Garrett Lewis worked on Williams' Hook (1991) and Field's Steel Magnolias (1989).
Robin Williams' real father was a car company executive.
Composer Howard Shore later won three Oscars for his work on the Lord of the Rings movies.
Casting Notes
Robin Williams had just voiced Genie in Aladdin (1992).
Two-time Oscar winner Sally Field (Miranda) had just played a soap opera diva in Soapdish (1991).
Polly Holliday played Flo on Alice (1976-1980) and got her own spin-off series in 1980.
Matthew Lawrence (Chris) later played Jack on Boy Meets World (1997-2000). His brothers Joey and Andrew are also actors. The three starred in the '90s sitcom Brotherly Love.
Martin Mull is known for Mr. Mom (1983) and Clue (1985).
Harvey Fierstein is a four-time Tony winner He won his first in 1983 for Torch Song Trilogy.
This was Mara Wilson's first movie. She later starred in Miracle on 34th Street (1994) and Matilda (1996).
Lydia is played by Lisa Jakub from The Beautician and the Beast (1997) and A Walk on the Moon (1999).
Pierce Brosnan (Stu) became James Bond two years after this. At the time, he was mostly known for starring on the detective series "Remington Steele" (1982-1987).
Sydney Walker (bus driver) had just played a woman trapped in a man's body in Prelude to a Kiss (1992).
Finance Note
The average salary for a housekeeper in 1993 was about $250 a week.
Location Notes
In 1997, the Hillard's Pacific Heights house sold for almost $1.4 million.
San Francisco is home to both Robin Williams and director Chris Columbus.
They really shot at San Francisco's KTVU television station. It's been on the air since 1958.
Daniel's apartment is in North Beach, which is the "Little Italy" of San Francisco.
Music Notes
"Jump Around" by House of Pain, 1992. VH-1 named it one of the 100 Greatest Songs of Hip Hop.
"Luck Be a Lady" by Frank Sinatra, 1965
"Papa's Got a Brand New Bag" by James Brown, 1965. Rolling Stone named this one of the "100 Greatest Songs of All Time."
"Call It Stormy Monday (But Tuesday is Just as Bad)" by B.B. King and Albert Collins, 1993.
Quotation Notes
Director Columbus: "Sally's performance in the kitchen is… one of the finest moments in the film."
Williams: "This movie is about real family values… he needs his kids as much as they need him."
Director Columbus said the movie gave a lot of women hope that Pierce Brosnan would walk into their lives.
Williams said he made the movie to make up for not getting to spend enough time with his kids.
The smell of Stilton cheese has been sold as a perfume called "Eau de Stilton."
Williams on soccer: "[For] the world it's football… for us it's a strange sport played by damaged people."
Robin Williams' then-wife Marsha said he was a completely different person in the Doubtfire outfit. Marsha Garces Williams: "He becomes this woman. I really feel like I'm not talking to him anymore."
Sally Field, in 1996: "I don't need somebody with me to make me whole. I'm totally complete."
Robin Williams: "High heels are the most sinister invention of the last two centuries!"
Williams said the bodysuit was "made out of, like, Spandex and beans. It's like a walking beanbag chair."
Set Notes
Williams is known for improvising. Many of the movie's best lines are his ad-libs.
The animals had to be "auditioned" to make sure they would behave on set.
Sally Field got a cappuccino mustache on set and they decided to put it in the movie.
The princess line was ad-libbed by Mara Wilson.
Williams drew on his real-life divorce from his first wife for some of the dramatic scenes.
The filmmakers went through over 100 photographs of older women to find the right look for Mrs. Doubtfire.
Williams's Mrs Doubtfire "mask" was actually 8 different pieces of latex.
Robin Williams would walk around San Francisco as Mrs. Doubtfire to see if he could get away with it.
Mrs. Doubtfire's wig was created by hairstylist Yolanda Toussieng, who also created Edward Scissorhands' wild hair.
An avocado was going to be used instead of cake for the mask, but it made Williams look like a monster.
The icing mask melting wasn't in the script — it melted because of the intense lights on set. Williams improvised his dialogue to comment on what was happening.
It took four and a half hours to transform Robin Williams into Mrs. Doubtfire.
Robin Williams' own son didn't recognize him in his Doubtfire drag until he started speaking.
They used plastic tubes under the blouse to puff out smoke.
Source Notes
The movie is based on the 1987 novel Alias Madame Doubtfire by Anne Fine. Robin Williams' then-wife Marsha read the book and thought it would be a perfect project for him.
Alias Madame Doubtfire used the last name of a local shopkeeper.
Trivia Notes
Using cartoon characters to promote smoking was banned six years after the movie came out.
In nine out of ten cases where one parent gets sole custody, it's given to the mother.
In 71% of divorces, the spouse that gets the kids also gets the house.
Nanny.net lists CPR training as the most important certification for a nanny to have.
Some Story Notes movies give you a chance to win $500 via the Golden Note sweepstakes. Go to the Story Notes homepage for a full schedule of relevant films.
Read More