Uncategorized
Story Notes for Mad Max 2: The Road Warrior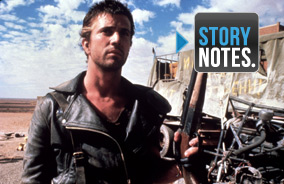 Weeknights during prime time on AMC, you can catch Story Notes — real time trivia and facts about your favorite movies! Below is the online version of the Story Notes for Mad Max 2: The Road Warrior.
Anthology Notes

Mad Max 2: The Road Warrior is the 1981 follow-up to the hugely successful Mad Max (1979). It's Mel Gibson's favorite movie in the series.
In the first movie, Max hunted down and killed the biker gang that murdered his wife and child.
The Mad Max movies were influenced by the 1973 oil crisis.
Max wears a leg brace because he was shot in the knee in the first movie.
Gibson and Spence returned in Mad Max Beyond Thunderdome (1985).
Automotive Notes
Max's car, "the Interceptor," is a modified Ford Falcon. Fans have built hundreds of replicas.
Max's car was modified from the first movie. The most obvious change is the large gas tanks in back.
The filmmakers built two identical Interceptors. The wrecked one is privately owned and is somewhere in Broken Hill, Australia. The other was acquired by the Dezer Collection Museum in Miami.
Award Notes
The year this came out (1981), Mel Gibson won an Australian Film Institute award for Gallipoli.
The Road Warrior won five Australian Film Institute awards, including Best Director.
Biographical Notes
Mad Max was Mel Gibson's first lead role. The Road Warrior made him a star in America.
Arkie Whiteley is the Gyro Captain's girl. She was in Razorback (1984), which was also shot in Broken Hill.
Emil Minty (Feral Kid) did some movies and TV but later gave up acting and became a jeweler.
Vernon Wells played a role nearly identical to Wez in the John Hughes comedy Weird Science (1985).
Bruce Spence was in three other trilogies: The Matrix, The Lord of the Rings, and the Star Wars prequels.
Casting Notes
Vernon Wells is Wez. He is also bad guy Bennett in Commando (1985).
Bruce Spence (the Gyro Captain) was cast after director George Miller saw him in the comedy Stork (1971).
Emil Minty (the Feral Kid) was eight years old when he beat out hundreds of other kids for this role.
Mike Preston (Pappgallo) was a boxer and a singer before becoming an actor.
The Humungus is Kjell Nilsson, a Swedish weightlifter who trained Olympians.
Vernon Wells (Wez) was an electrician before becoming an actor and model. A car accident put him out of work and caused him to change careers.
Virginia Hey (Woman Warrior) is a Bond girl in The Living Daylights (1987).
Finance Notes
The Road Warrior's budget was $4 million, about 10 times the original Mad Max. It made over $23 million in the U.S. alone.
Location Notes
Most of this movie was shot near Broken Hill, a remote mining town in New South Wales, Australia. Other movies shot near there: Priscilla: Queen of the Desert and Mission: Impossible 2.
Music Notes
Fans compare Brian May's score to Gustav Holst's "Mars, the Bringer of War" (1914-16).
Brian May got a Best Score nomination from the Australian Film Institute for The Road Warrior.
Pop-Culture Notes
The "Ayatollah of Rock and Rolla" was adopted by WWE superstar Chris Jericho.
The story of The Road Warrior was influenced by the classic Western Shane (1953). That movie is about a lone stranger who saves a town from a problem that had nothing to do with him.
In 2004, a group called Roadwar USA started staging re-enactments of this chase scene. Vernon Wells (Wez) has shown up for two of the events.
Press Notes
The New York Times: "Never has a film's vision of the postnuclear-holocaust world seemed quite so desolate… or so brutal, or so action-packed and sometimes funny."
The tanker chase scene is ranked fourth on Entertainment Weekly's list of "10 Favorite Car Chases of All Time."
Leonard Maltin: "I can't think of a movie that's as constantly moving as this."
Prop Notes
The can of dog food says "Dinki-Di Dog Food." Dinki-Di is Australian slang for "genuine."
Max's weapon of choice through all three movies is a sawed-off shotgun.
Quotation Notes
Dir. Miller: "We leave him in the most pessimistic situation… We must question whether he's redeemable."
Director George Miller: "I don't think [Mel] was actually eating dog food… but I don't know."
Gibson on the location: "We filmed in the only place nobody would go… It wasn't glamorous at all."
Director George Miller said they didn't harm the rabbit: "To kill an animal for a film is so wrong."
Miller: "It's kind of an Aussie joke, with the boomerang."
Miller: "The one little affection [Max] has is for the Feral Kid."
Miller: "The only currency is gasoline, and the law has virtually vanished."
Miller: "Putting children in this brutal world makes it even more stark."
Mel Gibson on The Road Warrior: "It's lean, there's not much dialogue, and it's relentless."
Emil Minty says Gibson taught him "how to throw a boomerang and head-butt people without hurting them."
Director Miller: "Movies are really public dreams… that we share collectively in darkened theaters… Just like dreams have functions, nightmares help us confront our dark sides."
Miller: "[Max] believes an emotional investment will be too painful… and also compromise his chances for survival."
Mel Gibson on The Road Warrior: "I like watching [this movie]. It's a total freak-out."
Director George Miller: "We made this film to overcome all my frustrations with the first Mad Max."
Mel Gibson: "They made the film they wanted to make… the second time around."
Director Miller: "[The movie] starts with a pessimistic world and ends with there being the possibility of rebirth."
Script Notes
Director George Miller says Max never smiles. He only gives a few "Mona Lisa" grins.
Although the gang's name is never mentioned in the movie, the script calls them the Marauders.
Director George Miller wanted Max to be an epic hero like Ulysses or Sir Galahad.
Dir. George Miller said the Humungus was probably a former military officer who suffered facial burns.
Director George Miller says the Gyro Captain serves the most important function in the movie. He provides humor and brings Max back toward his humanity.
Set Notes
Max's dog is simply named "Dog." He's a Blue Heeler rescued from the pound.
Cinematographer Dean Semler also worked on We Were Soldiers (2002), starring Mel Gibson. They worked together again when Gibson directed Apocalypto (2006).
Director Miller says some of this movie's violence was inspired by A Clockwork Orange (1971).
Art director Graham "Grace" Walker has also designed the post-apocalyptic look of AMC's "The Walking Dead."
Dog had to have its ears plugged so it wouldn't bark at the noises on set.
Director Miller based the Feral Kid on Vietnamese orphans from the streets of Saigon.
Director George Miller edited this movie with the sound off so he could just focus on the images.
Stunt coordinator Max Aspin broke his leg during a stunt and was unable to return to the production.
Mel Gibson had to wear a sticky bruise and blood makeup for weeks.
There were over 80 custom vehicles made for this movie. More than half got demolished.
For one of the explosions, airlines were notified and all the mines in the area were closed. Director George Miller: "I remember the shockwaves. They were huge."
There were over 200 stunts performed in this movie.
The tanker chase scene lasts thirteen minutes.
The tanker was traveling at 65 m.p.h. when it rolled over.
Source Notes
The idea of cars and violence in the Max trilogy stems from director George Miller's time as an ER doctor.
Trivia Notes
That's a gyrocopter. They were developed for the Spanish military in 1921. The gyrocopter flies more like a plane than a helicopter.
Crossbows were once considered so brutal they were banned by the Pope.
Nine of the ten deadliest snakes in the world live in Australia.
There's pig imagery in all three Max movies. George Miller went on to produce two movies about pigs.
Wardrobe Notes
After Mel Gibson went through wardrobe and makeup, he took scissors to his hair and clothes.
Costume designer Norma Moriceau was inspired by an S&M leather shop near her home in Sydney.
Read More