Uncategorized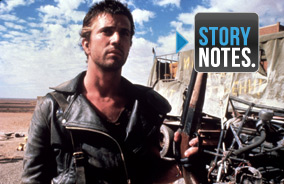 Weeknights during prime time on AMC, you can catch Story Notes — real time trivia and facts about your favorite movies! Tonight's movie, Mad Max, contains a Golden Note. Just look for the Golden Note code word and enter it online for a chance to win $500. Click here for to learn more.
Anthology Notes
Max's iconic Interceptor is referred to in the movies as the Black on Black.
Max's limp was carried on through the two sequels: The Road Warrior (1981) and Beyond Thunderdome (1985).
Automotive Notes
The patrol cars are Ford Falcon sedans. They were real police cars before being used in this movie.
The 1959 Chevy Impala was about to be junked before the Mad Max crew rescued it.
Goose's motorcycle is a 1977 Kawasaki KZ-1000. It's got a top speed of 120 mph. The sticker on the side is of a goose wearing goggles.
The Grease Rat is working on a 1936 Chevrolet two-door Town Sedan.
Award Note
Brian May won an Australian Film Institute award for Best Original Musical Score for Mad Max. He was also nominated for the score of Mad Max 2: The Road Warrior (1981).
Biographical Notes
Mel Gibson was only 21 years old when he shot Mad Max.
Mel Gibson and Steve Bisley were roommates at Australia's National Institute of Dramatic Art. It was Bisley who encouraged Gibson to audition for Mad Max.
Doctor-turned-director George Miller actually worked in an emergency ward to help finance Mad Max.
Roger Ward wrote, produced, and starred in The Set (1969), a groundbreaking Australian film. He went on to play bad guys in a lot of action movies, and director Quentin Tarantino called him a "legend."
Casting Notes
Steve Bisley (Goose) is known as the "Australian Tom Selleck" because he's a big TV star there.
Mel Gibson got the part of Max Rockatansky while still a drama student. He was paid $10,000.
Joanne Samuel plays Jessie. She was cast after the original actress was injured in a car accident.
David Cameron is the mechanic. He went on to be a successful Australian TV director.
The big guy (Fifi) is Roger Ward. He's a former wrestler and was the most famous actor on set.
Hugh Keays-Byrne is Toecutter. He acted with the Royal Shakespeare Theatre before this.
Reg Evans is the Station Master. He later appeared in Gallipoli (1981) with Mel Gibson. So did Geoff Parry who plays Bubba Zanetti.
Nick Lathouris plays the Grease Rat. He went on to become a highly respected acting coach.
Jerry Day, a friend of dir. Miller, has been a crew member on everything from Ghoulies to Glee.
Sheila Florance is May. She won an Australian Film Institute's Best Actress award for A Woman's Tale (1991).
Finance Notes
The car cost over $35,000 to build. That's more than three times Mel Gibson's salary for the movie.
The truck driver was paid a case of beer for his vehicle and driving.
Mad Max was made for $300,000. It went on to gross $110 million. That's the second biggest difference between cost and profit in movie history. Paranormal Activity is first.
Location Notes
Mad Max was shot mostly outside Melbourne, Australia.
Max's house is in Fairhaven, Australia. Today, the property is available for vacation rentals.
Music Note
"Licorice Road" was written by Nicco Gazzana, who also plays a member of Toecutter's gang.
Pop-Culture Notes
Mad Max (1979) launched a franchise that came to define the post-apocalyptic road movie. The New York Times named it one of "The Best 1,000 Movies Ever Made."
Mad Max is in a genre known as "Australian New Wave," covering '70s-'80s low-budget Aussie movies.
One scene is an homage to the train station scene in High Noon (1952).
One scene features the motorcycle version of a "stirrup drag," where a cowboy gets dragged by a horse.
The movie was banned in New Zealand.
The voices were dubbed over for the first U.S. release. Distributors thought Americans wouldn't understand the Australian accents, including Mel Gibson's.
Max Rockatansky was named one of the "100 Greatest Movie Characters of All Time" by Premiere Magazine.
Filmmakers James Wan and Leigh Whannell say the last scene directly inspired their movie, Saw (2004).
Press Notes
A reviewer at the time worried Mad Max would appeal to "rapists, sadists… and incipient [Charles] Mansons."
Prop Notes
May is holds a Charles Parker 1878 shotgun. They stopped making those after WWII.
The sawed-off shotgun is Max's weapon of choice in all three movies. Australia outlawed them in 1996.
Quotation Notes
Director George Miller based Mad Max on Australia's "subculture surrounding cars and violence… The U.S. has its gun culture. We [Australians] have our car culture."
Director George Miller: "It's essentially a Western in new clothes."
Steve Bisley (Goose): "I didn't get the role because of my acting ability. I got it because I could ride a motorbike."
Mel Gibson: "Max is not a guy to rush into things. I don't think he even wants to do heroic things."
Director George Miller in a 1979 interview: "I believe Mel has the potential to be one of the great actors."
Gibson on the Mad Max movies: "It was a learning experience… I have a lot of affection for these films."
Cinematographer David Eggby: "These guys lived these [gang] characters a month before the film… and during filming, and probably some of them for many years after."
Eggby: "There's not a bad angle to shoot [Gibson] from."
George Miller: "What the last part of the film says is that we must recognize the violent nature in us…not only as individuals, but as animals that have survived by virtue of our aggression."
George Miller: "In Mad Max there are only about 50 frames of explicit violence. The rest is implied."
George Miller: "I was interested in a character like Max who was in a very brutal world…"
Cinematographer David Eggby: "People often ask me about the shot where the guy gets hit in the head… He got up and walked away at the end of it. I think it was magnified by the slow motion."
Mel Gibson on Max: "He comes from nowhere, gets the job done, and disappears into nowhere… I like that. It's got a romance to it that appeals to me."
George Miller: "Mad Max was B-movie filmmaking with A-movie aspirations."
Random Note
"Nightrider" is also a 1932 Western, a vampire superhero, and a coffee drink with espresso.
Script Notes
The filmmakers decided to build mystery around Max by revealing him slowly over time.
Most of the Nightrider's lines were improvised. Some were lyrics from "Rocker" by Aussie band AC/DC.
"The Bronze" is a nickname for the cops. It refers to their bronze badges.
Set Notes
To save money, director George Miller sacrificed his own blue van to get smashed.
Director George Miller mounted cameras on the cars to put the audience in the middle of the action.
Special effects supervisor Chris Murray put oil on the wheels to make them smoke.
The filmmakers used an Australian Navy rocket for one stunt.
Hugh Keays-Byrne (Toecutter) changes his accent scene to scene to make his character seem insane.
No stunt doubles were used for the hand-to-hand fighting.
For one shot, cinematographer David Eggby held the camera while he was a passenger on a motorcycle. LAFautoater, he realized he'd been going 110 mph. Eggby: "I knew we were risking our lives out there."
Director George Miller has called Mad Max a mix of two genres – the car action movie and the horror movie.
Hugh Keays-Byrne (Toecutter) improvised grabbing the Grease Rat's nose.
The house used for May's farmhouse was abandoned and had to be filled with furniture from the filmmakers' own homes.
They couldn't afford a breakaway prop door, so the actors had to break through solid wood.
The filmmakers mixed crow noises into the seagull sounds to make one scene more ominous.
Most of the gang riders were members of a real biker gang called The Vigilantes.
A lot of the stunt driving in this movie was illegal and done quickly before authorities could find out.
Trivia Notes
"Meat truck" is Australian slang for an ambulance.
Jessie doesn't use real sign language. They're just some movements Joanne Samuel made up.
A "Code Three" is a dead body.
The first artificial larynx was developed by AT&T in 1929.
Max's last name is likely a reference to Baron Carl von Rokitansky, a physician from the 1800s. Before he was a director, George Miller was a medical doctor.
Goose sings a folk song from Australia's early days as a convict colony.
"Sprog" is Aussie and British slang for "child."
Mad Max was heavily influenced by an Australian biker movie called Stone (1974). It starred three Mad Max actors and had character names like "Hooks," "Dr. Death," and "Toad."
Wardrobe Notes
Toecutter's hair and outfit were designed to make him look like Genghis Khan.
Mel Gibson's suit was the only one made of leather. To save cash, the other officers wore vinyl.
It was Roger Ward's idea for his character to wear a scarf in one scene. Roger Ward: "If I was going bare top, I was going to wear a tie."
Read More