Uncategorized
Story Notes for The Karate Kid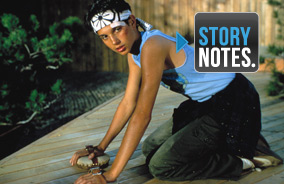 Weeknights during prime time on AMC, you can catch Story Notes — real time trivia and facts about your favorite movies! Below is the online version of the Story Notes for The Karate Kid.
Anthology Notes
A decade later, Pat Morita mentored Oscar-winner Hilary Swank in The Next Karate Kid (1994).
Award Notes
Pat Morita earned Golden Globe and Oscar nominations for this role.
Twenty years later, William Zabka earned an Oscar nod for writing and producing the short film Most (2003).
Elisabeth Shue would later earn an Oscar nomination for Leaving Las Vegas (1995).
Bio Notes
Ralph Macchio later starred in My Cousin Vinny (1992).
Elisabeth Shue went on to star in Adventures in Babysitting (1987).
Elisabeth Shue also showed off her gymnastics skills in a gum commercial in the 1980s.
Director John G. Avildsen won an Academy Award for Rocky (1976), another sports underdog story. The Karate Kid has been referred to as "Rocky goes to high school."
Elisabeth Shue also played Marty McFly's love interest in both Back to the Future sequels.
In 1996, Ralph Macchio named his son Daniel, partly inspired by his character.
As a kid, Elisabeth Shue played soccer on a boy's team. She later produced and starred in the movie Gracie (2007), about her experiences.
As a kid, Ralph Macchio didn't take karate. He took tap-dancing.
Pat Morita had a recurring role on M*A*S*H as South Korean Army Captain Sam Pak.
In 2011, Ralph Macchio became a spokesman to promote safe driving habits for teenagers.
This is Juli Fields's only credited role.
William Zabka continued his karate training and became a second degree green belt.
Casting Notes
Ralph Macchio's biggest role before The Karate Kid was Johnny in The Outsiders (1983).
Randee Heller earned an Emmy nod for playing Miss Blankenship on Mad Men.
Israel Juarbe is Freddy. He was in Beverly Hills Cop the same year.
Frances Bay is the "Marble Rye Lady" on Seinfeld and is also in Happy Gilmore (1996).
Pat Morita was best known at the time for his role as Arnold on Happy Days (1975-1983).
This was Elisabeth Shue's first big role. Before this, she was mostly acting in commercials.
William Zabka became one of the biggest movie bullies in the 1980s. He also played a bully in Just One of the Guys (1985) and Back to School (1986).
Martin Kove appeared in Rambo: First Blood Part II (1985).
The studio originally wanted Toshiro Mifune from Seven Samurai (1954) for Mr. Miyagi but writer Robert Mark Kamen says Pat Morita "came in and just blew everybody away."
Larry Drake was Benny in L.A. Law (1987-1994).
Chad McQueen studied karate with Chuck Norris.
The ring announcer is Bruce Malmuth, who directed 1990's Hard to Kill with Steven Seagal.
Fashion Note
Daniel's cut-offs were a popular fashion trend in the 1980s.
Finance Note
The Karate Kid earned more than $90 million. That's over $200 million by today's standards.
History Notes
Casanova was an 18th-century adventurer and notorious ladies man.
Manzanar was a World War II Japanese internment camp located in central California.
Mr. Miyagi was part of the 442nd Infantry. It was made up of Japanese-American volunteers. It was the most decorated unit in the history of the United States Armed Forces.
Location Notes
The apartment interior is on a studio soundstage.
Golf N' Stuff is an amusement park in Norwalk, California. At last check, it's still there.
Miyagi's yard was empty and full of weeds before shooting started. Production designers did the rest.
The tournament was filmed in the gymnasium at California State University, Northridge.
Music Note
The Karate Kid's music was composed by Bill Conti. He also worked with director John Avildsen on Rocky (1976).
Pop-Culture Notes
The Karate Kid was one of the top five movies of 1984, one of the biggest movie years in history. Ghostbusters, Beverly Hills Cop, Gremlins, and Footloose were all released that year.
The Karate Kid is one of AFI's "100 Most Inspiring Films."
Daniel's bike is a Mongoose Two Four. It became a popular brand after the movie.
Mr. Miyagi gave Daniel a Juniper bonsai tree. It later became known as the "Karate Kid" bonsai.
Moviefone called Elisabeth Shue "one of the biggest Hollywood crushes" of the 1980s.
The Karate Kid was originally the name of a DC Comics superhero. Even though the superhero and movie share the same title, they are not related.
Ralph Macchio compares Daniel and Mr. Miyagi to Luke Skywalker and Yoda.
Mr. Miyagi is like Rocky's trainer, Mickey. Both made Entertainment Weekly's list for best mentors.
Bruce Lee gives the same advice in Enter the Dragon (1973), the granddaddy of martial arts movies.
Ali's ranked as one of the "7 Best '80's Movie Girlfriends" by Cracked.com.
Press Notes
Entertainment Weekly calls The Karate Kid one of the great underdog movies.
ESPN ranks "Wax on. Wax off." as one of the "Top 100 Sports Movie Quotes" of all time.
VH1 ranks Ralph Macchio as one of the "100 Greatest Teen Stars."
Quote Notes
Zabka: "I connected with Johnny…I thought, well, this is kind of easy. I don't even have to act this."
Writer Robert Mark Kamen says he wanted Daniel to be "a wimp with a chip on his shoulder."
Ralph Macchio: "In every film I smell some food because I have a very poor sense of smell."
Ralph Macchio says Daniel LaRusso has become his "alter ego. Almost 30 years later, people are still reciting lines to me."
Writer Robert Mark Kamen started practicing karate when he was 17 years old. "I had this film in my head for years and just didn't think anybody would want to see it."
Martin Kove (Kreese) says fans of the movie always tell him, "I love to hate you."
Ralph Macchio says Pat Morita is "forever my sensei."
Pat Morita: "I don't know where it came from. Miyagi voice, Miyagi presence, Miyagi spirit emerged."
Writer Robert Mark Kamen calls Ali's parents "the two stiffest people this side of the Mississippi."
William Zabka: "I look at it as [Daniel] is the villain. He takes his girlfriend."
Director John G. Avildsen: "Who wouldn't want a Mr. Miyagi as a surrogate father? He was a dream come true."
William Zabka: "I think it's so easy for a boy to be drawn to a figure like that and be led astray."
William Zabka said the extras booed him even after the camera stopped rolling. "I saw my mom in the stands crying and she was like, He's not like that!'"
Director John Avildsen: "It's one of those pictures that I am very proud of…It makes you feel terrific."
Set Notes
The karate studio wasn't really across the street.
They shot Pat Morita trimming a tree so many times, eventually he had to start faking it.
The actors were trained by martial arts choreographer Pat E. Johnson. Johnson began his career as a stuntman on Bruce Lee's Enter the Dragon (1973).
Martial arts choreographer Pat E. Johnson was very strict with the Cobra Kai during training. He treated the actors harshly to help them bond.
Martin Kove doesn't really have a cobra tattoo on his bicep.
The crew had Pat Morita stand on a 4-inch box so they could fit him into the face-to-face shot.
The street outside the dojo wasn't closed for filming. They were really dodging traffic.
The scar near Macchio's lip is from that accidental kick to the face he took from William Zabka.
While it's pretty impressive that Daniel sanded the entire deck by hand, the truth is the film crew finished it off with electric sanders.
The fly in the scene is attached to a fishing line and being moved around by a crew member.
The sets for The Karate Kid were designed by Bill Cassidy who also worked on Rocky (1976).
After The Karate Kid trilogy was completed, one of the producers gave the car that Miyagi gives Daniel to Ralph Macchio.
They used over 500 extras to film the tournament.
Source Note
Mr. Miyagi is based on Chojun Miyagi, the founder of Okinawan Karate.
Sports Notes
Daniel wears a San Diego Chargers jersey. #89 was wide receiver Wes Chandler's number.
Macchio, a NY Islanders fan, was in the stands to see them win their first Stanley Cup in 1980.
MMA fighter Lyoto Machida used a variation of the crane technique to knock out an opponent in 2011.
Trivia Notes
Ralph Macchio may look like a teenager, but he was actually 22 during filming.
Twenty percent of high school seniors admit to being bullied.
Okinawa is the southernmost part of Japan in the Ryukyu Island chain.
The word bonsai is Japanese and means "a tree planted in a shallow container."
Bruce Lee's character in Enter the Dragon (1973) is a martial artist at a Buddhist temple.
Tea is the most common beverage in Japan. Jasmine tea is particularly popular in Okinawa.
In Japanese, san is added to most names as a sign of politeness, like Mr. or Mrs.
In 2010, The Karate Kid was remade with Jaden Smith as the Kid. He's the son of Jada Pinkett and Will. Jackie Chan played the mentor.
Daniel makes Reseda sound like it's on a different planet, but it's just three miles from Encino.
Okinawans eat nearly four times more fish than they eat meat, poultry, and eggs combined.
Banzai means "long live the king" or "10,000 years." It's customary to raise both arms while shouting, "Banzai!" in celebration.
Wardrobe Notes
Ralph Macchio kept the headband.
Pat Morita designed the embroidery on his robe himself.
Some Story Notes movies give you a chance to win $500 via the Golden Note sweepstakes. Go to www.amc.com/storynotes for a full schedule of relevant films.
Read More