Uncategorized
Story Notes for Jerry Maguire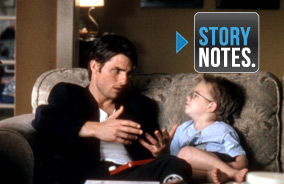 Weeknights during prime time on AMC, you can catch Story Notes — real time trivia and facts about your favorite movies! Tonight's movie, Jerry Maguire, contains a Golden Note. Just look for the Golden Note code word and enter it online for a chance to win $500. Click here for to learn more.
Awards Notes
Jerry Maguire was on over thirty "Top 10" lists in 1996 and got an Oscar nomination for Best Picture.
Renée Zellweger won Best Breakthrough Performer from the National Board of Review.
Jonathan Lipnicki (Ray) won a 1997 Young Artist Award for this performance. He was only six.
Jerry Maguire won Favorite Dramatic Motion Picture at the 24th annual "People's Choice Awards."
Cuba Gooding Jr. won a Screen Actors Guild award and a Best Supporting Actor Oscar for his role.
Jerry Maguire earned Tom Cruise his second Oscar nomination and won him a Golden Globe.
Biographical Notes
In 2002, Jay Mohr hosted a sports variety show on ESPN called Mohr Sports.
Beau Bridges got a star on the Hollywood Walk of Fame in 2003, right near dad Lloyd's and brother Jeff's.
Music always plays a big role in Cameron Crowe movies. He uses songs to tell the story. Crowe began his career as a rock journalist for Rolling Stone while still in high school.
Renée Zellweger really was 26 when she made Jerry Maguire.
Jonathan Lipnicki's favorite actor at the time was Tom Cruise, and his favorite movie was Top Gun.
Tom Cruise and Cuba Gooding Jr. also worked together on the Oscar-nominated drama, A Few Good Men.
In High Fidelity (2000), Todd Louiso played a music-obsessed record store clerk alongside Jack Black.
In real life, Renée Zellweger has an older brother… but no sister.
Cuba Gooding Jr. and Regina King were also together in Boyz n the Hood (1991).
Cuba Gooding Jr.'s father was a member of the '70s band, The Main Ingredient. He sang lead on their gold record, "Everybody Plays the Fool" (1972).
Cuba Gooding Jr. was a wide receiver on his high school football team.
Gooding did a break-dancing routine at the 1984 L.A. Olympics.
Casting Notes
Tom Cruise was in two of the top five movies of 1996: this and Mission: Impossible. His box office topped $455 mil.
Alice in Chains guitarist Jerry Cantrell plays the guy at the copier place. He was also in director Crowe's 1992 movie, Singles.
Jerry Maguire is the movie that made Renée Zellweger a star.
Jonathan Lipnicki had never been in a movie before. His only acting credit was a fast food commercial.
Kelly Preston was in Twins (1988) before Crowe cast her in Jerry Maguire, her best known role.
Eric Stoltz (Mask) has been in four Cameron Crowe movies.
Regina King (Marcee) later appeared in Ray (2004).
Jay Mohr was a cast member on Saturday Night Live from 1993 – 1995.
Jerry O'Connell plays Frank Cushman. He was also starring on Sliders (1995-1999) at this time
Former Patriots quarterback Drew Bledsoe plays himself.
The #1 draft pick of 1995, Ki-Jana Carter (Bengals, Redskins, Saints), also plays himself.
Cuba Gooding Jr. beat out 50 other actors to land the role of Rod Tidwell.
Tidwell's brother is played by Aries Spears from MADtv (1997-2005).
Rolling Stone publisher and co-founder Jann Wenner plays Scully.
Nada Despotovich (Wendy) was also in Moonstruck (1987) and Jingle All the Way (1996).
Both of the actors in the elevator scene that sign "You complete me" really are deaf.
Bonnie Hunt's first movie role was in another Tom Cruise movie – Rain Man (1988).
Todd Louiso (Nanny) is also a director. He made Love Liza (2002) starring Philip Seymour Hoffman.
Mel Kiper Jr. is an ESPN analyst and one of the biggest NFL draft experts.
The Cardinals general manager is played by musician Glenn Frey from the Eagles.
Kelly Coffield from In Living Color (1990-1993) plays Jan.
Jared Jussim was a lawyer at Tri-Star, the studio that produced Jerry Maguire.
Jeremy Suaraz (Tyson) played Jordan on The Bernie Mac Show (2001-2006).
The movie's assistant director, Jerry Ziesmer, plays the one trying to revive Tidwell after he's been hit.
Roy Firestone (Interviewer) is a former commentator for Sunday Night Football and SportsLook.
Finance Notes
Jerry has a right to be upset, he would have made 3% of that $20 million, or $600,000.
Tom Cruise did make history with Jerry Maguire: it was his fifth consecutive movie to make over $100 million. That was a record at the time.
In the '90s, the average accountant made around $30,000 a year.
Jerry Maguire was a critical and commercial success, earning almost $300 million in theaters.
Health Notes
Lima beans are good for lowering cholesterol and the risk of heart attack.
The salt in a serving of hot sauce isn't a big deal for a football player. They can sweat over three quarts a game.
Big hits in a game can be as hard on the body as a severe car accident.
Historical Note
Supreme Court Justice Clarence Thomas was accused of sexually harassing colleague Anita Hill.
Location Note
Sun Devil Stadium was host to the Super Bowl in 1996.
Music Notes
One background song is The Who's "Getting in Tune."
"Pocketful of Rainbows" by Elvis Presley, 1960
"Oh Well" by Fleetwood Mac, 1969
"World on a String" by Neil Young, 1975
"Pimpin' ain't easy but it's necessary" is from the Ice Cube song "Down for Whatever" (1993).
"Magic Bus" by The Who, 1968. Crowe played this song between takes to set the mood for some scenes.
Jerry O'Connell's plays Nirvana's "Something in the Way."
"Secret Garden" by Bruce Springsteen, 1995
"Haitian Fight Song" by Charles Mingus, 1957
"The Horses" by Rickie Lee Jones, 1989
Pop-Culture Notes
V.R. Troopers (1994-1996) was a kids TV show made by the creators of Power Rangers.
Jerry is watching Hawaii 5-0 (1968-1980). Crowe has said he "always wanted to direct Jack Lord."
Preston was named one of the "Sexiest Sports Movie Babes of All Time" by Bleacher Report.
"Show me the money" was named one of the "Top 100 Movie Lines" by Premiere Magazine. Sports agent Marco Marciano says ever since the movie, "clients say it all the time. 80% say it."
Audrey Hepburn is known for the "little black dress" she wore in Breakfast at Tiffany's (1961).
Cuba Gooding Jr. says women come up to him all the time to say "my boyfriend never shoplifts the pootie."
Press Notes
ESPN calls Jerry Maguire one of the "Top 20 Sports Movies of All-Time."
In 2008, The New York Observer said Zellweger is "endearing, warm and loveable" in this role. They added: "Seriously. We still have a crush on her character today."
AFI included Jerry Maguire in its list of the Greatest Love Stories of All Time.
Quotation Notes
Zellweger was nervous meeting Cruise: "I went inside and managed not to throw up."
Crowe: "Cuba was Tidwell. The whole character just exploded in him during that first reading."
Tom Cruise says Cameron Crowe was "obsessed" with the goldfish. Crowe says it's Jerry's only friend.
Production designer Stephen Lineweaver says the high-angle shot of the SMI office is just like an ant farm. Jerry and Dorothy are two ants "swatted" off the farm.
Director Cameron Crowe's friends told him Tom Cruise would "never play a loser." Turns out Cruise was dying to portray a character that was on the ropes.
Director Cameron Crowe says, "This is life draining from a man."
A real sports agent told director Cameron Crowe that they "fear the protective wife most of all."
Tom Cruise: "When I read the script, I cried."
Bonnie Hunt says her character is the "audience's point of view."
Tom Cruise says "Renée came in with a goodness and a simplicity that was perfect for the character."
Sports agent Marco Marciano: "It's definitely a 24/7, 365-day-a-year job. You gotta love it."
Crowe: "Some people got married because of the movie, and some people broke up because of it."
Crowe "wanted to do a movie about how you might arrive at your greatest success through failure."
Cuba Gooding Jr. says after this movie, his acting career took off like Tidwell's football career.
Zellweger calls it "one of the greatest films of all time." Cruise says, "It was a beautiful experience."
Script Notes
Writer/Director Cameron Crowe (Almost Famous) first wrote the part of Jerry Maguire for Tom Hanks.
Director Cameron Crowe really did write out the entire 27-page mission statement.
Producer James L. Brooks (As Good As It Gets) worked with director Crowe on the script for years. Crowe re-wrote the script over 20 times.
Former Cardinals and 49ers safety Tim McDonald coined the phrase "Show me the money" in a conversation with director Crowe.
Cameron Crowe got the "human head" line from Jonathan Lipnicki.
Director Cameron Crowe says Cruise and Gooding "really hit a groove" with each other.
Bonnie Hunt says the toughest part of this movie was "playing a character that doesn't like Tom Cruise."
Zellweger on her similarities to Dorothy: "We're both idealistic and maybe too eager to follow our hearts."
Cameron Crowe says his original goal was to explore the themes of love and marriage in the '90s. His Oscar-nominated script wasn't even going to be about sports agents at first.
Set Notes
They shot for two weeks with another child playing Ray before starting over with Jonathan Lipnicki.
Kelly Preston practiced the punches with legendary boxer Ray "Boom Boom" Mancini.
Cruise jumped rope right before every scene started shooting.
The crew lowered the lamp so it would keep hitting Cruise's head.
It took a full two days for Cuba Gooding Jr. and Tom Cruise to film the shower scene.
Gooding Jr. wasn't shy about stripping down. He even dropped his pants in the audition.
Director Cameron Crowe showed Tom Cruise photos of Katharine Hepburn and Spencer Tract to demonstrate the kind of chemistry he was hoping for between Cruise and Zellweger.
Zellweger kissed Tom Cruise in one of her auditions for the movie.
The camel really was a problem. It chased Cruise, bit Gooding Jr., and stomped a crew member.
They used professional football players to tackle Cuba Gooding Jr. Gooding Jr. was hit at half strength, but after three days, he said he "couldn't move."
Cuba Gooding Jr. trained for the football sequences with the Arizona Cardinals.
The hit that knocks out Tidwell (Gooding) took 29 takes and 3 different stuntmen to get right.
Paula Abdul helped Cuba Gooding Jr. choreograph his touchdown dance.
At least three women on set started crying while the "You had me at 'Hello'" scene was being filmed.
Source Notes
Maguire's memo was inspired by a similar one Disney chairman Jeffrey Katzenberg sent out in 1991.
Director Cameron Crowe shadowed sports agent Leigh Steinberg while researching the movie. Steinberg walked the media floor with safety Tim McDonald to get him signed for the 49ers.
Jerry's call is based on agent Leigh Steinberg's call to Troy Aikman's family after his concussion.
Sports Notes
Only the top 15 or so NFL players get major endorsement deals.
"Katarina" refers to two-time Olympic ice skating champion, Katarina Witt.
The first pick of the 1996 draft really went to the New York Jets. They picked wide receiver Keyshawn Johnson.
Sports agent Marco Marciano says a lot of his clients also create custom apparel for the draft.
Footage was taken from a real 1994 interview with Dennis Rodman. Rodman's part was replaced with an actor.
The Arizona Cardinals went 7-9 in the 1996 NFL season.
Receivers don't like catching the ball in the middle of the field because they're more exposed to hard hits.
Trivia Notes
At 5'10", Cuba Gooding Jr. is at least two inches shorter than the average wide receiver.
Kwan also means "one-ness."
Energy bars date back to the 1960s. The first were Space Food Sticks, developed for NASA.
Traditionally, a Mariachi band plays a serenata from a man to a woman as a message of love.
Wardrobe Notes
The dress was rigged to rip like it did, but it kept breaking at the wrong time.
The average person spends two weeks of their life kissing.
Costume designer Betsy Heimann says Tidwell's wardrobe "verges on comic but never crosses the line." Heimann also worked with Crowe on Vanilla Sky (2001) and Almost Famous (2000).
Gooding Jr.'s famous Oscar speech was a minute and a half long, three times as long as it was supposed to be.
Read More