Uncategorized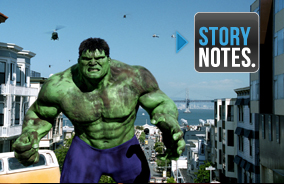 Weeknights during prime time on AMC, you can catch Story Notes — real time trivia and facts about your favorite movies! Below is the online version of the Story Notes for Hulk.
Anthology Notes
Marvel adapted Hulk again in The Incredible Hulk (2008), with Edward Norton as Bruce.
In 2012, Hulk returned as a member of The Avengers, this time played by Mark Ruffalo.
Award Notes
Visual effects supervisor Dennis Muren has won six Oscars, starting with E.T. (1982).
Composer Danny Elfman won a BMI Film and TV award for the Hulk score.
Biographical Notes
Ang Lee began directing in Taiwan before making his first English-language movie, Sense and Sensibility (1995).
Josh Lucas (Talbot) and Jennifer Connelly are in A Beautiful Mind (2001) together.
The same year as Hulk, Eric Bana was the voice of a shark in Finding Nemo (2003).
Josh Lucas plays sleazeballs in American Psycho (2000) and The Deep End (2001).
Sam Elliott is in another Marvel movie: Ghost Rider (2007), starring Nicolas Cage.
Nick Nolte and Jennifer Connelly had worked together before in Mulholland Falls (1996).
Eric Bana is a paranoid assassin in Munich (2005).
Ang Lee had his own father issues. His dad was embarrassed he became a filmmaker. But eventually, he came around after Lee became such a success.
Director Ang Lee says repression is a main element in a lot of his movies. The aristocrats in Sense and Sensibility and the suburbanites in The Ice Storm are just two examples.
Ang Lee turned down Terminator 3: Rise of the Machines (2003) to direct Hulk.
Cinematographer Fred Elmes worked on The Ice Storm (1997) with director Ang Lee.
Hulk was produced by Gale Anne Hurd, known for scifi blockbusters like Aliens and Armageddon. Hurd is also an Executive Producer of AMC's The Walking Dead.
This wasn't Jennifer Connelly's first comic book movie. She also did The Rocketeer in 1991.
Sam Elliott is used to giving orders. He plays a sergeant in We Were Soldiers (2001) and a general in Gettysburg (1993).
Ang Lee credits Hulk for preparing him for the computer graphics in Life of Pi (2012).
Jennifer Connelly followed up Hulk with the horror movie Dark Water in 2005.
Casting Notes
Celia Weston is Jolene on Alice (1981-1985).
Ang Lee cast Eric Bana as Bruce after seeing him in Chopper (2000).
This was Jennifer Connelly's first role after winning an Oscar for A Beautiful Mind (2001).
Daniel Dae Kim plays Jin on Lost (2004-2010).
Sam Elliott is known for Tombstone, The Quick and the Dead, and The Big Lebowski.
Nick Nolte was the producers' first choice to play Bruce's father.
Ang Lee chose Eric Bana for this role because he embodies characteristics of both Hulk and Bruce.
Cara Buono plays Dr. Faye Miller on Mad Men.
Health Note
Nick Nolte lost his voice while filming his showdown scene. They had to stop shooting so he could recover.
Location Notes
The cabin was built for the movie in Sequoia National Park. It's about 260 miles south of their Berkeley lab.
The storage units and town were built just for this movie in Victorville, California.
Some scenes were shot at Arches National Park, near Moab, Utah. Other movies filmed there: 127 Hours (2010), Mission: Impossible II (1999) and Thelma and Louise (1990).
Music Notes
Composer Danny Elfman has worked on comic book movies before. He wrote the scores for Batman (1989), Spider-Man (2002), and Dick Tracy (1990).
The score was inspired by Bernard Herrmann, known for Hitchcock movies like Psycho (1960) and Vertigo (1958).
After test audiences didn't respond to the original score, Danny Elfman was brought in. He had just 37 days to write 107 minutes of music. Normally he has three months.
Pop-Culture Notes
Hulk was part of a big wave of comic book movies that started with X-Men (2000).
The name David Banner is a nod to Bill Bixby's character on "The Incredible Hulk" TV show.
Hulk is No. 9 on pop-culture site IGN's "Top 100 Comic Book Heroes."
Press Notes
Roger Ebert: "[Hulk] is not so much about a green monster…as [it is] about two wounded adult children of egomaniacs."
New York Magazine: "Ang Lee [taps] into anxieties… beyond the usual range of superhero turmoil… It's as if he were drawing on his 'own' inner Hulk."
Prop Notes
The frog is fake. They pumped air into it to make it look like it was breathing.
The Gammasphere is an exact replica of the one at Berkeley University.
A UH-1 Huey is the most widely used military helicopter since the 1950s.
The "M2" is an explosive bullet that Ang Lee made up for this movie.
Quotation Notes
Ang Lee: "The comic world, martial-arts films, and fantasy were my childhood."
Director Lee: "People ask [if] we tortured the little girl… She was crying because she didn't like ice cream."
Eric Bana said he was "anxious" and "paranoid" about doing a good job as Bruce… And I knew that the rest was out of my hands. And I was quite comfortable with that."
Director Ang Lee: "It's important to me that a movie has a dream, if not nightmare, quality… like a horror film but also beautiful to look at."
Nick Nolte says he took this role to "explore the darkness" with Ang Lee.
Eric Bana said working with Nick Nolte was the best part of being in Hulk. Bana: "He was quite literally one of my favorite actors of all time."
Sam Elliott wanted to shave off his mustache, because "four-star generals don't have mustaches." Director Ang Lee insisted on keeping it because General Ross wears one in the comics.
Director Ang Lee: "I thought [Bana's] head was going to explode… he almost collapsed after four takes."
Stan Lee: "As scientifically oriented as I may be… I had trouble explaining how his pants stayed on."
Ang Lee: "I was pleased with the sounds and music; it really brought the movie to life."
Marvel president Avi Arad: "When you go with an Ang Lee, you're going to go to the depths of the soul."
Ang Lee: "The only sense of yourself is memories and that's why the movie deals with memory a lot."
Eric Bana: "[You don't need] immense tragedy in your life to visit primal places… For Hulk, it was about finding a shortcut to a part of yourself that makes you feel very uncomfortable."
Eric Bana said working on Hulk was tough "because the character undergoes so much soul-searching… That uncertainty is very much part of Bruce Banner's dilemma."
Producer/co-writer James Schamus said Nick Nolte would talk about philosophy for hours on set.
Stan Lee made Hulk green because no other hero was. He said, "It was just as casual as that."
Director Ang Lee: "[Hulk] is like a Western wonder-hero, out in the desert."
Producer Gale Anne Hurd said Jennifer Connelly's performance made her cry on set. "Through Jennifer… we come to care for Bruce… and we come to understand the Hulk."
Eric Bana said his scenes with Nick Nolte were the most traumatic but also the most fun.
Ang Lee: "Sometimes I thought the father was the real Hulk."
Ang Lee called Hulk his "new Green Destiny." That's the sword in Crouching Tiger, Hidden Dragon.
Director Ang Lee said, "Everyone has a Hulk inside them… My idea was to make a movie that made the viewer confront that Hulk."
Script Notes
Atheon wasn't in the comics. Talbot was a major in the U.S. Air Force.
Hulk was the eighth movie Ang Lee made with producer and co-writer James Schamus. They had been working together since Lee's first movie, Pushing Hands (1992).
"Nanomeds" were made up by Ang Lee and science supervisor John Underkoffler. They're based on nanotechnology, a real science that creates microscopic machines.
In the comics, Bruce "Hulks out" when someone angers him. Here, paranoia has the same effect.
"Rage. Power. Freedom." was used on posters for this movie. Director Ang Lee: "Those three things put together can be a fearful thing."
Set Notes
Ang Lee was asked to direct Hulk after the huge success of Crouching Tiger, Hidden Dragon (2000).
Lee says the opening montage is like an overture to an opera.
The lab was partially decorated by director Ang Lee's wife, a molecular biologist.
The special effects were created by Industrial Light & Magic, founded by George Lucas.
Since Hulk was all computer graphics, Connelly was acting opposite a cardboard head on a stick.
Ang Lee says directing Crouching Tiger, Hidden Dragon taught him how to stage a fight.
Eric Bana prepared for Hulk by going to Ultimate Fighting matches to watch how people take hits.
The look of Betty's home was inspired by William Morris, a 19th-century illustrator. Morris helped establish the modern fantasy genre. His work inspired J.R.R. Tolkien, who wrote The Hobbit.
Nick Nolte agreed to be in Hulk after director Ang Lee said he wanted it be like a Greek tragedy.
A fuel/air explosive (FAE) shoots out a cloud of fuel to incinerate everything around it.
Nick Nolte compared his character to King Lear, who felt betrayed by the world.
Source Notes
Hulk (2003) is the first movie based on the Marvel Comics hero created by Stan Lee and Jack Kirby.
The Incredible Hulk comic was created in 1962 during the Cold War, out of fears about radiation.
Connelly plays Betty Ross, Bruce's main love interest in the comics. Bruce and Betty have had an on-again-off-again thing since the very first issue in 1962.
In the comics, Betty ended up marrying Glenn Talbot for a short while.
Bruce found out his father was put in a mental institution in The Incredible Hulk #312 (1985).
In the early comics, Bruce Banner only turned into Hulk at night.
Making Bruce's dad a janitor is a nod to Hulk's arch-nemesis, Leader (once a janitor in the comics).
General Ross is Bruce's oldest foe, first appearing in The Incredible Hulk #1 (1962).
Glenn Talbot has been Hulk's enemy since he first appeared in Tales to Astonish #61 (1964).
Bullets don't harm Hulk. His skin is 8-10 times stronger than Kevlar.
The dogs first appeared in The Incredible Hulk, Volume 2, Issue #14. That comic started the "Dogs of War" story arc, a basis for this movie.
Creator Stan Lee modeled Bruce Banner and Hulk after Jekyll and Hyde.
Hulk can run at a top speed of 300 mph. The animators had a tough time figuring out what that would look like.
Hulk can leap 3-4 miles in a single bound.
Hulk flew a jet to the edge of space and changed back into Bruce Banner in The Incredible Hulk #1.
Bruce and Betty eventually married in The Incredible Hulk #319 (1986).
Now, David's powers make him like Incredible Hulk villain Zzzax, who's made of electricity.
The scene where Hulk scales the Golden Gate Bridge was inspired by King Kong (1932). Kong also scales a landmark (the Empire State Building) when chased by the military.
Tech Notes
A lot of scenes in this movie are edited to look like comic book panels.
Most of Hulk's movements were acted out by director Ang Lee himself in a motion-capture suit.
At the time, the "gamma dogs" were some of the most complex creatures Industrial Light & Magic had made. The poodle alone has 1.5 million hairs.
For the dog fight scene, they put a trainer and his dog in motion-capture suits.
The computer graphic of the underground base took three months to make. The bunker was built at Universal Studios, Burbank, CA, on the seventh largest soundstage in the world.
Computer animators studied bodybuilders for the look of Hulk's muscles. They created 1,165 different muscles for him.
The helicopters were made with computer graphics but based on military designs.
Over 180 people worked for more than two years to create the animation for Hulk.
Hulk's face was modeled after a few different people, including Eric Bana and even Jennifer Connelly.
Trivia Notes
Frogs can actually be lifted by tornadoes and dropped during storms, just like they're raining.
Gamma has the highest energy of all electromagnetic radiation.
The radiation he was exposed to would have killed a normal person within a few days.
The "teratogenic effect" is when a parent's substance abuse affects the unborn baby.
Scientists don't agree on whether repressed memories are real.
The modern tranquilizer gun was developed in the 1950s as a way to safely sedate animals for study.
Riot foam has been tested by the military but isn't widely used because of the danger of suffocation.
Some Story Notes movies give you a chance to win $500 via the Golden Note sweepstakes. Go to the Story Notes homepage for a full schedule of relevant films.
Read More