Uncategorized
Story Notes for Gone in Sixty Seconds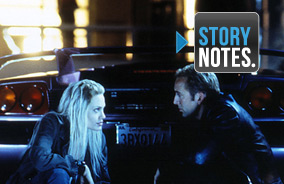 Weeknights during prime time on AMC, you can catch Story Notes — real time trivia and facts about your favorite movies! Below is the online version of the Story Notes for Gone in Sixty Seconds.
Automotive Notes
The Porsche Carrera was named one of the "Top Five Cars of the 20th Century."
Eleanor is a modified 1967 Shelby Mustang GT500, originally designed by legendary racer Carroll Shelby.
A 1967 Ferrari 275 GTB/4 sold for nearly $2 million at an auction in 2008.
Johnny B's car is a Mercedes S-class. That's at least $70,000 up in smoke.
The Eldorado line was discontinued in 2002, after nearly 50 years of production.
That Jaguar XJ220 is considered one of the fastest cars of the mid-'90s.
The prototype Eleanor was customized by car designer (and Hot Rod Hall of Famer) Chip Foose. After the movie, it was acquired by the Hollywood Star Cars Museum in Gatlinberg, Tennessee.
One of the Eleanors had a passenger-side steering wheel for a driver to do stunts Cage couldn't.
The '67 Shelby Mustang GT500 has a 355 horsepower engine, with a top speed of 133 mph.
Nicolas Cage has owned a lot of cars. His first was in such bad shape, he couldn't drive it, so he would sit in his driveway and pretend.
There were a total of 13 Eleanors made for the movie. Each one had a specialty. Some were made to go as fast as possible. Others were made to turn on a dime.
One more Eleanor was built for Bruckheimer's private use.
A restored 1967 Shelby GT500 can fetch up to half a million dollars at auction.
Award Notes
Cage won an Oscar five years earlier for Leaving Las Vegas (1995).
Composer Trevor Rabin won a BMI Film Music Award for his Gone in Sixty Seconds score.
Beauty Note
Jolie came up with the look for Sway, including the blonde dreadlocks. Jerry Bruckheimer: "That came from the inside and how she interpreted the character."
Biographical Notes
Before Gone in Sixty Seconds, director Dominic Sena was mostly known as an A-list music video director (Janet Jackson, Sting). This was only his second movie, after Kalifornia (1993).
Nicolas Cage was just coming off dramatic roles in Bringing Out the Dead and 8MM (both 1999).
Director Dominic Sena worked as a cameraman on The Junkman (1982), directed by H.B. Halicki, who was the director of the original Gone in 60 Seconds.
Christopher Eccleston was the ninth Doctor to play "Doctor Who."
Screenwriter Scott Rosenberg also wrote the 1997 Nicolas Cage/Jerry Bruckheimer movie Con Air.
Robert Duvall got his first Oscar nomination playing another "advisor" in The Godfather (1973). The Godfather was directed by Francis Ford Coppola, Nicolas Cage's uncle.
Angelina Jolie won a Best Supporting Actress Oscar for Girl Interrupted in 2000 (the year this movie came out).
Ex-soccer star Vinnie Jones (Sphinx) was part of a group of players called the "Crazy Gang."
Cage says prod. Bruckheimer made him an action star with The Rock (1996) and Con Air (1997). Nicolas Cage: "I was probably the last person on the list to star in an action movie."
Nicolas Cage's car was stolen a year after this movie came out. A few weeks later, police recovered his Porsche convertible from the bottom of a lake.
Scott Caan was in Sonny (2002), the first movie directed by Nicolas Cage.
Angelina Jolie agreed to be in this movie because she loves cars. At the time, she drove a Ford truck.
Timothy Olyphant and Delroy Lindo have both starred in adaptations of Elmore Leonard's books. Olyphant in the TV series Justified and Lindo in Get Shorty.
Christopher Eccleston plays a supervillain in Thor: The Dark World (2013).
Vinnie Jones worked with director Dominic Sena again the following year, in Swordfish (2001).
Casting Notes
Delroy Lindo is known for his roles in Get Shorty (1995) and Ransom (1996).
Timothy Olyphant is in Deadwood (2004-2006) and Live Free or Die Hard (2007).
Will Patton worked on two Bruckheimer movies in 2000: this one and Remember the Titans.
Will Patton was cast two days before arriving on set. When he asked director Sena when he could do his homework, Sena said, "On set, in front of the camera!"
Christopher Eccleston was cast as Calitri after producer Jerry Bruckheimer saw him in Elizabeth (1998).
Giovanni Ribisi (Kip) is known for his roles in Saving Private Ryan (1998) and Avatar (2009). He played another crook this same year in Boiler Room (2000).
Grace Zabriskie is known for playing Laura Palmer's crazy mom on Twin Peaks (1990-1991). She's also the mother of Susan, George's fiancée, on Seinfeld (from 1992-1998).
Oscar-winner Robert Duvall worked with a professional car detailer to prepare for his role.
Frances Fisher (Junie) is Rose's mom in Titanic (1997).
This was Vinnie Jones' second movie. He was Big Chris in Lock, Stock and Two Smoking Barrels (1998).
The role of Sway was written for Angelina Jolie.
Johnny B is played by rapper Master P. His album MP Da Last Don hit #1 in 1998.
T.J. Cross (Mirror Man) is a stand-up comic. He had zero acting experience before this movie.
Scott Caan (Tumbler) is known from the Ocean's Eleven movies and the new Hawaii 5-0.
William Lee Scott (Toby) was in producer Jerry Bruckheimer's Pearl Harbor (2001).
James Duval (Freb) is Miguel in Independence Day (1996).
Arye Gross is from Ellen (1994-1996) and Castle.
Chi McBride (Donny) was starring on Boston Public (2000-2004) when this movie came out.
Bodhi Elfman (Buzzy) is also in Bruckheimer's Armageddon and Enemy of the State (both in 1998).
Carmen Argenziano plays Jacob Carter on Stargate-SG 1 (1998-2005).
Michael Peña co-stars in World Trade Center (2006) with Nicolas Cage.
Finance Note
Gone in Sixty Seconds made $25.5 million its first weekend. It was Cage's best opening to that point.
Location Notes
Long Beach Harbor is the second busiest port in the U.S. The Port of Los Angeles is No. 1.
The casino is located at the historic Betfair Hollywood Park Racetrack, which opened in 1938. Its original shareholders included Walt Disney, Sam Goldwyn, and Bing Crosby.
They closed the Vincent Thomas Bridge in Long Beach for big chase scene. It was never shut down for a movie before.
Music Notes
"Busy Child" by The Crystal Method, 1997.
"Better Days (And the Bottom Drops Out)" by Citizen King, 1999.
"If Everybody Looked the Same" by Groove Armada, 1999.
Composer Trevor Rabin has scored 13 of producer Jerry Bruckheimer's movies. He was a member of the band Yes and wrote their hit, "Owner of a Lonely Heart."
"Low Rider" by War, 1975. It was No. 6 on Rolling Stone's readers' poll of the best car songs of all time.
"Stop the Rock" by Apollo 440, 1999.
"Painted on My Heart" by Diane Warren, 2000, performed by The Cult.
Pop-Culture Notes
In 2012, a group called the "Gone in Sixty Seconds Gang" was arrested for stealing 39 cars in the U.K.
Angelina Jolie was named one of People's "Most Beautiful" in 2006.
Prop Note
The gun that Calitri (Christopher Eccleston) has towards the end of the movie is a Walther PPK. That's 007's trademark weapon.
Quotation Notes
Bruckheimer: "Nic was the first actor we went to and we just chased him until he finally said yes."
Eccleston says, "Calitri is a businessman… He's not particularly interested in what he's selling."
Director Dominic Sena said Nicolas Cage and Giovanni Ribisi share a "shrewd sense of humor…They found a way to twist the dialogue and were in synch. To me, they even look like brothers."
Director Dominic Sena: "[Cage] is a car thief with a good heart."
Producer Jerry Bruckheimer: "This movie is not just for people who love cars… It's a movie about making choices set against a backdrop of incredible cars."
Nicolas Cage: "Memphis Raines is a character I could easily buy into… just by the nature of my own desire to drive and love of the automobile."
Producer Mike Stenson: "Otto is the Yoda of the group."
Castlebeck was modeled after Charles Durning's character in The Sting (1973).
Lindo on his research for his character as a detective: "I found there's sometimes a mutual appreciation for cars among the officers and the thieves."
T.J. Cross (Mirror Man): "When you put someone stone-faced, 6'2″ like the Sphinx who never talks with someone like my character who's 5'6″ and never shuts up, it makes for a great relationship."
Angelina Jolie: "[Sway] just wants to make love to her cars. To her, it's a very sexual thing."
Director Dominic Sena: "William Lee Scott really brings the innocence to the role… He's the one Kip responds to as his younger brother, as it were."
Angelina Jolie: "I want to play a character, I want to go crazy, and I want to play with cars."
Director Dominic Sena: "I wanted to give the audience a ride. I wanted them to be behind the wheel."
Nicolas Cage on action movies: "Any acting you want to do you have to do it fast…[It's] good training because it does sort of distill you down to the precise essence of the character."
Nicolas Cage: "I always saw [action movies] as escapist entertainment… It's just as valuable as the thought-provoking, introspective work that actors do."
Nicolas Cage said Gone in Sixty Seconds "has kind of a glorified '70s B-movie aura."
Jerry Bruckheimer on the last scene: "You had to drag [Nicolas Cage] out with a crane to get him out of that car."
Set Notes
This was produced by Jerry Bruckheimer. He's called "Mr. Blockbuster" for his big-budget action movies. He's known for Top Gun (1986), Armageddon (1998), and the Pirates of the Caribbean movies.
To prepare for this role, Delroy Lindo spoke with police officers who specialize in auto thefts.
Cage, Ribisi, and Jolie all went to stunt-driving school to prepare for their roles.
Source Notes
Gone in Sixty Seconds (2000) is a remake of the 1974 cult movie of the same name. Both are about stealing lots of cars in a short time, but the plots are very different.
Eleanor is the only main character carried over from the original 1974 version of this movie.
The crew stole a car with a trunk full of heroin in the original movie, too.
Stunt coordinator Chuck Picerni Jr. has done over 130 movies, like Die Hard (1988) and Scarface (1983).
Delroy Lindo (Castlebeck) accidentally totaled the BMW he drives in the movie.
Director Dominic Sena says a helicopter wouldn't normally fly so close to a chase. Sena: "It wouldn't have been too exciting to see the helicopter at 500 feet so we brought it down to 20."
Sports Note
Shaquille O'Neal joined the Lakers in 1996 and was named MVP in 1999.
Trivia Notes
The speed limit on Wilshire Boulevard is 30 mph.
Some crushers use up to 159 tons of pressure. Nicolas Cage killed a bad guy in one when he played Big Daddy in Kick-Ass (2010).
The Ferrari 365 GTB/4 finished fifth at the 24 Hours of Le Mans race in 1971.
You can get a truck license in California with 4-5 weeks of classes.
Fingerprinting was first used for a criminal investigation in Argentina in 1892.
A vehicle is stolen every 33 seconds in the U.S.
In 2009, thieves in China cracked the key codes and stole "unstealable" Mercedes cars.
Car theft is the largest property crime in the U.S.
Car thefts spiked in a number of cities after Gone in Sixty Seconds was released. "It would be silly not to think the film is a factor," said a police spokesman.
About one fourth of all California vehicle thefts occur in Los Angeles County.
Black light exposes phospors, which give off light in response to radiation.
As of 2012, Nicolas Cage and producer Jerry Bruckheimer have made six movies together.
Wardrobe Note
To stay in character, Delroy Lindo wore his gun and police gear even when it wasn't needed in the shot.
Some Story Notes movies give you a chance to win $500 via the Golden Note sweepstakes. Go to amcgoldennote.com for a full schedule of relevant films.
Read More