Uncategorized
Story Notes for Bring It On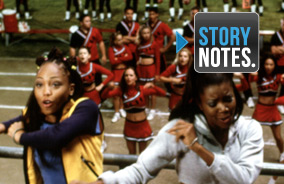 Weeknights during prime time on AMC, you can catch Story Notes — real time trivia and facts about your favorite movies! Below is the online version of the Story Notes for Bring It On.
Award Notes
The opening choreography earned a nomination for Best Dance Sequence at the MTV Movie Awards.
Gabrielle Union (Isis) won a Black Reel Award for Best Supporting Actress for this movie.
Biographical Notes
Bring It On was the first movie directed by Peyton Reed. He went on to do The Break-Up (2006) and Yes Man (2008).
Eliza Dushku is from Watertown, Massachusetts — not Romania.
Buffy the Vampire alumni Clare Kramer and Eliza Dushku reunited on another supernatural show — Tru Calling.
Kirsten Dunst and Gabrielle Union were both cheerleaders in eighth grade.
Kirsten Dunst and Eliza Dushku were 17 and 19 when making this movie. Both were child actors. Dunst was 11 in Interview with the Vampire and Dushku was 12 in True Lies.
Jesse Bradford was voted "Best Looking" and "Favorite Actor" in his high school yearbook.
Jesse Bradford (Cliff) was a gymnast when he was younger.
Jesse Bradford and Kirsten Dunst were both in commercials when they were babies.
Brandi Williams (Lafred) was the captain of her cheerleading team in the fourth grade.
Kirsten Dunst has been named one of People's "50 Most Beautiful People" twice, in 1995 and 2002.
Anne Fletcher, who later directed Step Up and The Proposal, choreographed the Toros' Nationals competition routine.
Casting Notes
Kirsten Dunst had just starred in two other comedies in 1999: Drop Dead Gorgeous and Dick.
Holmes Osborne (Torrance's dad) also plays the father in Donnie Darko (2001).
Big Red is played by Lindsay Sloane, from Horrible Bosses (2011) and Weeds.
Cody McMains (Justin) also plays the little brother in Not Another Teen Movie (2001).
Cliff is Jesse Bradford, from Swimfan (2002) and Hackers (1995).
Huntley Ritter (Les) is a football player in We Are Marshall (2006).
Tsianina Joelson (Darcy) cheered for the Portland Trail Blazers.
Eliza Dushku was on Buffy the Vampire Slayer when this was shot. She played bad-girl slayer Faith.
Clare Kramer (Courtney) was also on Buffy the Vampire Slayer as the villain Glory.
The three other Clovers with speaking roles are played by members of the R&B trio Blaque.
Nathan West (Jan) was a minor league hockey player before becoming an actor.
Many of the football players were played by Navy SEALS stationed in San Diego.
Whitney is played by Nicole Bilderback, who was in Clueless (1995) and Can't Hardly Wait (1998).
Ian Roberts (Sparky Polastri) is from Upright Citizens Brigade and Reno 911!. Known for improvising, he rewrote most of the choreography scene himself. "Don't think" is the motto of the Upright Citizen's Brigade Theater, which Ian Roberts co-founded.
Most of the Clovers are cheerleaders from Madison High School in San Diego. At the time, they were ranked No. 3 in the nation.
The woman in Aaron's room is Carla Mackauf, a real-life Lakers cheerleader.
Aloma Wright (Pauletta) later played a nurse on Scrubs (2001-2009) and Days of Our Lives (2008-2012).
Finance Note
Bring It On was a box office hit and went on to spawn 4 direct-to-video sequels.
Historical Notes
The first spirit stick was created in 1957 by the National Cheerleading Association.
More than 90% of all cheerleaders are female, but before WWII the majority were men.
Location Notes
The movie is set in San Diego because it's one of the biggest cheerleading hubs in the U.S.
The script had to be approved by the catholic school Our Lady of Peace's nuns before they could film there.
Music Notes
"Cherry Pie" by Warrant, 1990. It cost $40,000 to get the rights to this song for the movie.
Composer Christophe Beck (The Hangover) also wrote the theme for Buffy the Vampire Slayer.
Gabrielle Union also stars in Bad Boys II (2003) and 10 Things I Hate About You (1999).
"Detour" by Bis, 1999. Billboard named Blaque among the Best New Artists of 1999.
"As If" by Blaque, 2000.
"Freakin' You" by Jungle Brothers, 2000.
"There She Goes" by The Getaway People, 2000
"U.G.L.Y." by Daphne and Celeste, 2000. The song is based on a real cheer, which was featured in the movie Wildcats (1986).
"Get Ready for This" by 2 Unlimited, 1991. This was the opening song for the Green Bay Packers in Superbowl XLV.
"You're Just What I Need" by Rufus King, 2000. The song wasn't ready when in time for shooting, so director Reed played the guitar while Dunst danced.
Cheerleaders often set their routines to mixes of many different songs. The songs both teams cheer to at Nationals were mixed by Mark Bryan of Cheerleading Music Service.
"Mickey" performed by B*Witched, 2000. The original Tony Basil version of this song hit #1 on the U.S. charts in 1982.
Pop-Culture Notes
The "loser sneeze" is closely related to the "BS cough" from Animal House (1978) and Top Gun (1986).
Bring It On was made into a Broadway musical, which opened in August of 2012.
Touched by an Angel was a Top 10 TV show the year before this movie came out.
Peyton Reed later directed Down With Love (2003), a Rock Hudson/Doris Day homage with Ewan McGregor and Renée Zellweger.
The silent audience was inspired by scenes in Animal House and The Blues Brothers.
Pauletta is based on Oprah, who later had special needs cheerleaders on her show in 2010.
Entertainment Weekly ranked Bring It On one of the "Top 30 High School Movies of All Time."
Press Notes
Roger Ebert called Bring It On (2001) "the Citizen Kane of cheerleader movies."
Entertainment Weekly: "In the end, we learn there's more to cheerleading than loads of hairspray [and] teeny halter tops… These are athletes who know how to really bring it… We give this comedy five spirit fingers up!"
Quotation Notes
Director Peyton Reed described Richard Hillman (Aaron) as "something out of an Archie comic."
Eliza Dushku: "I used to make fun of cheerleaders. I wasn't popular in high school… I [made] oaths… with my friends to never let each other become a cheerleader."
Director Peyton Reed said that in a fight, his money would be on Eliza Dushku.
Jesse Bradford: "I was very single at the time, surround[ed by] cheerleaders for the whole summer."
Writer Jessica Bendinger says everyone knows a cheerleader, has dated one, or wants to date one.
Director Peyton Reed: "I was a band geek. I loved cheerleaders. I only wish I could have dated one."
Dunst: "This is totally not disrespectful to cheerleaders. It actually puts them in a really good light… It shows how hard they work to get where they are."
Director Reed: "It was really important to me that the entire squad be in sync and their moves seamless. Even I am hard-pressed, watching the final film, to tell the actors from the real cheerleaders."
Director Peyton Reed: "[At first,] Eliza Dushku was like, 'What am I doing in a cheerleading movie?! But once she got in there she got into it the most."
Director Peyton Reed: "[Cheer tournaments] combine the atmosphere of a sports competition… and the mania of a beauty pageant."
Director Peyton Reed called the last scene a "Rocky ending."
Eliza Dushku: "This movie taught me that cheerleading isn't just a sport… It's about girls bonding together and being supportive to each other."
Random Note
Nicole Bilderback and Clare Kramer watched Jerry Springer together every night after filming.
Script Notes
The opening cheer was written in 20 minutes using a rhyming dictionary.
All of the male cheerleaders have names that sound like girls' names (Jan, Leslie, Aaron).
Writer Jessica Bendinger got the idea for the movie from watching cheerleading competitions on ESPN.
One squad is a Fundamentalist Christian group from New Pope, Mississippi.
Director Peyton Reed was inspired by early John Hughes movies when making Bring It On. He named the brother Justin after one of the actors in Hughes' Sixteen Candles (1984).
Sparky is a Bob Fosse wannabe. His look is based on the famed choreographer.
The original title of the movie was Cheer Fever.
Set Notes
The cast went through four weeks of cheerleader camp and did most of their own stunts. All the non-speaking roles are played by real cheerleaders.
All of the main cast members had to prepare a cheer to audition for the movie.
Hip-hop choreographer Hi-Hat came up with the Clovers' routines. Hi-Hat has worked on music videos for Rihanna, Jay-Z, and Missy Elliot.
Director Peyton Reed says he watched the 1973 sex-comedy The Cheerleaders for inspiration.
Jesse Bradford (Cliff) plays guitar in real life, but what you hear in the movie is the guitarist from The Blasters.
Kirsten Dunst would listen to "Misguided Angel" by Cowboy Junkies before emotional scenes.
Dunst had a hard time with this speech because the cast kept talking and breaking her focus.
The cheerleading coach for the movie was Ray Jasper, who runs cheer camps across the world. All of the supporting cheerleaders on the Clovers and Toros came from his Champion All-Star program.
Huntley Ritter (Les) sprained his ankle while filming the Nationals competition scene, but he kept going and shot the rest of the routine.
Sports Notes
Cheerleading was born at the University of Minnesota in 1898.
It generally takes months to learn a new routine.
The Universal Cheer Association was founded in 1974. The UCA pioneered setting cheer routines to music.
With an average of 28,000 injuries a year, cheerleading is the most dangerous high school sport.
Symbolism Note
Director Peyton Reed said Missy represents the audience.
Trivia Notes
"Pinch a penny" means to squeeze your butt so tight that it could hold a penny.
In 1991, a Texas woman hired a hit man to try to get her daughter on the cheerleading squad. Rancho carne means "meat ranch" in Spanish.
RCH stands for Rancho Carne High.
Cheerleading choreographers charge as much as $7000 per routine.
According to a recent study, cheerleaders with midriff-baring outfits are at a higher risk for eating disorders.
Donations to cheerleading teams are generally tax deductible.
Today, there are about 4 million cheerleaders throughout the world.
Many of the more extreme moves, like the aerial tosses, would be illegal in a high school competition.
Wardrobe Notes
Cliff's t-shirt is for a post-punk band called the Chameleons. Director Peyton Reed is a fan.
Some Story Notes movies give you a chance to win $500 via the Golden Note sweepstakes. Go to amcgoldennote.com for a full schedule of relevant films.
Read More