Games, Polls & Quizzes
It's Time to Get Your Christmas Movies Fix On-Air and Online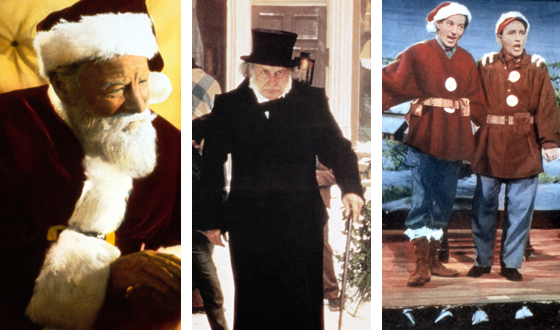 The shopping is done. Your stockings are stuffed. The tree is trimmed. Next on the agenda? Settle in for AMC's Christmas Eve Movie Marathon on Mon, Dec. 24. All day long, catch Christmas classics like Miracle on 34th Street, A Christmas Carol and White Christmas. The yuletide riches also extend online with…
ULTIMATE FAN GAMES
These movie trivia quizzes test your knowledge, award badges and incite you to challenge your Facebook friends.
A Christmas Carol (1984)
Which actor reappears as the same character in the 1999 version of A Christmas Carol? Take the quiz!
Miracle on 34th Street
Who does Kris Kringle list as his next of kin on his Macy's employment card? Take the quiz!
White Christmas
Which screen legend was originally supposed to star opposite Bing Crosby? Take the quiz!
Christmas Comedies
In A Christmas Story, what part of Flick gets stuck to the flagpole? Take the quiz!
Christmas Songs in Movies
What Christmas song do Will Ferrell and Zooey Deschanel sing together in Elf? Take the quiz!
Classic Christmas Movies
Which comedy duo stars in the 1934 version of Babes in Toyland? Take the quiz!
Modern Christmas Movies
Arnold Schwarzenegger searches for what sold-out toy for his son in Jingle All the Way? Take the quiz!
Scrooge Movies
Which famous singer stars as a female Scrooge in A Diva's Christmas Carol? Take the quiz!
MOVIE LISTS
These interactive lists let you decide which movies are the best of the best.
Top 20 Christmas Movies
White Christmas, Elf, It's a Wonderful Life. Which of these Yuletide flicks puts you in the holiday spirit? Vote now!
Top 15 Santas
In Hollywood, Santa can be naughty or nice. So which version is your favorite? Vote now!
Top 10 Christmas Movie Soundtracks
The Nutcracker and Rudolph the Red-Nosed Reindeer wouldn't be the same without music, but which soundtrack hits just the right note? Vote now!
Top 10 Worst Christmases in the Movies
In terms of humbuggery, how would you rank the disastrous holidays in these flicks? Vote now!
Happy Christmases In Hard Times
A tight budget or coal in your stocking doesn't have to mean an unhappy holiday. Which uplifting flick turns a frown upside down? Vote now!
PHOTO GALLERIES
Pictures of your favorite movies, actors and characters.
The Many Faces of Santa
Sometimes he's bearing gifts. Sometimes he's stealing them. Here's a look at Tinseltown's varied interpretations of Kris Kringle. View now!
Top 10 Christmas Movies
Get a gander at ten holiday flicks that you should put on your must-see list. View now!
Scrooged for the Holidays
Feeling less than merry? See if you've joined the ranks of these scrooges.View now!
TOURNAMENT
8 characters fight each other for three rounds until there's only one winner.
Scrooges Tournament
Jim Carrey, Bill Murray and Vince Vaughn are anything but merry in their respective Christmas flicks. So which killjoy would ruin your holiday? Play now!
Don't miss AMC's Christmas Eve Movie Marathon on Mon, Dec. 24, starting with All I Want for Christmas at 9:15AM | 8:15c.
Read More