Uncategorized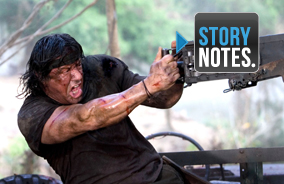 Weeknights during prime time on AMC, you can catch Story Notes — real time trivia and facts about your favorite movies! Below is the online version of the Story Notes for Rambo.
Anthology Notes
Rambo (2008) is the first movie in which John Rambo uses a pistol in the entire Rambo series.
Throughout the movie, Rambo's wearing almost the exact same clothes he wore in the opening scene of First Blood (1982).
Rambo was also living in Thailand at the beginning of Rambo III (1988).
Rambo has used a bow and arrow in every movie except First Blood (1982).
Rambo was released 20 years after the last movie, Rambo III (1988). Sylvester Stallone decided to continue Rambo's story after learning about the civil war in Burma.
John Rambo was also hunted by tracking dogs in First Blood (1982).
John Rambo also fights off a flamethrower in Rambo III.
Casting Notes
Ken Howard (Arthur Marsh) also worked with Sylvester Stallone on Oscar (1991).
Julie Benz (Sarah) was asked to audition by Sylvester Stallone after he saw her on Dexter.
Graham McTavish (Lewis) says meeting Stallone at his audition was an "out of body experience."
Before Rambo, Paul Schulze (Michael) played Father Phil on The Sopranos (1999-2006).
Finance Note
Rambo earned over $113 million worldwide. Stallone followed with the hit, The Expendables (2010).
Historical Notes
The military has been accused of assaulting women in Burma for decades.
The Claymore mine was first used in the Vietnam War. When detonated, it fires hundreds of steel balls.
Burma was renamed Myanmar in 1989, but U.S. officials still refer to it as Burma. The U.S. never accepted the name change because it would give legitimacy to the military regime.
Location Note
Rambo was shot in northern Thailand, near the Burmese border. Many of the prisoners and guards in some scenes were actually Karen rebels.
Music Note
Composer Brian Tyler's score is an homage to Jerry Goldsmith's music in First Blood.
Political Note
In 2012, the Karen rebels became the last subtribe in Burma to agree to a ceasefire with the government.
Pop-Culture Note
"Live for nothing or die for something" became the rallying cry for the Burmese rebels.
Prop Note
While in the jungle, the actors carried rubber guns 1/3 the weight of the real weapons.
Quotation Notes
Sylvester Stallone: "That hurt a little bit. It's tough doing stunts when you're over 200 years old." Stallone was 36 when First Blood was released. He was 61 when Rambo came out.
Sylvester Stallone: "The only way into Burma is up the river. This is a hellhole beyond your wildest dreams."
Sylvester Stallone says he "feared for his life" while shooting Rambo. "We were told we could get seriously hurt if we went on. It was horrifying."
Stallone: "There's this beauty and the beast situation. He hasn't felt any emotions for so many years."
Stallone: "The Burmese are known to shoot people going up into the Salween River."
Stallone: "John Rambo goes home. The question is: Will he stay there?"
Stallone: There was rain that "lasted almost 30 days. It just beat on you without mercy."
Stallone: "The other Rambos had a bit too much energy, were a bit too spry."
Stallone says this is "the most difficult terrain I've ever had to negotiate, including Cliffhanger (1993)."
Julie Benz: "There's a real social message behind the movie about the most under reported war in the world."
Julie Benz: "I was fascinated by being a part of the Rambo franchise."
Julie Benz calls Rambo "the most physically and emotionally demanding job" she's ever had.
Julie Benz began working for the U.S. Campaign for Burma after this movie was released. "I can't continue my life without trying to help the situation."
David Morrell: "[Rambo] spends a lot of time in the rain, as if trying to cleanse his soul."
Set Notes
The entire jungle village was built and had to be moved to avoid being washed away in mudslides.
On the first day of shooting, Stallone tore part of his quadriceps running through the jungle.
On sunny days, temperatures on set reached 120 degrees.
Boars are known for their aggressive temperament. One of the boars on set got loose during filming and it took seven men to corral it.
Source Note
The character John Rambo is originally from the book First Blood (1972) by David Morrell. Stallone wanted this movie's Rambo character to be more like the original character in the book.
Trivia Notes
When Rambo was filmed, there were about 300,000 child soldiers in Burma.
They started making Rambo during Thailand's rainy season. This area gets over 40 inches in six months.
There are over 200 species of snakes in Thailand. 60 are venomous.
Burmese pirates are so aggressive, they've attacked boats hundreds of miles off the coast.
The last shot of Rambo's flashback is actually the alternate ending from First Blood (1982).
The jungle is ideal for tracking scents because of the damp climate and lush vegetation.
The haze in the movie's background isn't the weather. Farmers burn forests to create fields for their crops.
Since the 1990s, the Burmese military has destroyed 3,200 villages in eastern Burma.
SAS stands for Special Air Service and is the British Army's elite special forces unit. Their motto is "Who Dares Wins."
Rambo kills 83 bad guys in Rambo. That's 82 more than in First Blood.
Rambo is the first movie in the series directed by Sylvester Stallone.
Over 150,000 refugees live along the Thailand-Burma border.
The name "Rambo" is only said twice in this movie.
In 1999, Burma exported over $600 million worth of methamphetamine tablets.
Every year, about 1,500 people in Burma are killed by land mines.
Even at night, temperatures in Burma are near 80 degrees Fahrenheit.
Burma spends half its budget on the military, even though they don't face any foreign threats.
Burma is the least-developed country in Southeast Asia and receives very little aid.
Read More