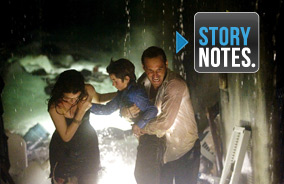 Weeknights during prime time on AMC, you can catch Story Notes — real time trivia and facts about your favorite movies! Below is the online version of the Story Notes for Poseidon.
Award Notes
Richard Dreyfuss won a Best Actor Oscar for The Goodbye Girl (1977).
Poseidon was nominated for an Oscar for Best Visual Effects.
Biographical Notes
Director Wolfgang Petersen called this the last of his "sea trilogy," following Das Boot and The Perfect Storm.
Kurt Russell also played a fireman in Backdraft (1991).
Oscar-winning cinematographer John Seale also shot director Wolfgang Petersen's The Perfect Storm.
One of Kevin Dillon's first movie roles was a soldier in Platoon (1986).
When Josh Lucas was nine, he got third-degree burns all over his body from a pot of boiling water.
Kurt Russell also helped with an underwater escape in Big Trouble in Little China (1986).
Casting Notes
Kurt Russell was so excited to work with director Wolfgang Petersen that he signed on without reading the script.
Emmy Rossum (Jennifer) stars in The Day After Tomorrow (2004), another disaster movie.
Christian is played by Mike Vogel, from The Texas Chainsaw Massacre (2003) and Cloverfield (2008).
Josh Lucas (Dylan) also appears in Sweet Home Alabama (2002) and A Beautiful Mind (2001).
Mia Maestro plays Elena on TV's Alias (from 2004-2006).
Richard Dreyfuss is in one of the biggest sea movies of all-time, Jaws (1975).
Freddy Rodriguez (Valentin) plays Rico on Six Feet Under (2001-2005).
Andre Braugher (Captain Bradford) stars on Homicide: Life on the Street (1993-1998).
Stacy "Fergie" Ferguson, lead singer of the Black-Eyed Peas, plays Gloria. This was her first big movie role.
Kevin Dillon was playing Johnny "Drama" on Entourage at the time of shooting.
Jacinda Barrett (Maggie) started out on MTV's Real World: London (1995).
Jimmy Bennett (Conor) went on to play a young James T. Kirk in Star Trek (2009).
Finance Note
Poseidon was the sixth Wolfgang Petersen movie to make over $100 million.
Location Notes
The nightclub scene was filmed at the Staples Center in L.A.
The ship's galley is actually the commissary at the Warner Brothers' lot.
Music Notes
The song Stacy Ferguson (Gloria) sings is called "Won't Let You Fall" (2006).
"Auld Lang Syne" is also sung in the original movie, The Poseidon Adventure (1972). It roughly means "times gone by" in Scottish.
Poseidon's composer Klaus Badelt also wrote music for Gladiator (2000) and Pirates of the Caribbean (2003).
Press Notes
The Washington Post: "Poseidon plays like Titanic, if Titanic had begun at minute 127."
The Washington Post: "[The movie] certainly gets the three most annoying things about water. It is wet, there is a lot of it, and it wants to kill you."
Time Out London: "Petersen's expert direction [keeps] the tension ratcheted right up and commendably [steers] it all home."
Quote Notes
Emmy Rossum: "[Poseidon was] the toughest thing I think I've ever done, movie or otherwise, in my life."
Josh Lucas: "I would never trust my personal safety… based on what someone else is saying."
When the cast was asked if they were more afraid of fire, drowning, electrocution or falling, most chose fire.
Emmy Rossum: "[Jennifer's] pretty courageous for a 19-year-old girl in this kind of situation."
Mia Maestro has some experience cave diving, which helped her not feel claustrophobic in this scene.
Dir. Wolfgang Petersen has said his two obsessions are water and people trapped in confined spaces. His first big movie, Das Boot (1981), also focused on those obsessions.
Mike Vogel (Christian) and Kurt Russell got pneumonia while on set. Russell: "I was in bed ten days before I could come back and finish the water stuff."
Dir. Wolfgang Petersen: "Water, when it really gets angry, is an unbelievable force of destruction."
Dir. Wolfgang Petersen: "This is a journey into madness. It's like marching right into hell."
Emmy Rossum got inspiration for her character by watching interviews with tsunami and flood victims.
Kurt Russell: "I had to entrust myself to someone to come in and give me air at exactly the right moment."
Russell: "That limbo time where you may be dead or you may not be… was when I hit that button."
Josh Lucas: "It was like we were inside some giant living beast that is mortally wounded. First it loses its heart, then vital organs start to shut down."
Director Petersen: "The most dramatic force in the universe is water. It is poetic."
Set Notes
Pieces of the set were re-created on tilting platforms to give the effect of the ship turning over. This was director Wolfgang Petersen's favorite part of the movie. Petersen: "It's one of my proudest moments. It's so breathtaking."
Most of the sets used in the movie were built upside-down.
All of the furniture was gutted so it would be light enough to hang from the ceiling.
Some people working on the movie suffered minor electrocutions on set.
Kurt Russell says he and Emmy Rossum formed a genuine father-daughter bond during filming.
The lobby was built with 750,000 pounds of steel and 10,000 sheets of plywood.
Josh Lucas had to convince the producers to let him perform the scene where he is diving and swimming under the flames. Lucas: "It was hot and it was terrifying and I hallucinated for about three hours afterwards."
Andre Braugher liked working with Poseidon's live action instead of computer-generated effects.
Mike Vogel (Christian) looked up to Kurt Russell as a mentor on set.
Instead of flooding the tank the actors were in, the ceiling was lowered.
The actors practiced holding their breath underwater using something called "the Cage of Death."
Twenty makeup artists worked on 70 extras and 60 dummies to create the dead and injured.
All of the water had to be colder than 82 °F, so bacteria wouldn't grow.
All the debris in the water was tied with fishing wire to keep it in place. Jacinda Barrett cut herself on the wire because her skin was so soft from being in the water all day.
Josh Lucas would go home after shooting and prepare by swimming underwater laps in his pool.
Kurt Russell held his breath for so long during a take of one of the scenes, he couldn't remember doing it.
A huge fan created 100-mile-an-hour winds for one scene. Hurricane force is 74 mph.
Director Wolfgang Petersen used the same 1.3 million-gallon mini-ocean for The Perfect Storm. He nicknamed it "Petersen's Pond."
Source Notes
Poseidon (2006) is an update of The Poseidon Adventure, one of the big disaster movies of the 1970s.
In the original book, the Poseidon ship was inspired by the Queen Mary.
The original Poseidon Adventure also took place on New Year's Eve.
In the original Poseidon Adventure, the group climbed a Christmas tree to start their escape.
In the original movie, the two leaders fought all the time; here they understand each other.
Tech Notes
The giant wave, created by special effects company Industrial Light & Magic, is supposed to be 150 feet high.
As many as six cameras were used at one time to cover all angles in the action scenes.
Cinematographer John Seale used darker lighting and less color as the survivors' situation gets more bleak.
A propane blast was added to the explosion to make it bigger. They weren't expecting such large flames.
Trivia Notes
Romanée-Conti is the same wine William Holden gives Robert Vaughan in The Towering Inferno (1976).
Rogue waves sink about a ship a year in the North Atlantic.
The Poseidon Adventure author Paul Gallico was on the Queen Mary when it was hit by a smaller rogue wave.
The average cruise ship has doubled in size since 2002.
Kurt Russell's character, Robert Ramsey, is named after the mayor in The Towering Inferno (1974), another classic disaster movie.
Wardrobe Notes
Special vents were built into the bottom of the cast's shoes to allow water to drain easily.
The wardrobe department created increasingly beat-up versions of each costume. There were 75 versions of Josh Lucas's shirt.
Read More