Uncategorized
Six Things You Didn't Know About Sylvester Stallone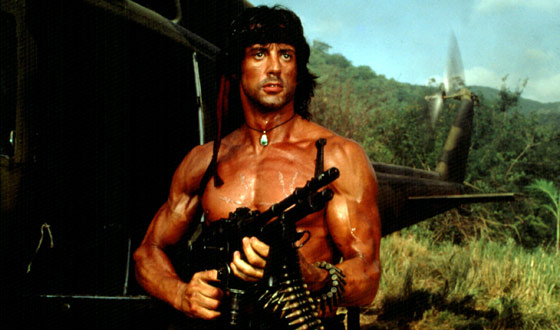 For over 30 years, you've known him primarily as Rambo and Rocky. But put aside Sylvester Stallone's signature characters for a sec and ask yourself how well you know the man behind all that muscle! Maybe you know that Sly's first name is Michael or that he got his start in a racy movie called The Party at Kitty and Stud's. Hell, that's nothing. Check out these fun facts about Stallone then tune into AMC's Crazy About Rambo on Sat., Nov. 3.
1. He's in the Boxing Hall of Fame
In 2011, the man who created Rocky Balboa joined Mike Tyson as an inductee into the International Boxing Hall of Fame. The honor raised the ire of some boxing enthusiasts who complained that Stallone — who's only taken punches onscreen — doesn't belong among a hall of real prizefighters but Sly KO-ed those haters with his ingratiating speech on induction day.
2. Stallone Actually Feels the Pain
While filming Rocky IV, Stallone asked Dolph Lundgren to punch him as hard as he could and ended up in intensive care. Years later in a fight scene with Steve Austin for The Expendables, Stallone ended up with a broken neck (repaired with a metal plate!). In short, his signature grimaces are sometimes very real.
3. He Was Dubbed "the Next Brando"
Following the success of Rocky, Roger Ebert said Sly was primed to become "the next Marlon Brando." Not a surprising declaration at the time, considering Balboa's similarities to Brando's tender-tough guy in On the Waterfront and a gut-wrenching cry of "Adrian!" that would make Stanley Kowlaski proud.
4. He a Fine Artist
Can you picture Cobra (another tough guy character played by Stallone) standing at a canvas with palette and brush in hand? Maybe you should because abstract oil painting is one of Stallone's hobbies. Still skeptical? His work fetches Rocky-like prices with two pieces alone netting $90k.
5. He's Launching a Clothing Line
Actor, writer, director, painter, and now… fashionista. After experiencing a "huge weight change" between Rambo 2 and Rambo 3, Sly discovered a new-found passion for making custom clothing. He's now turning that interest into a label targeted at men ages 25-40. The name of the line? Sly Inc, of course!
6. He Loves Edgar Allen Poe
Many fans know that Stallone's self-professed hero is Leonardo da Vinci (as evidenced in his homage to his idol with the Expendables 2 poster). But fewer may know that he's also "obsessed with Edgar Allen Poe." In fact, he's been developing a biopic of the writer for the last ten years. His reverence obviously outweighs his ego: "Of course, I'm not playing Poe," Stallone says, 'Yo, Poe!' It won't work."
Click here for the full on-air schedule for AMC's Crazy About Rambo.
Read More