Games, Polls & Quizzes
Prep for the Return of The Walking Dead With Zombie Movie Lists and Ultimate Fan Games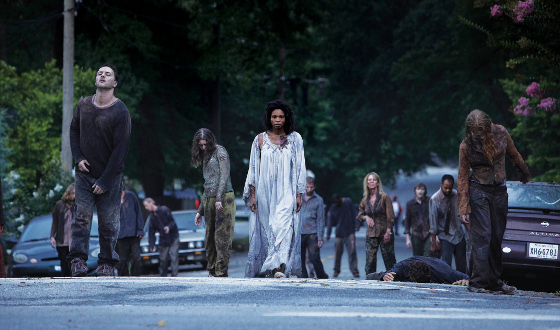 Think you're ready for the return of The Walking Dead
this Sun., Oct. 14 at 9PM | 8C? Sure, you've watched every episode from
season one and two. And you've even stocked up on supplies and made
plans to barricade yourself inside the house while on walker watch. But
how much do you really know about the undead? Here's your chance to find out…
ULTIMATE FAN GAMES

These movie trivia quizzes test your knowledge, let you earn badges and also allow you to challenge your Facebook friends.
Classic Zombie Movies Trivia Game
Which iconic horror star headlines the first feature-length zombie movie? Know the answer? Take the quiz!
Modern Zombie Movies
What is the name of the book that raises the dead in The Evil Dead series? Know the answer? Take the quiz!
MOVIES RANKING LISTS
These interactive lists let you decide which movies are the scariest and/or the best.
Zombie Flicks
Do you love the classic shufflers or prefer your zombies with a bit more speed? Vote now!
Movies With Zombies That Aren't Zombies
From 28 Days Later to Night of the Creeps, which "not-zombie" flick is your fave? Vote now!
George Romero Movies
Which movie from this zombie auteur do you think is his best? Vote now!
TOURNAMENT
16 types of zombies fight each other for four rounds until there's only one winner.
Killer Zombies
In a battle between Night of the Living Dead and Zombieland, which members of the undead will be the last ones standing? Play now!
THE WALKING DEAD
What you can do to get ready for the big premiere on Sun., Oct. 14 at 9PM | 8C.
Watch the full series marathon of The Walking Dead Seasons 1 and 2 on AMC this weekend.
Check out the new The Walking Dead webisodes: Cold Storage.
Play The Walking Dead Social Game on Facebook.

Tune in for The Walking Dead premiere on Sun., Oct. 14 at 9PM | 8C (and be sure to experience The Walking Dead Story Sync when you do.)
Read More