Uncategorized
Story Notes for The Fifth Element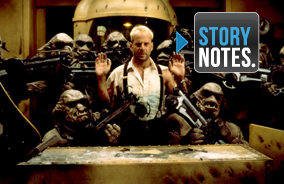 Weeknights during prime time on AMC, you can catch Story Notes — real time trivia and facts about your favorite movies! Below is the online version of the Story Notes for The Fifth Element.
Award Note
The Fifth Element got an Oscar nod for Best Sound Editing.
Beauty Note
Filmmakers made a wig for Milla Jovovich after the orange dye started making her hair fall out.
Biography Notes
Bruce Willis is comfortable behind a bar. He was a bartender for years before becoming famous.
Bruce Willis was near the height of his career at this time, starring in ten No. 1 movies in the '90s.
Gary Oldman has played some very famous killers: Lee Harvey Oswald, Pontius Pilate, and Dracula.
Bruce Willis has a military background… sort of. He was born on a military base in Germany.
Willis also drove a cab in Die Hard: With a Vengeance (1995). He destroyed Central Park.
Sir Ian Holm has been in over 100 movies and was nominated for an Oscar for Chariots of Fire (1981).
Milla Jovovich is fluent in Serbian, English, and French.
Milla Jovovich started her career as a model, working for Revlon at age 11.
This is the second time Ian Holm played opposite a character named Dallas. The first was in Alien (1979).
Gary Oldman is known for his accent work. In 2011, he lost his British accent and had to work with a coach to regain it.
Before he was an action star, Bruce Willis starred in the TV comedy Moonlighting (1985-89).
Before he was a movie star, Chris Tucker was a stand-up comedian on Def Comedy Jam.
A year after this, Chris Tucker starred in the buddy-cop action-comedy Rush Hour (1998).
Jovovich played another battered heroine in director Besson's The Messenger: The Story of Joan of Arc (1999).
Visual effects supervisor Mark Stetson went on to work on the Lord of the Rings trilogy (2001-2003).
A year later, Bruce Willis saved the Earth from a fiery death in Armageddon (1998).
Casting Notes
Luke Perry (Billy) was starring on Beverly Hills, 90210 (1990-2000) when this was shot.
Tommy "Tiny" Lister played President Lindberg. He's a former pro wrestler.
Director Luc Besson said casting Bruce Willis was the easiest part of the movie. "I came to New York. He read the script. Two hours later, he said he'd do it."
Brion James (General Munro) is replicant Leon Kowalski in Blade Runner (1982).
Milla Jovovich beat out over 3,000 women who auditioned for the role of Leeloo.
Gary Oldman (Zorg) is such a good friend of Director Luc Besson, he took the part without reading the script.
Charlie Creed-Miles (David) is in Nil By Mouth (1997), directed by Oldman and produced by Besson.
Kim Chan (Mr. Kim) was discovered while working at his father's restaurant in New York City. He was in two Martin Scorsese movies: The King of Comedy (1983) and Kundun (1997).
Because of the shape of the Mangalore masks, actors had to have sloping foreheads to play them.
Chris Tucker says he modeled Ruby Rhod after Michael Jackson and Prince. "Maybe he's less Michael Jackson and more Janet," says designer Jean Paul Gaultier.
Zorg's henchman is played by musician/actor Tricky, a pioneer of trip hop.
The Diva Plavalaguna is played by Maiwenn, Luc Besson's wife at the time. She took the role after the original actress failed to show up.
Finance Notes
Even as Director Luc Besson went over budget by tens of millions of dollars he didn't have to allow the financers on set or show them any footage.
At the time, The Fifth Element was the most expensive movie produced outside the U.S. It's Luc Besson's highest-grossing movie. It made over twice as much as La Femme Nikita (1991) and Léon: The Professional (1994) combined.
Health Note
For choking, the Red Cross recommends slapping victims on the back before the Heimlich Maneuver.
History Notes
The idea that four essential elements rule the world dates back to ancient Babylonia.
Scientists began sequencing the human genome in 1999 (two years after this).
Location Note
Most of this movie was shot in Pinewood Studios, where many 007 movies are shot. The 007 Stage is the largest soundstage in Europe.
Love Notes
At the time, Bruce Willis was married to Demi Moore. She had just become the highest-paid actress of all time with Striptease (1996).
Milla Jovovich married director Luc Besson seven months after this movie premiered.
Music Notes
"All Night Long (All Night)" by Lionel Ritchie was the #1 song for four weeks in 1983.
The Fifth Element's composer is Eric Serra. He also did GoldenEye (1995) and Bulletproof Monk (2003). He and Director Luc Besson met when they were 18. Serra's worked on every movie Besson's directed.
Pop-Culture Notes
The Fifth Element (1997) premiered as the opening movie at the fiftieth anniversary of the Cannes Film Festival.
A video game called NYR: New York Race is based on a chase scene in the movie and was released in 2001.
The "pill-turns-to-food" gag was also used in Back to the Future Part II (1989).
Major Iceborg's hairstyle was a joking nod to Princess Leia's from Star Wars.
"Meat popsicle" refers to cryogenic freezing.
Vito Cornelius' robe is supposed to resemble Obi-Wan Kenobi's in Star Wars.
Milla Jovovich's first big movie role was in Return to the Blue Lagoon (1991).
The Fifth Element is a "space opera" like Flash Gordon and Barbarella.
Press Notes
Bruce Willis was No. 4 on Complex magazine's "50 Top Action Stars of All Time."
The New York Times said The Fifth Element "delivers that big badda-boom."
The Washington Post: "This movie ensures that your eyes are always thrilled, tickled, or engaged."
Jovovich was named one of the 20 Most Beautiful People of the Decade by Interview magazine (2009).
Prop Notes
Perry holds a Mauser C96. Mausers were used in Star Wars (1977) and Mad Max (1979).
Zorg's ZF-1 weapon was inspired by the AKSU-74 compact assault rifle.
The "parasites" are actually Boglins, rubber puppet toys from the 1980s.
Quote Notes
Director Luc Besson described Zorg (Gary Oldman) with these words. "Dandy," "nouveau rich," and "Hitler."
Director Besson wanted to show the future is not dark and dangerous. "This future is very funny."
Director Besson: "It's always the small people who change things."
Bruce Willis says, in the end, this movie is "just a simple boy-meets-girl love story."
Director Luc Besson said the real fifth element is "life, love, and art."
Script Notes
Leeloo's full name is: Leeloominai Lekatariba Lamiatcha Ebat de Sabat.
"Green" means "cool." The slang word was invented by Chris Tucker for this movie.
This movie was supposed to be a trilogy. Luc Besson had three scripts that he condensed into one.
Set Notes
The visual effects crew said figuring out what "evil" should look like was the hardest part of their job.
The cab was designed by comic book artist Jean-Claude Mézières.
Jovovich says she was covered in bruises throughout the entire shoot. Director Besson says even Bruce Willis said to her, "C'mon, it's fake… don't break your head over it."
The Fhloston Paradise model weighed over 500 pounds.
In the movie, Maiwenn is actually lip synching to soprano Inva Mula. She practiced 30 times a day for 3 months to get the song right.
The explosion in The Fifth Element was the largest indoor movie explosion of all time. The smoke forced an evacuation.
The stars in the background were created by poking holes in a sheet of black fabric.
Source Notes
Director Luc Besson started writing The Fifth Element as a novel when he was 16 years old. Twenty-two years later, it opened as the #1 movie in America.
The look of this movie was inspired by French comic book artists Jean-Claude Mézières and Jean Giraud. Director Luc Besson was a childhood fan of theirs and hired them as designers on this movie.
The vision of New York comes from the comic book Valérian by Jean-Claude Mézières. It's the same comic that inspired Star Wars (1977).
Korben Dallas is based on Harry Canyon from the animated movie Heavy Metal (1981).
Plavalaguna is a combination of two Serbian words that mean "blue" and "lagoon."
Gary Oldman modeled Zorg after Bugs Bunny and billionaire Ross Perot.
Symbolism Note
Jean Paul Gaultier said Korben's shirt matches Leeloo's hair because they are meant to be together.
Tech Notes
The actors inside the Mondoshawan suits used mini TV monitors to see where they were going. It took three people 20 minutes to dress one Mondoshawan.
Special effects were created by Digital Domain, the company that also did Apollo 13 (1995) and Titanic (1997). Director James Cameron helped start Digital Domain in 1993. They've worked on over 90 movies.
Trivia Notes
Grappa is a kind of Italian brandy. It was considered a poor workman's drink until the 1960s.
"DNA memo groups" don't exist… but they sound cool.
The Visual Effects Society voted The Fifth Element as one of the 50 Most Influential Visual Effects Films.
Light travels at a speed of 700 million miles per hour.
A Russian company is currently developing a "space hotel" and plans to launch it in 2016.
Wardrobe Notes
Costumes were designed by Jean Paul Gaultier. He also created Madonna's famous "cone bra."
Jean Paul Gaultier personally checked the costumes of 500 extras used in one scene.
The Mangalores wear goggles because the eye makeup took so long to apply.
Read More