Uncategorized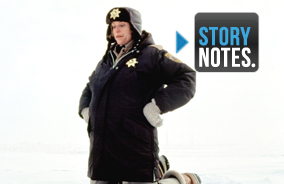 Weeknights during prime time on AMC, you can catch Story Notes — real time trivia and facts about your favorite movies! Below is the online version of the Story Notes for Fargo.
Awards Notes
Fargo (1996) was nominated for seven Academy Awards, including Best Picture. It's the sixth movie written and directed by Joel and Ethan Coen (Barton Fink, True Grit).
Frances McDormand won an Academy Award for playing Marge. As of 2012, Joel Coen was the only person to direct his wife to a Best Actress Oscar.
The Coens won an Oscar for Best Original Screenplay for Fargo. McDormand: "There's a flow and a rhythm to the way they write. It's like music."
Biographical Notes
Steve Buscemi was a NYC firefighter from 1980-1984. The day after 9/11 he reported to his old firehouse and spent a week working rescue and recovery.
Cinematographer Roger Deakins has nine Oscar nods and has worked on every Coen brothers movie.
In real life, William H. Macy has two daughters with his wife, actress Felicity Huffman.
In high school, Frances McDormand decided to become an actor after playing Lady Macbeth.
Peter Stormare and Steve Buscemi were both in the Coens' next movie The Big Lebowski (1998).
Casting Notes
William H. Macy wanted this part so badly, he told the Coens he would shoot their dog if he didn't get it. The part earned him an Oscar nomination for Best Supporting Actor.
This is Steve Buscemi's fourth Coen brothers movie. They wrote this part for him.
Peter Stormare, who plays Gaear Grimsrud, was excited to work with the Coens after a role in Miller's Crossing didn't work out.
Jean is played by Minnesota native Kristen Rudrüd, who was later in Pleasantville (1998) with Macy.
Harve Presnell hadn't made a movie in over 20 years when he was cast as Wade. Fargo led to roles in Face/Off (1997) and Saving Private Ryan (1998)
Steve Reevis (Shep Proudfoot) was also in Geronimo: An American Legend (1993).
Larry Brandenburg (Stan Grossman) was in The Shawshank Redemption (1994).
One of the drivers is storyboard artist J. Todd Anderson, who has worked on almost all of the Coens' movies.
Frances McDormand's first movie role was in the Coens' Blood Simple (1984). She began dating Joel Coen during that movie and they married in 1993. The Coens wrote Marge for her.
Melissa Peterman (Hooker #2) later starred on Reba (2001-2007).
Larissa Kokernot (Hooker #1) is one of the Minnesota dialect coaches for Fargo.
The State Trooper is the role that William H. Macy originally auditioned for.
Steve Park (Mike Yanigita) was later in the Coens' A Serious Man (2009).
John Carroll Lynch (Norm) was in Zodiac (2007) and The Drew Carey Show (1997-2004).
Health Note
Morning sickness can occur any time during the day, not just in the morning.
Location Notes
Though the movie is called Fargo, there's only one scene that actually takes place there.
Minneapolis is close to the Coens' boyhood home, a suburb called St. Louis Park.
Joel Coen once worked bussing tables in this restaurant.
Music Notes
Composer Carter Burwell has scored every Coen brothers movie except O Brother, Where Art Thou?
"Let's Find Each Other Tonight" by Jose Feliciano, originally recorded 1983. Feliciano, who is blind, has been nominated for 17 Grammys and won eight.
Pop-Culture Notes
In 1998, AFI ranked Fargo as one of the "Top 100 Films of All Time."
Cities from the Midwest to Maine claim to be the birthplace of Paul Bunyan.
There is a very similar scene in the Coens' first movie, Blood Simple (1984).
McDormand has compared Marge to TV detectives Cagney & Lacey and Columbo.
Marlboro Man ads were discontinued in the U.S. in 1999, three years after Fargo was released.
Paul Bunyan and Babe's footprints are said to have created Minnesota's thousands of lakes.
Steve Buscemi is beaten up in nearly every Coen brothers movie he's in.
After seeing the movie, some people thought a suitcase full of money really was buried in Minnesota.
An earlier Coen brothers movie, Raising Arizona (1987), was also about a kidnapping. It featured a female cop and an inept criminal as the main characters as well.
In one scene, Gaear watches Bruce Campbell on the TV. Campbell starred in The Evil Dead (1981), which was one of the first movies Joel Coen worked on.
Premiere magazine ranked Marge Gunderson one of the top 30 movie characters of all time.
Fargo was inducted into the U.S. National Film Registry in 2006. The Library of Congress will preserve it for all time.
Press Notes
One reviewer called Fargo "a smart movie, with incredibly stupid people doing incredible things."
Critics called Fargo a cross between "A Prairie Home Companion" and Night of the Living Dead.
The New York Times said McDormand and Macy's "battles of wits are among the film's best scenes."
Roger Ebert called Fargo "one of the best movies I've ever seen… Films like Fargo are why I love the movies."
Quotation Notes
Macy: "Every word I said, they wrote. All the frimping around… the cutting back on yourself, they wrote it."
Joel Coen: "From the first time we met [Buscemi], we thought this guy would be a good blabbermouth… In real life, he's not a blabbermouth at all."
Macy: "I've always felt like the odd man out… so I identify with the little guy who's in over his head."
William H. Macy: "He's the classic schmutz. He's a bit of a numb nuts."
The Coens said Fargo is "In Cold Blood re-imagined by (humorist) Erma Bombeck."
Ethan Coen: "In most cases criminals belong to the strata of society least equipped to face life…and that's the reason they're caught so often."
Peter Stormare: "[Gaear] was someone from The Twilight Zone. He could… come from… outer space."
Director Joel Coen: "We wanted a landscape where you couldn't really tell… the sky [from] the snow."
McDormand: "She's simple and on-the-surface, but she's not naive, and she's not innocent."
The Coens have described Minnesota as "Siberia with family restaurants."
William H. Macy: "I guess I'm… the bad guy and yet it doesn't come across that way at all. I think people will have great affection for him. I do."
Macy: "[Jerry] sets the plan, he is sure it will work and… he never deviates from it. You've gotta love somebody [with] that kind of faith. On the other hand, he's as dumb as a bag of rocks."
Frances McDormand described the Midwestern friendliness in the movie as "Minnesota Nice."
McDormand, looking around for a role as a killer or prostitute, was hesitant to play a pregnant cop. McDormand: "When I started working on it I realized it was one of the best gifts that I've ever been given."
Macy: "I fell into the exactly right profession. I don't have any other noticeable skills."
McDormand: "Marge can't handle [Mike's] emotional display in public. She's very uncomfortable."
Macy: "Fargo is a perfect example of… grotesque. It's at once beautiful and hideous at the same time."
Joel Coen: "Jerry… is ordinary in a very evil way, and Marge… is ordinary in a very good way."
McDormand: "Marge and Norm kind of gave the audience a safe haven. And often Joel and Ethan don't give audiences that in their movies."
Random Notes
The kidnapper's cabin was bought in an online auction for $10,000 by a Wisconsin family in 2002.
Script Notes
Peter Stormare thought that the line was supposed to read "pancake house." The Coen brother assured him that there were no typos in their script.
In every scene they have together, Marge and Norm (John Carroll Lynch) are either lying in bed or eating.
The movie is called Fargo because the Coens thought it was a better title than Brainerd.
The Coens wrote the scene at the restaurant with Mike to develop Marge's character outside of the case or her marriage.
Though the opening titles say Fargo is based on a true story, it's actually entirely made up. However, the Coens were inspired by a story about a man using a woodchipper to dispose of a body.
Set Notes
Fargo was shot during an unusually warm Minnesota winter, so a lot of the snow is fake.
The scene where the couple tries to make a deal with Jerry is based on Ethan Coen's real-life encounter with a car salesman. Ethan Coen: "[It's] almost a verbatim transcript of my experience."
Macy came up with the idea to have Jerry rehearse what he's going to say on the phone to Wade.
The actors used a book called How to Talk Minnesotan to help with their accents.
The actors decided that Marge and Norm were both cops, but Norm retired when they got married.
There's only one scene shot on a bright and sunny day. Cinematographer Roger Deakins hated that it was sunny, feeling that it went against the movie's mood.
William H. Macy was doodling between takes and the Coens decided to use it for a scene.
Carl's gruesome wound was created by special effects makeup artist Bart Mixon (Star Trek, 2009 and The Ring, 2002).
McDormand accidentally left her pregnancy suit in her trailer one night. The silicone breasts in the suit froze, and one of them exploded the next day on set.
Source Note
McDormand worked with a pregnant cop from St. Paul to research the role.
Sports Notes
The Golden Gophers are the University of Minnesota's hockey team.
Minnesota is nicknamed the "State of Hockey." Over 10,000 teens play for their high school teams.
Trivia Notes
Car salesman ranked last place on a 1997 Gallup poll of the most honest and ethical professions.
Unguent is a salve used for skin wounds.
Bribery carries a sentence of up to 10 years or up to a $20,000 fine in Minnesota.
The Hautman brothers are renowned wildlife artists. They were childhood friends of the Coen brothers.
A terminal at Minneapolis St. Paul Airport is named after Charles Lindbergh, who lost a son to kidnappers. It is one of the world's most famous kidnapping cases.
Honeywell started out as a Minneapolis company that made furnace regulators in 1885.
The ransom is paid in most kidnappings in the U.S. and fewer than 10% of the victims end up dead.
Minnesota's nickname is "Land of 10,000 Lakes." There are actually 11,842.
Read More