Uncategorized
Q&A – Phil Burke (Mickey McGinnes)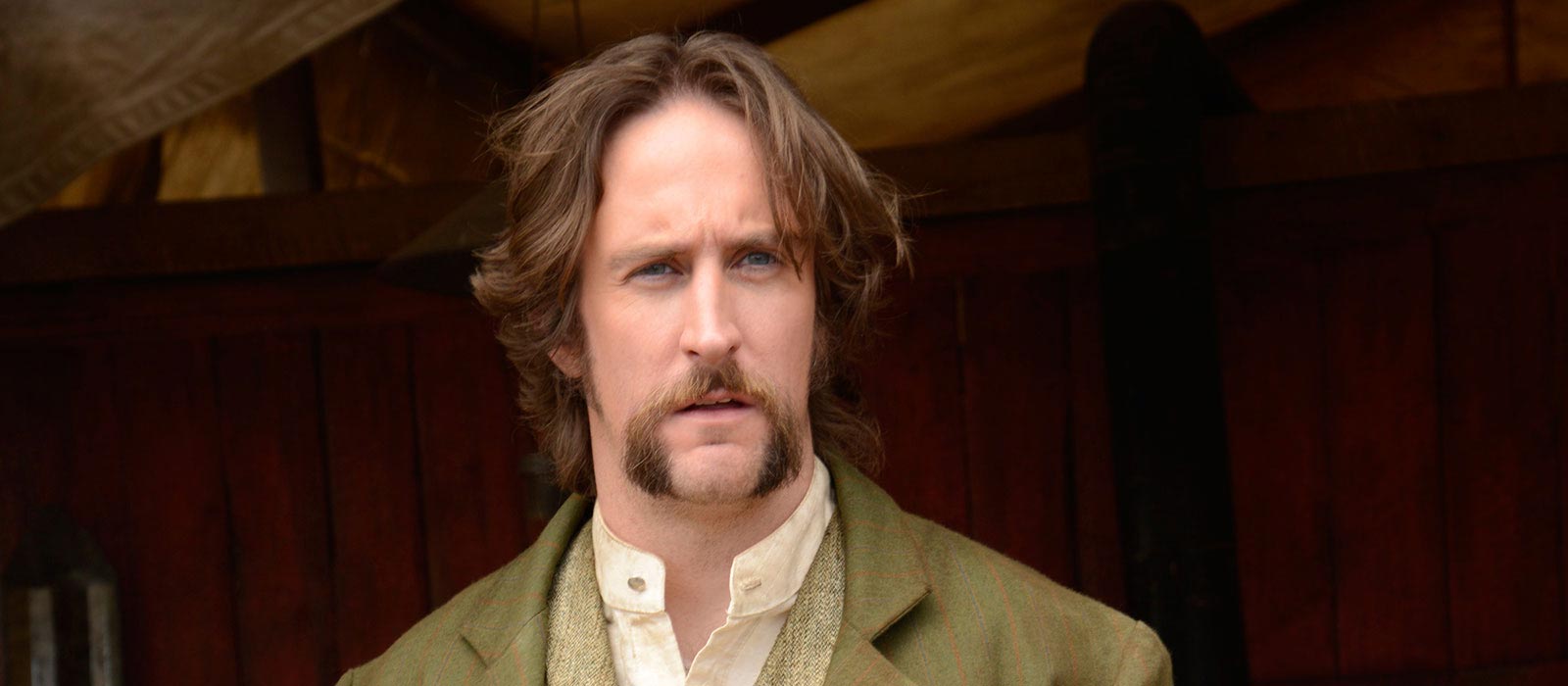 In this exclusive interview, Phil Burke, who plays Mickey McGinnes on AMC's Hell on Wheels, reveals his own adventures in poetry and Anson Mount's surprising response to being recognized on the street.
Q: You're kind of a ladies' man this season. Do you have the same gift in real life?
A: I don't know about that. That's probably the one question any guy likes to hear, but I don't know if I can answer it… You know what? I'm gonna say "yes."
Q: There's a really touching moment this season when Mickey tells Sean he was just trying to prove he could do something right. Have you ever felt that way?
A: Sure. This year, I think Mickey's growing into sort of a young dog, and he's a getting a bit of bite. And he wants his brother to accept him, but then also I think he wants to accept himself. And I think that was one of his struggles this season. As an actor, I hope it comes across as something that is vulnerable.
Q: Mickey's broken out a bit from Sean this season. Do you and Ben Esler hang out less together because of it?
A: No, not all. Ben and I are the greatest friends. We're very close, and in the first four episodes of the season, we get in a big dispute, but I think that us being friends only serves these characters better.
Q: Tell me about what it was like to be strung up — like a pig, so to speak — in Episode 3…
A: It hurt! It hurt a lot… I do yoga and work out and all that and it still really, really hurt. And then we're getting the gag put in our mouth and I started swallowing it. And I'm like, "Uh, I'm choking on this cloth." But we had a great time though.
VIDEO: Inside the Season 2 Finale
Q: Your parents are Irish immigrants. Did your family's background make the Hell on Wheels "melting pot" more personal?
A: Being Irish and playing an Irishman, there's definitely something to that. You want your story to be told right. I think it helps you to address the character and I think it helps you relate… But, it doesn't matter where he's from, the things that he's doing are universal themes.
Q: Mickey adores Cullen. Is there anyone on the Hell on Wheels set you feel that way about?
A: One of the greatest things about this show is that everyone gets along famously. I grew up watching Colm Meaney, and the fact that I can call him a friend now is a dream for me. People like Chris Heyerdahl, to be around him and listen to him, and Tom Noonan, it's just amazing. And me and Anson hang out quite often when we're both in New York together.
Q: Do people recognize you guys from the show when you're together?
A: I've been recognized twice, I think. People recognize Anson, and he's such an amazing actor but he gets really bashful and rosy in the cheeks.
Q: Last season Ben told us you were a bit of a party animal. Any crazy stories from this season?
A: First of all, who told you I'm a party animal? That is ridiculous. I drink nothing but Coca-Cola, Sprite, the odd ginger ale, and if I'm feeling extra spicy, Schweppes. As far as those stories are concerned, I would not know because I'm too busy at the poetry club.
Q: Are you being serious now? You perform poetry?
A: I have. [Laughs] I did last year in Calgary. I haven't done it this year though.
Q: What's the most important thing you've learned from Hell on Wheels?
A: I've been shadowing Marvin Rush, who's the [director of photography]. He was gracious enough to let me follow him around and learn about cameras and lights. And I have to say, it's been eye opening to me.
Click here to read an interview with Ben Esler, who plays Mickey's brother, Sean McGinnes, on AMC's Hell on Wheels.
Read More