Uncategorized
Flashback Five – Jon Hamm's Best Movies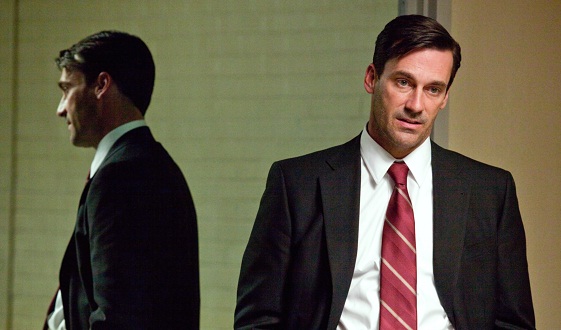 Handsome. Charismatic. Witty. Sexy. Yes, that's Mad Men's Don Draper. It also happens to describe the actor who plays him too, a performer who's building quite an impressive resume in movies, too. Here's a look at Jon Hamm's best big-screen work thus far…
1. The Town (2010)
Kudos to director Ben Affleck for giving Hamm the role of an FBI agent hot on his trail. Hamm brings such an intriguing blend of machismo and charm to this part that you're not sure who Affleck intends to be the hero of this heist flick.
2. Bridesmaids (2011)
Hamm is no stranger to comedy with recurring appearances on both 30 Rock and SNL, but this hilarious chick flick to another level. As a sex-obsessed cad, Hamm steals his scenes opposite leading lady Kristin Wiig, while turning his nice guy public image upside down.
3. Friends With Kids (2011)
Hamm and Wiig reunite as Hamm plays his most endearing role to date — a worn-out dad and beleaguered husband. The part was written for him by his real-life partner, writer-director-co-star Jennifer Westfeldt who clearly recognizes Hamm is an actor of depth.
4. Stolen (2009)
Hamm's first headlining role on the big screen shouldn't be missed by fans. As a cop whose son is kidnapped, Hamm delivers a complex performance. He's at once intensely focused as a lawman out for justice, and torn apart by guilt over his child's disappearance.
5. The Day the Earth Stood Still (2008)
An alien (Keanu Reeves) threatens to destroy mankind for mistreating the planet. Well, there's no better way to convince said E.T. that Earthlings aren't all bad than to introduce him to a NASA scientist with killer good looks and an astronomical acumen, played to perfection by Jon Hamm.
Honorable Mentions
1. Howl (2010): As poet Allen Ginsberg's lawyer during his 1957 obscenity trial, Hamm argues against censorship with passion and conviction. Poetry on film.
2. Shrek Forever After (2011): In this alternate universe of Shrek's Far, Far Away, Hamm gives Mike Myers a run for his money as the most loveable ogre ever.
3. Sucker Punch (2011): Hamm is simultaneously seductive and creepy as a doctor who's treating a young girl trapped in an insane asylum.
4. We Were Soldiers (2002): Capt. Matt Dillon (Hamm) is a man of few words, but he's still a man of many emotions as he serves alongside Mel Gibson in the Vietnam War.
5. Ira & Abby (2006): A scraggly, bearded Hamm plays the drug-addicted ex-hubby of newlywed Jennifer Westfeldt in this off-beat rom-com.

Read More