Uncategorized
Kevin Bacon, Paul Rudd and 8 Other Stars to Appear in Friday the 13th or Halloween Movies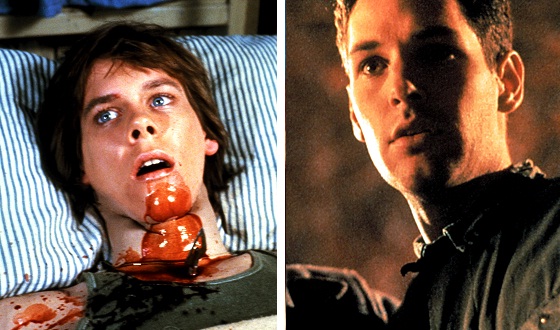 Psychopaths Jason Voorhees and Michael Myers aren't the only ones killing it the Friday the 13th and Halloween franchises. The two iconic series have often served as stepping stones for many celebs on the paths to stardom. Like who? Take a look below.

FRIDAY THE 13TH
Kevin Bacon, Friday the 13th (1980)
Prior to fighting for his right to dance in Footloose, Bacon was fighting for his life as a camp counselor at Crystal Lake — and learning just how dangerous smoking in bed can be.
Corey Feldman, Friday the 13th: The Final Chapter (1984)
The role of Tommy Jarvis — a little boy who proves to be Jason's greatest nemesis — kicked off Feldman's career as a child star of the '80s (Stand By Me, The Lost Boys).
Crispin Glover, Friday the 13th: The Final Chapter (1984)
Before voicing Grendel in Beowulf and courting Lea Thompson in Back to the Future, Glover was a horny teen meeting girls and a gruesome fate.
HALLOWEEN
Jamie Lee Curtis, Halloween (1978)
Sure, she's the daughter of Hollywood royalty Tony Curtis and Janet Leigh but her movie debut in this classic fright flick that made her a household name.
Dana Carvey, Halloween II (1981)
Before he went on to be a cast mate of Mike Myers in SNL he had a small role as an "assistant" reporting murders committed by Michael Myers.
Paul Rudd, Halloween: The Curse of Michael Myers (1995)
He's best known for comedy (Role Models, Knocked Up). Here as a resident of Haddonfield, he isn't finding anything funny as Myers terrorizes town.
Michelle Williams, Halloween: H20 (1998)
This was one of the first movie roles for the three-time Oscar nominee. Williams plays a student at a school run by the object of Myers's 20-year-long obsession (Jamie Lee Curtis).
Joseph Gordon-Levitt, Halloween: H20 (1998)
Gordon-Levitt's appearance is brief (and he's in costume). Even so, he leaves an impression in one of the movie's most memorable and heart-pounding moments.
Tyra Banks, Halloween Resurrection (2002)
On the road from Victoria's Secret model to talk show host, Banks made a pit stop as a director's assistant working on a reality series shot in the Myers home.
Octavia Spencer, Halloween II (2009)
Just two years before she won an Oscar for The Help, Spencer was screaming for help as a nurse who runs into Myers at Haddonfield General Hospital.
Click here for the full AMC Fearfest schedule.
Read More