Press
AMC Fearfest Kicks Off Sat., Oct. 13 With Host Kevin Smith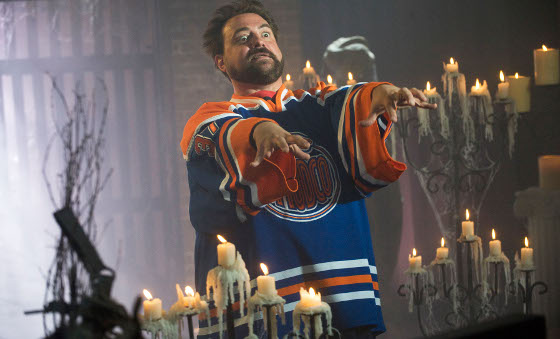 On Sat., Oct. 13, AMC kicks off its annual AMC Fearfest, one of the most popular horror movie marathons of the Halloween season. The 19-day on-air film festival, celebrating the best in contemporary and classic horror genre films, showcases more than 70 movies including marathons of some of the biggest horror franchises, including Friday the 13th, From Dusk Till Dawn and Halloween. Hosted by Kevin Smith, director, producer, writer, podcaster and executive producer of AMC's Comic Book Men, AMC Fearfest will also introduce the network's original short form series, Living Nightmares, and feature the season premieres of the AMC original series The Walking Dead, Talking Dead and Comic Book Men on Sun., Oct. 14. AMC Fearfest begins Sat., Oct. 13 at 10PM | 9C and concludes Wed., Oct. 31.
As host of AMC Fearfest, Smith will use his encyclopedic knowledge of movies and pop culture to introduce the weekday primetime movies and anchor marathons on Oct. 20, 30 and 31, providing insight on the movies, the franchises and the horror genre.
AMC Fearfest's programming specials include:
The Walking Dead Marathon
Leading into the highly anticipated season three premiere of The Walking Dead, AMC will air a marathon of the first two seasons of its hit series beginning Sat., Oct. 13 at 10AM/9c through Sun., Oct. 14.
AMC Premieres
The Walking Dead Season 3 returns Sun., Oct. 14 at 9PM/8c, followed by a repeat of the premiere and Talking Dead Season 2, the network's live after show hosted by Chris Hardwick, at 11PM/10c. Season 2 of Comic Book Men which follows Smith and his crew of fan boys turned pop culture experts who live, work and breath comic books, airs at 11:30PM/10:30c.
Friday the 13th Primetime Marathon
From Mon., Oct. 15 through Sat., Oct. 20 at 8PM, AMC airs Friday the 13th Parts I-VIII, Jason Goes to Hell: The Final Friday and Jason X.
AMC Original Short Form Series, Living Nightmares
AMC Fearfest 2012 introduces a new original short form series, Living Nightmares featuring 10 "shockumentaries." Each short explores the possibilities lurking behind the bone-chilling myths of our favorite movies from alien abduction and cohabitating spirits to cannibalism and the dangers of Halloween. Living Nightmares will air during the primetime movies starting on Oct.15, as well as during the Friday the 13th and Halloween marathons.
AMC Fearfest Online
In addition to on-air, AMCTV.com will feature B-horror movies as well as fan games, including Which Movie Monster Are You Game, now available as a newly designed app for Android and Kindle Fire, and Horror Movie Ultimate Fan Games, where fans can win special Facebook badges related to Halloween, Friday the 13th, Jamie Lee Curtis and Stephen King.
AMC Fearfest Movies
Key titles in AMC Fearfest 2012 include:
– AVP Alien vs. Predator
– Christine
– Cujo
– The Dark Half
– The Dead Zone
– Eight Legged Freaks
– Flight of the Living Dead
– Friday the 13th Parts I-VIII
– The Frighteners
– From Dusk Till Dawn 1-3
– Graveyard Shift
– Halloween
– Halloween 4
– Halloween 5
– Halloween: Resurrection
– House on Haunted Hill
– Jason Goes to Hell: The Final Friday
– Jason X
– Jeepers Creepers
– Land of the Dead
– Pet Sematary 1 & 2
– Predator 1 & 2
– Pumpkinhead
– Scary Movie
– Silver Bullet
– Survival of the Dead
– Tales from the Darkside: The Movie
– Thinner

Click here for the full AMC Fearfest schedule.
Read More