Westerns Fans – Everything You Need to Know to Get Your Fix On-Air and Online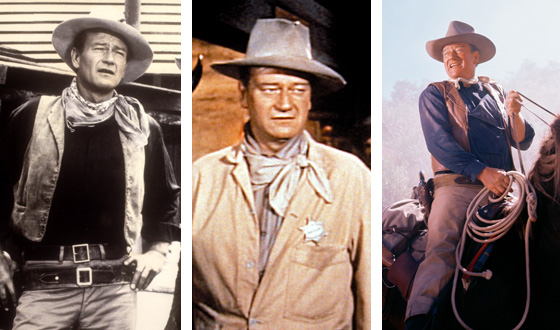 This Saturday's weekend lineup for AMC Cowboys includes The Sons of Katie Elder, Hondo and Rio Bravo, but if you're a fan of Westerns, your interest in the genre extends way beyond three great John Wayne pics. You're undoubtedly watching Into the West and Hell on Wheels on Sunday night, too. Don't stop there either. Check out these online features, designed especially for your inner cowboy.
ULTIMATE FAN GAMES
Westerns
Take a trivia quiz to see how much you know about movies ranging from Stagecoach to Hombre.
Westerns, Part 2
Aced the first quiz? Take the second one which includes questions on The Great Train Robbery and Sergio Leone's spaghetti Westerns.
MOVIE RANKING LISTS
Greatest Westerns
The Searchers currently occupies the No. 1 spot? Prefer The Magnificent Seven or Rio Bravo? Vote now.
Greatest Western Shootouts
Unforgiven barely leads over The Good, the Bad, and The Ugly, Open Range and Tombstone. Your vote could change that.
Sexiest Westerns
Westerns aren't just about shootouts. Some, like The Outlaw and 100 Rifles, are about passion, too. But what's the steamiest Western?
Greatest Western Duos
Are Butch Cassidy and the Sundance Kid the Old West's top team? You decide.
TOURNAMENTS
Greatest Cowboy
Blondie (Eastwood), Ethan Edwards (The Duke), Harmonica (Bronson) and over a dozen others fight each other to become the greatest onscreen cowboy.
Western Broads
Who's the toughest gal on the frontier? Sharon Stone (The Quick and the Dead)? Angie Dickinson (Rio Bravo)? Declare your allegiance!
Contemporary Cowboys
The western isn't dead. Kevin Costner, Robert Duvall and Tommy Lee Jones are each awaiting your votes to become the genre's contemporary king.
Tune in to AMC Cowboys on Sat., Sep. 22 at 10AM/9c. Need more Westerns? Tune in again on Sun., Sep. 23 for the latest episode of Into the West and at 7/8c and a new episode of Hell on Wheels at 9/8c.
For a more comprehensive look at the genre, check out the Top 100 Westerns at Filmsite.org.
Read More