Uncategorized
Six Things You Didn't Know About Tom Hanks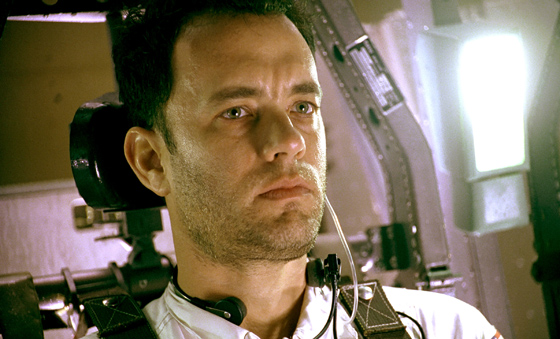 You know him best as Forrest Gump and the voice of Toy Story's Woody, but how well do you really know superstar Tom Hanks? Sure, you might've heard he's related to Abraham Lincoln but that's just one fun fact about this Hollywood icon. Here, are six other details about Hanks that may have flown under your trivia radar (just in time for AMC's Crazy About Tom Hanks, a marathon of his movies on AMC on Fri., Sep. 28).
1. He Owes His Career to Happy Days
Hanks got his big break starring in the TV sitcom Bosom Buddies, but his guest-star turn as the Fonz's foe on Happy Days led to a breakout role on the big screen. After working with him on Happy Days, former co-star Ron Howard asked Hanks to read for a supporting role in Splash (1984). Hanks ended up landing the lead.
2. He Has an Asteroid Named After Him
Hanks has had a lifelong fascination with space exploration: As a child, he wanted to be an astronaut; he played a real-life one in Apollo 13; he co-produced the miniseries From the Earth to the Moon, as well as the IMAX feature Magnificent Desolation: Walking on the Moon in 3D. Heck, he's even on the the National Space Society Board of Directors. So to honor Hanks' commitment, the International Astronomical Union named an asteroid "12818 tomhanks" in 1996.
3. He's a Natural With Shakespeare
There's no doubt that Hanks is versatile but few would peg him as a Shakespearean thespian. Surprise! After dropping out of college, Hanks moved from California to Ohio to join the Great Lakes Theater Festival. While there, Hanks won the Cleveland Critics Circle Award for Best Actor for his performance in The Two Gentlemen of Verona.
4. He's Been Decorated by the Military
In 2006, the Army's elite Ranger Unit celebrated Hanks' "accurate portrayal of a WWII Army Ranger in Saving Private Ryan" by inducting him to their Hall of Fame. This wasn't the first military honor bestowed upon the actor: In 1999, aboard the USS Normandy, Hanks received the Distinguished Public Service Award (the highest Naval honor for a civilian) for his contribution onscreen.
5. He Was a "Bible-Toting Evangelical Teenager"
During the press junket for the release of the Da Vinci Code sequel Angels & Demons, Hanks was asked frequently about his faith. In one interview, he professed to being an Evangelical as a youth. The actor went on to say that he still goes to church but instead of preaching, he prefers to "ponder the mystery of it all."
6. He's the Biggest Box Office Star Ever
Hanks isn't just a big star. He's the biggest. As of 2012, his movies have grossed over 4 billion dollars domestically and 8.5 billion bucks worldwide, with an average of $103 million per flick. In fact, he leads rest of the Hollywood pack by over $200 million. (Eddie Murphy holds the No. 2 spot.)
Don't miss Tom Hanks in Apollo 13, part of AMC's Crazy About Tom Hanks on Fri., Sep. 28.
Read More