Uncategorized
Story Notes for Four Brothers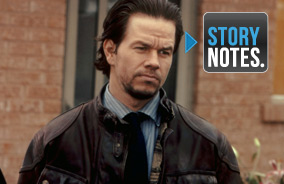 Weeknights during prime time on AMC, you can catch Story Notes — real time trivia and facts about your favorite movies! Below is the online version of the Story Notes for Four Brothers.
Anthology Notes
A script for the sequel has been written. It's called Five Brothers.
Biographical Notes
Director Singleton called Four Brothers the movie that really shows Mark Wahlberg becoming a man.
Mark Wahlberg's next two movies were Invincible and The Departed (both 2006).
Mark Wahlberg (Bobby) created Entourage (2004-2011) the year before this.
Ironically, Garrett Hedlund is the only one of the Four Brothers who didn't start out with a music career.
This is Andre Benjamin's first lead role. He was in Be Cool (2004) the year before this.
Mark Wahlberg is a devout Catholic. He visits church every day and consults his priest on movie roles.
Wahlberg first gained attention as a serious actor playing a drug addict in The Basketball Diaries (1995).
2 Fast 2 Furious (2003) was the movie John Singleton directed right before this one. It also starred Tyrese Gibson.
Casting Notes
Fionulla Flanagan (Evelyn) is Eloise Hawking on Lost (2007-2010). Singleton cast her because of a resemblance to his English teacher.
Terrence Howard was cast by Singleton after working with him on Hustle & Flow (2005).
Garrett Hedlund is Jack. This was only his third movie. His first was Troy (2004).
Josh Charles (Det. Fowler) starred on Sports Night (1998-2000) and The Good Wife (2009-2012).
Jeremiah is played by Andre Benjamin, better known as Andre 3000 from the hip hop group Outkast.
Tyrese Gibson (Angel) got his start as an R&B singer and has been in many other John Singleton movies.
Sofia Vergara from Modern Family plays Sofi. She was also in an episode of Wahlberg's Entourage.
Lyriq Bent is best known for playing Lt. Daniel Rigg in the Saw movie franchise.
Chiwetel Ejiofor (Victor Sweet) is a classically trained British actor.
Jernard Burks (Evan) was Leonard in The Hangover (2009).
Adam Beach (Chief) is Ira Hayes in Flags of Our Fathers (2006) the year after this.
Barry Shabaka Henley (Douglas) was in The Terminal and ,em>Collateral the year before this (2004).
Finance Notes
Four Brothers was the #1 movie in America when it opened in August, 2005.
Location Notes
Four Brothers was shot in some parts of Detroit, but mostly in and around Toronto.
Music Notes
"Trouble Man" by Marvin Gaye, 1972.
Almost the entire soundtrack comes from the early '70s, what director Singleton calls the "dark years" of Motown.
"Cloud Nine" by the Temptations, 1969. The Temptations are from Detroit, where Motown began.
"Papa Was a Rollin' Stone" by the Temptations, 1973.
Pop-Culture Notes
Four Brothers (2005) was directed by John Singleton, known for pioneering the genre of "'hood movies." Singleton: "Films saved me from being a delinquent."
This movie was inspired by the urban Westerns Dirty Harry (1971) and Death Wish (1974).
Ben Wallace helped the Detroit Pistons win the NBA Finals in 2004, the year before this.
Jack's singing "Plastic Jesus." Paul Newman sang it in Cool Hand Luke (1967) when Luke's mother died.
Press Notes
Rolling Stone: "Four Brothers is a violent, macho story with a perfect feel for the dynamics between four tough guys."
USA Today: "Four Brothers gets bonus points for putting a novel spin on yet another chase scene."
Quotation Notes
Director John Singleton: "This is one of those 'Saturday Night Special' movies." You have a good time… and enjoy it for what it is."
Singleton on the car chase scene: "To make it different… we had to put it in the snow."
Singleton: "These guys had something cut out of them… because of their experience in foster homes."
Singleton says he used to study movies like athletes study game tapes of an opponent. "I wanted to come out of school like a first-round draft pick, but in a filmic sense."
Wahlberg: "I know a lot of guys who are like this-no nonsense, tough love-but have a softer side."
Singleton on Sofia Vergara: "She's funny without being funny."
Script Notes
Co-screenwriter Paul Lovett started working on Four Brothers right after his grandmother died. Lovett wrote a lot of his own feelings into the scenes.
Mark Wahlberg (Bobby) liked this script so much, he signed on before a director was hired.
Most of the teasing throughout the movie was improvised.
The car chase scene was mapped out using Hot Wheels toy cars.
Source Notes
The premise for this movie comes from The Sons of Katie Elder (1965), starring John Wayne. It's about Four Brothers who hunt for the men who killed their father and swindled their mother.
Sports Notes
Pulling a shirt over an opponent's head is a classic hockey move.
Symbolism Notes
Notice how there's never any mention of Bobby having a girlfriend or a job. The filmmakers wanted Bobby to be as "stripped down" as possible.
Trivia Notes
Jarhead is slang for a Marine. It comes from the "high and tight" haircuts they have.
Detroit had 35 auto plants in 1960. As of 2004, half of them had closed.
A burner is a handgun that's used to commit a crime and then quickly thrown away.
Impersonating a police officer is a felony that could get them four years in jail.
As-Sal?mu Alaikum means "peace be with you" in Arabic.
A Rottweiler can bite with the average force of 328 pounds.
The extinguisher's high pressure spray hurts more than the chemicals.
This is called an "evidence ploy." It's technically legal for officers to lie like that.
The idea of life insurance dates back to ancient Rome when men would form "burial clubs."
As of 2010, Detroit had about 1.5 million firearms, and a population of fewer than a million.
Romantic relationships between attorneys and clients aren't banned in Michigan like they are in other states.
One gallon of gasoline has the same explosive power as 20 sticks of dynamite.
Read More