Uncategorized
Story Notes for Crocodile Dundee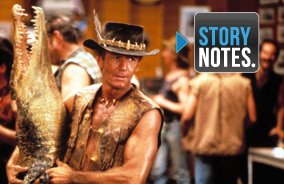 Weeknights during prime time on AMC, you can catch Story Notes — real time trivia and facts about your favorite movies! Below is the online version of the Story Notes for Crocodile Dundee.
Award Notes
Linda Kozlowski was nominated for a Golden Globe for her performance in Crocodile Dundee.
Paul Hogan won a Golden Globe for this role; his screenplay was nominated for an Oscar.
Biographical Notes
Paul Hogan spent some time as a professional boxer in Australia when he was younger.
Crocodile Dundee was shot by Oscar-winner Russell Boyd (Master and Commander, Tender Mercies). He says most of the crew felt like they were working on "a winner" from the beginning.
Paul Hogan never traveled outside Australia except for New Guinea until he was in his 30s.
Paul Hogan really did walk around saying "g'day" to New Yorkers during his first trip to Manhattan.
There were steel, rubber and aluminum versions of the Bowie knife on set. Hogan kept one of the steel knives after the movie and promised never to sell it.
Mark Blum (Richard) also plays smug roles in Desperately Seeking Susan (1984) and Blind Date (1987).
Casting Notes
Before this movie, Linda Kozlowski appeared on Broadway with Dustin Hoffman in Death of a Salesman.
John Meillon (Walter) is in the Australian movies Walkabout (1971) and Crocodile Dundee II (1988).
Paul Hogan was the star of one of most popular sketch comedy shows in Australia from 1973 to 1884.
Aboriginal actor David Gulpilil (Nev) stars in Walkabout (1971). He didn't start speaking English until after his first movie.
Mark Blum (Richard) plays Ian in Desperately Seeking Susan (1985).
Paul Greco plays Sully, the leader of the Orphans, in The Warriors (1979).
Reginald VelJohnson (Gus) hadn't appeared in Die Hard (1988) or Family Matters yet. But he did have a small role in Ghostbusters (1984) two years before
Irving Metzman plays four different characters on Law & Order (1991-2001).
Anne Carlisle (Gwendoline) plays both the male and female lead in Liquid Sky (1982).
Nancy Mette (Karla) is one of the Hollowheads in Meet the Hollowheads (1989).
Caitlin Clarke (Simone) plays Valerian in Dragonslayer (1981).
The pimp that Dundee knocks out is John Snyder. He is also in The Warriors (1979).
Anne Francine (Fran) got her start in cabaret before moving into Broadway shows and movies.
Barry Kivel has been in episodes of Full House and Scrubs.
Sue's dad is played by Michael Lombard. He was in Stephen King's Pet Sematary (1989).
Sullivan Walker was on several episodes of The Cosby Show (1988-1991).
Finance Notes
Hogan made around $40 million from this movie.
Crocodile Dundee made over $350 million. The New York Times called it "the movie phenomenon of the year."
Historical Notes
Aboriginals began a protest movement in the 1960s and won back 36% of the Northern Territory in 1976.
American folk hero Davy Crockett was known for his storytelling, just like Mick.
Cocaine use was at its peak in the mid '80s. Psychology Today says, there was a "cocaine crisis."
NYC is now the safest large city in America. In the '80s, Times Square had as many as 2,300 crimes per block.
Australian boomerangs date back more than 10,000 years.
Location Notes
The Walkabout Creek Hotel is in McKinlay, Queensland, Australia. Population 182.
Kakadu National Park shown in the movie is in Australia's Northern Territory. It's about the size of Germany.
Kakadu is the largest National Park in Australia and one of the main tourist attractions in the outback.
The success of Crocodile Dundee created a huge U.S. tourism boom in Australia.
Gunlom Falls, shown in the movie, is a popular swimming hole in Kakadu National Park.
The hotel room in the movie is a $900 suite in New York's Plaza Hotel. You can also see the Plaza in Home Alone 2: Lost in New York (1992) and North by Northwest (1959).
Vazak's Bar in the East Village is also featured in Rent (2005) and The Godfather Part II (1974).
The panoramic view of New York City is from "Top of the Rock," the observation deck at the top of Rockefeller Center.
New York's Times Square is the most popular tourist attraction in the world.
Love Note
Off-screen, Paul Hogan and Linda Kozlowski were rumored to be more than just co-stars during filming. The rumors may have been true. They were married four years later.
Music Notes
Composer Peter Best (Muriel's Wedding) played guitar in the '60s Australian band, The Pogs.
The song "Live It Up" by the Australian band Mental As Anything, reached the Top 10 in several countries after appearing in this movie.
Plot Note
The drunk poacher is the same guy that Dundee knocks out at the bar earlier in the movie.
Pop Culture Notes
The Paul Hogan Show won five Logie Awards, the Australian version of the Emmys.
There were Crocodile Dundee tours of Kakadu National Park after the movie came out.
"Jungle Jim" was a hunter in a series of comics and movies dating back to 1934.
I Love Lucy hasn't been off the air since it premiered in 1951.
Newsday is real. It's also where Ray's character works on Everybody Loves Raymond.
Prop Note
One of the prop knives from the movie sold for almost $50,000 at an auction in London.
Quotation Notes
Hogan says if a water buffalo "doesn't want to do anything… it doesn't."
Hogan says there were at least six "would-be Dundees" in Australia. But Hogan says that Dundee is his invention and not based on any real person.
Paul Hogan says Kozlowski is "absolutely gorgeous. She knocks my socks off."
Hogan says, "It was easier to film in the heart of New York with seven million people than in the wilderness."
Paul Hogan says, he had no idea the movie would be a huge international success. Hogan: "I thought I was making a nice little comedy movie for Australia."
Paul Hogan describes Dundee as "an open-minded guy who refuses to be dazzled…by civilization."
Set Notes
The cast and crew slept in huts in a nearby miner's camp while shooting in the outback.
David Gulpilil (Nev) choreographed the traditional Aboriginal dance shown in the movie. He's one of the most famous and acclaimed tribal dancers of all time in Australia.
Trivia Notes
Crocodile Dundee (1986) is the No. 1 Australian movie of all time in its home country. Over 1/3 of the continent saw it in theaters in its first year alone.
When it came out, Crocodile Dundee was the most successful foreign film of all time in America.
Saltwater crocodiles have the strongest bite ever measured, around 2.2 tons of pressure.
In Australia, poaching would land you a $2,000 fine or six months in prison.
The American version added quotes around "Crocodile" in the title because they were worried audiences would think the movie was about an actual crocodile.
There's around one crocodile for every human in the Northern Territory.
You can tell time with the sun by dividing the sky into 12 sections. Ancient Egyptians were the first to divide a day into 24 hours.
According to indigenous tribes in the Northern Territory, there are actually six seasons. The wet season is called Jiorrk and lasts from January to February.
Saltwater crocs are the largest living reptiles in the world. They can grow up to 20 feet long.
When Dundee was released in the U.S., an Australian tourism company gave advice on how to properly cook snake: "Two people stretch the snake over the heat, passing it to and fro slowly."
It's illegal to hunt kangaroos in Australia unless you have a strict government permit.
"Sheila" is Australian slang for a young woman or a girlfriend.
On average, one person a year is killed by a crocodile in Australia. Three Austrailans a year are killed by bees.
There are reports of Aboriginals using telepathy to talk with each other.
Aboriginal ceremonies usually celebrate holidays, season changes, or social events.
A goanna is an Australian monitor lizard. There are about 25 species in the outback.
Linda Kozlowski (Sue) was the only American on-set the whole time they shot in Australia's Northern Territory.
Hogan was famously prevented from leaving Australia in 2010 over an alleged unpaid tax debt.
New York City hasn't grown too much. The current population is only a little above eight million.
"Dunny" is Australian slang for toilet.
The Plaza Hotel doesn't really have bidets.
Irving Metzman (doorman) named himself after the character he played in his second play. He was going to do that after every play, but gave up. The name Irving Metzman stuck.
"Boozer" is Aussie slang for a bar. It's also called a "water hole."
No one has died from a Funnel-web spider bite since anti-venom became available in 1981.
Paul Hogan was 31 was he started in show business. He was 46 when he starred in Crocodile Dundee.
"Bonzer" means "good" or "excellent." It may come from the French word bon, or from bonanza.
A walkabout is both a spiritual journey and a physical one, often lasting weeks or months.
Wardrobe Note
Costume designer Norma Moriceau also did the wardrobe for movies by other Australian directors including the last two movies of the Mad Max trilogy and Dead Calm with Aussie Nicole Kidman.
Read More