Uncategorized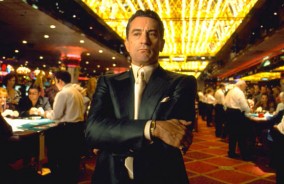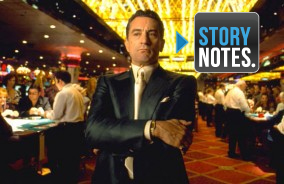 Weeknights during prime time on AMC, you can catch Story Notes — real time trivia and facts about your favorite movies. Below is the online version of the Story Notes for Casino.
Automotive Note
Ginger's driving a 1975 Mercedes-Benz SL. This model was nicknamed Der Panzerwagen, because it was as heavy as a tank.
Award Note
Sharon Stone won a Golden Globe and was nominated for an Oscar for this performance.
Biography Notes
Sharon Stone was in two big movies in 1995: Casino and The Quick and the Dead.
Joe Pesci also played a burglar in Home Alone (1990) and Home Alone 2: Lost in New York (1992).
Joe Pesci and Frank Vincent have been friends for years. They started out as a comedy duo.
The same year as Casino, Kevin Pollak (Green) played a criminal in The Usual Suspects (1995).
Frank Vincent was Billy Batts in Director Martin Scorsese's GoodFellas.
Casting Notes
Don Rickles plays Billy. He was a popular headliner in Las Vegas in the '60s.
Most of the guys playing mob bosses in Casino had never acted in a movie before.
Comedian Alan King was a headliner in Las Vegas in the '70s. Kevin Pollak was named by Comedy Central as one of the "Top 100 Comedians of All Time."
Pasquale Cajano plays Remo. He also worked with Robert De Niro in Analyze This (1999).
Joe Pesci (Nicky) won an Oscar playing Tommy DeVito in Martin Scorsese's GoodFellas (1990).
Scorsese: "[Sharon Stone] has a tough-edged look that seemed perfect for Vegas at the time."
James Woods (Lester) has been nominated for two Oscars and eight Golden Globes. A year earlier, he co-starred with Sharon Stone in The Specialist (1994).
Nicky's wife is played by Melissa Prophet. She also worked on GoodFellas (1990).
Frank Vincent played Phil Leotardo on The Sopranos (2004-2007).
Phillip Suriano (Dominick) also played a gangster in GoodFellas (1990).
Steve Allen and his wife Jayne Meadows headlined in Las Vegas in the '60s and '70s.
Alfred Nittol worked as Joe Pesci's stand-in on four other movies.
John Bloom (Don) was famous for reviewing drive-in movies in books and on TV as Joe Bob Briggs.
L.Q. Jones plays Pat Webb. He was in many of Sam Peckinpah's Westerns of the '60s and '70s.
Bill Allison (John Nance) actually owned a small hotel and casino in Nevada in the '80s.
Ffolliott Le Coque (Anna Scott) was once a showgirl and still manages a show on the Strip.
Richard Riehle plays Charlie Clark. He went on to play Tom Smykowski in Office Space (1999).
Martin Scorsese's mother Catherine has appeared in eight of his movies.
Claudia Haro is Joe Pesci's ex-wife. She's appeared in four movies with him.
Alan King (Andy Stone) also played a gangster with De Niro in Night and the City (1992).
Fashion Note
Ginger wears a Bob Mackie dress in Casino that was later sold at auction for $13,200.
Finance Notes
Today, the Las Vegas Strip earns over $6 billion in gambling revenue every year.
Some chinchilla coats can cost over $50,000.
$25,000 in the early 1970s is equal to more than $100,000 today.
The mob skimmed an estimated $15 million from the Stardust Casino in the '70s.
Casino earned over $116 million worldwide. That's more than $174 million by today's standards.
History Notes
The mob began building casinos in Las Vegas in the early '30s.
In the '70s, betting on college sports was relatively new and the odds were unpredictable.
The first "Black Book" was created in 1960 and had eleven names in it. Al Capone wasn't one of them.
In 1988, Frank "Lefty" Rosenthal was officially added to the Gaming Commission's "Black Book."
Location Notes
The movie was shot at the Riviera Hotel & Casino. The Tangiers is fictional.
Ace and Nicky drive down Freemont Street in Casino. Today, it's no longer open to traffic.
Plot Notes
There are 25 murders in Casino. Nicky commits eight.
Even at her lowest, Ginger remembers to grease the wheels.
Press Note
Rolling Stone calls Casino (1995) a "Vegas masterpiece."
Prop Note
Billy's gun is an over and under shotgun. It's normally used for skeet shooting.

Quote Notes
Scorsese: "What interested me about Las Vegas was the idea of excess, no limits."
Scorsese: "There's no doubt about it. [Casino] is a kind of a sequel to GoodFellas."
Scorsese: "What we show is a bunch of cheats watching cheats watching cheats."
Don Rickles: "Billy Sherbert (his character) is a combination of guys I've known. It didn't take a great amount of concentration on my part because I grew up in this town."
Sharon Stone: "Lester is really Ginger's heart. He's the love of her life."
Kevin Pollak later thanked Director Martin Scorsese for "painting him into one his masterpieces."
Vince Spilotro, the son of the real Nicky, says, "I knew what he did. He was just a loving father."
Frank Rosenthal (the real Ace): "The muffins stayed and the chef left."
James Woods was willing to do just about anything to work with Martin Scorsese. Woods left a voicemail for Scorsese that said, "Any time, any place, any part, any fee."
Sharon Stone: "Joe was one of the main people who wanted me to be in this film. He championed me."
Scorsese says, "All Ace has to do is say okay I'll let the guy stay. It's the element of pride. The downfall. That was his flaw. It pretty much becomes an old Greek myth."
Scorsese says, he cast Sharon Stone because she had a "determination to lose herself in the character."
Scorsese says, organized crime is "almost representative of aspects of the Wild West. In my mind, the closing of the old Las Vegas is like the end of the frontier."
Scorsese says Robert De Niro has the ability to play a villain who the audience roots for. "There's no character that he plays that is irredeemable."
Sharon Stone says, "I think playing someone like this is the most fun of all.This is not a film about being liked."
Sharon Stone once told her acting coach, "I want to be good enough to work with Robert De Niro."
Sharon Stone didn't use a body double in Casino."That house had marble hallways and my legs would just be black and blue and green."
Scorsese: "Slowly, she was becoming the emotion just lying there on the ground."
Sharon Stone: "[Pesci] played such a scary guy in this movie. You're scared when he's in the room."
Sharon Stone: "I think it's safe to say I completely lost my mind for a period of the shooting. I became so consumed."
Sharon Stone: "The freedom of that kind of rage is really fantastic.There are very few times in my life when I've felt that, just down in my guts, sense of exhilaration."
Scorsese: "The violence in Casino is a reflection of the world those people live in. It's not pretty and it should not be pretty."
Scorsese: "That character was tougher than all of them. [Ginger] just got in over her head."
Scorsese says in a sense these people had been given "the sinner's paradise.They may have had souls when they started, but as the film progresses they [lose] those souls."
Scorsese: "Everybody pays. It's the old story. You live by the sword, you die by the sword."
Script Note
Casino was co-written by Nicholas Pileggi and Martin Scorsese, who also co-wrote GoodFellas (1990). Pileggi began researching the story while GoodFellas was being filmed.
Set Notes
In Casino, Scorsese shoots one continuous shot that lasts almost two minutes. He used a similar technique in GoodFellas (1990) and Hugo (2011).
All the dealers in Casino actually worked in Las Vegas.
Cinematographer Robert Richardson uses the effect of a bright white spotlight on their tables throughout the movie.
The camera angles get more extreme as Ginger's depression worsens.
Most of the conversations between De Niro and Pesci were improvised. Martin Scorsese would tell them where to start and where to end. The rest was up to them.
Sharon Stone encouraged the actress who played her daughter to annoy James Woods constantly.
Robert De Niro decided Ace should hound Ginger about every last dollar she spent.
To set the mood, Scorsese told Sharon Stone to watch three movies before filming started: Valley of the Dolls (1967), A Woman's Vengeance (1948), and The Passion of Joan of Arc (1928).
Source Notes
Ace Rothstein (Robert De Niro) is based on real life casino boss Frank "Lefty" Rosenthal.
Nicky is based on real-life mobster Tony Spilotro. He was a close friend of Frank "Lefty" Rosenthal.
Ginger is based on Frank Rosenthal's real wife, Geraldine "Geri" McGee.
Lester is based on Geri Rosenthal's high school boyfriend, Lenny Marmor. In reality, Geri and Lenny had a daughter together.
Frank Rosenthal, the real Ace, actually hired Siegfried and Roy to perform at his casino.
It was common for casinos to weigh showgirls on a weekly basis.
Tony Spilotro, the real Nicky, had a vault in his house that was reinforced with concrete walls.
The real Nicky really did put a man's head in a vise.
Frank Marino is based on mobster Frank Cullotta, who worked as an adviser on the movie.
Frank Rosenthal lived next to the Las Vegas Country Club. Federal agents really did land on the fairway.
Frank Rosenthal had his own show at the Stardust.
Federal agents didn't really hire lip readers. Even if they had, that evidence couldn't be used in court.
Symbolism Notes
Scorsese often has his leading ladies wear white in their first scenes to symbolize purity. Scorsese also introduced women in white in Taxi Driver (1976) and Raging Bull (1980).
Costume Designer Rita Ryack says the color of Ace's suits match the turmoil in his life.
Robert De Niro is dressed in red and black for this scene to make him look like the devil.
Trivia Notes
A "C-Note" is a $100 bill. C is the Roman numeral for 100.
Casino is the eighth time Robert De Niro and Martin Scorsese worked together.
In baccarat, most casinos have a 1.17 percent edge.
In sports betting, "laying" means picking the favorite.
If you cheat a Las Vegas casino, you can go to prison for one to six years and be fined up to $10,000.
The hardest part about producing Casino was finding people who would explain how to cheat.
A sawdust joint is a casino that caters to low rollers.
Robert De Niro and Joe Pesci have co-starred in four movies together. The first was Raging Bull (1980).
Nicky's crew was called "The Hole in the Wall Gang" named after Butch Cassidy's legendary gang.
Robert De Niro and James Woods co-starred as gangsters in Once Upon a Time in America (1984).
Frank Rosenthal really was a Gemini. His wife Geri, the woman Ginger is based on, was a Taurus. In astrology, a Taurus tends to be materialistic and stubborn.
Martin Scorsese also uses narration in GoodFellas (1990) and Gangs of New York (2002). Parts of the narration are taken directly from taped conversations with real mobsters.
A novena is a Roman Catholic period of prayer that lasts nine days.
Playing with your "nose wide open" means you're ignoring the odds and you're losing.
The Elephant Man (1980) was nominated for eight Oscars, the same as Scorsese's Raging Bull (1980).
This was the largest skim operation uncovered in Las Vegas history.
Wardrobe Notes
That pink robe worn in the movie is from Sulka & Co. who clothed Winston Churchill and Henry Ford among others.
The costume budget for Casino was $1 million.
The costume department had to dress more than 7,000 extras for Casino.
Stone had about 40 costume changes and De Niro had 52.
After Ginger returns, her wardrobe and hairstyle are much more severe.
Sharon Stone wore her pants baggy to make herself look as bad as she could.
Read More