Uncategorized
Q&A – Robin McLeavy (Eva)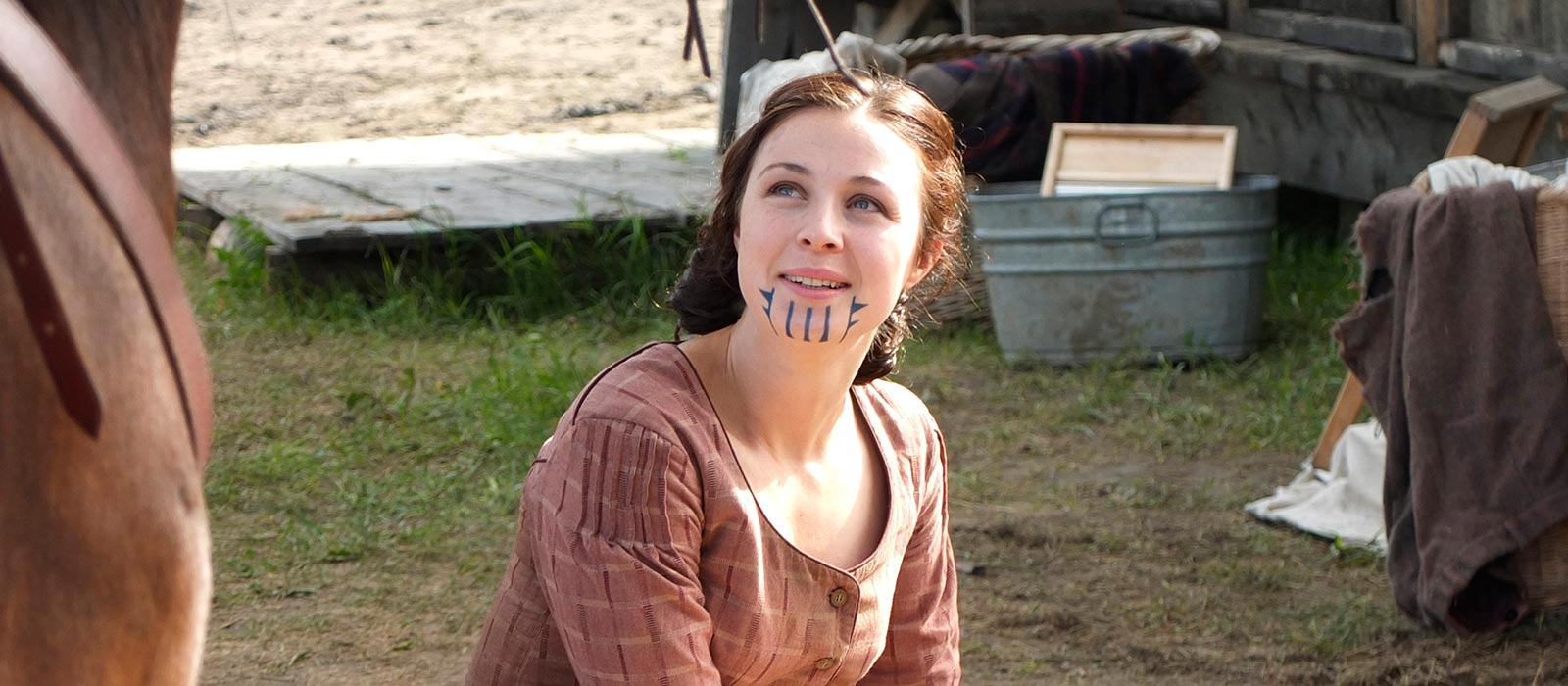 In this exclusive interview with AMCtv.com, Robin McLeavy, who plays Eva on AMC's Hell on Wheels, gives relationship advice to Elam and Eva and confesses to missing her "whore clothes."
Q: Eva is one of Hell on Wheels strongest female characters. Have you been inspired by her in your real life?
A: The idea of representing women with strength still seems to be a very valid point of reference in the modern world. To see [Eva] struggling with issues like should she raise a family, should she get married or should she retain her independence, these are all still very modern issues that women face today… It's something very close to my heart.
Q: Do people recognize you from the show out in public?
A: I get recognized sometimes, but the tattoo is always a talking point. On set people are always looking at it, pointing at it, and also a lot of the background artists think it's real. [Laughs] I say, "No, I didn't get a tattoo for the role. It's makeup."
Q: Eva and Elam have a steamy outdoor love scene. What was it like to shoot that?
A: Originally in the script, it said that we were naked. [Laughs] And Common and I talked about what their situation was at the time, and…if you're running off to the forest to have a love-making session, it's pretty unlikely that you are going to take all your clothes off in case you get sprung or you have to get up quickly. So, we adjusted it so that we just got enough clothes off to get down to it, basically, and in a way it's a lot sexier.
Q: Are you a good communicator in your own relationships? What romantic advice would you give Eva and Elam?
A: Communication and transparency and trust seems to stop when there is fear involved…. You need to be able to be vulnerable and say, "This is what I'm afraid of, can you help me deal with this." And then from that point you can evolve together.
Q: Did you research what it would have been like to be pregnant in the 1860s?
A: Yeah, definitely. The likelihood of death through childbirth was really, really high, so the fact that Eva decides to go ahead with the pregnancy is fairly brave in itself and especially with having very limited medical help at Hell on Wheels. In Episode 4, when Eva tells Elam that she's pregnant, and he suggests she get an abortion, again, the risks of death for having an abortion was about the same as giving birth to the child. The options weren't great. It was pretty brutal.
Q: You're dressing far more demurely this year. Do you miss the whore costumes at all?
A: I really love my whore clothes, I have to admit. [Laughs] But Carol Case, our costume designer, did a beautiful job with the wardrobe and it kind of reflects where Eva's at emotionally. It's very pulled back and restrained, which I feel like is what's happening with Eva.
Q: You play Lincoln's wife in the flick Abraham Lincoln: Vampire Hunter. Did Hell on Wheels influence your decision to go for that role?
A: I think that it was when I was shooting Abraham Lincoln: Vampire Hunter, my agent called me and said you know that Hell on Wheels show, there's this character, she's an ex-Mormon and she's been captured by Native Americans and she has a chin tattoo and she's working as a prostitute. And I said, "Oh my God. That is brilliant."
Click here to read an interview with Common, who plays Elam Ferguson in AMC's Hell on Wheels.
Read More