Uncategorized
Top Ten Reasons We Can't Get Enough Pretty Woman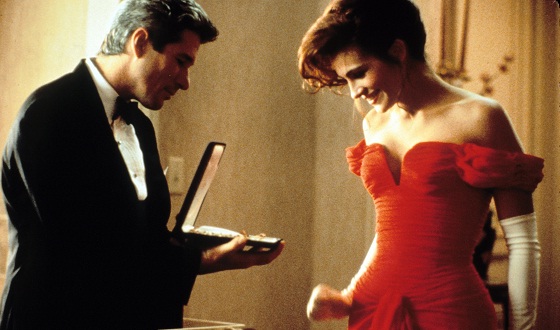 Pretty Woman is best-known as the movie that made Julia Roberts a star, but this 1990 rom-com is so much more than that…like one of the 50 Greatest Romantic Movies of All Time, too. So what makes this modern fairytale about a prostitute rescued by a billionaire so special? Here are ten reasons to consider…
10. The Unexpected Fairy Godmother
What would a Cinderella story be without a fairy godmother… or in this case, godfather? The snooty Barnard Thompson (Hector Elizondo) may not carry a magic wand, but when street-hustling hooker Vivian (Roberts) needs to buy appropriate attire for Beverly Hills, Barney's phone call to a Rodeo Drive shop is as powerful as a "bippity boppity boo."
9. The Sexual Undertones of I Love Lucy
At first, Edward (Richard Gere) is reticent to take advantage of Vivian's services, so she decides to entertain herself in his hotel room by watching reruns of I Love Lucy. Next thing you know, Vivian is in her bra and panties, getting to know Edward better, while Lucille Ball is stomping a vat of grapes in the background. Hot!
8. Killer Costar Laura San Giacomo
San Giacomo got her big break the year before in Sex, Lies and Videotape, but this role as Vivian's sassy roommate (and fellow hooker) makes the most of her talents. Even when she's working, her deadpan comedic delivery is impeccable: "It's 50 bucks, Grandpa. For $75, the wife can watch."
7. The Clothes
Julia Roberts's wardrobe in the movie has become iconic because they're an integral part of the movie's greatest moments. Would Vivian straddling the couch in the Regent Beverly Wilshire elevator be as devilishly funny without that platinum wig and those thigh-high, black leather boots? Nope. And the floor-length red dress she wears to the opera is as breathtaking as the performance of La Traviata that moves her to tears.
6. "Oh, Pretty Woman"
Roy Orbison's 1964 tune not only inspired the name of the movie (which was originally titled "3,000") but it's also the perfect accompaniment to Vivian's belle-of-the-ball moment when she struts down the street in new designer duds thereby turning every head on Rodeo Drive.
5. The First Kiss
Vivian sells sex, yes, but there's one thing she won't do: kiss on the mouth. That's too intimate. Thankfully for the hopeless romantics out there, some rules are made to broken. When Vivian does finally give in to her feelings for Edward and kisses his lips tenderly while he's asleep, out come the tissues.
4. The Necklace Scene
Gere's improvisation during the scene where he presents Roberts with a quarter-of-a-million-dollar diamond necklace is priceless. During filming, he snapped the jewelry case closed on an unsuspecting Roberts, startling her and unleashing that boisterous laugh that's her signature. The result: one of the most unforgettable movie moments ever.
3. "Slippery Little Suckers"
After receiving a quick tutorial from Barney on the elements of fine-dning, Vivian joins Edward for a fancy business dinner. To her dismay, there's no salad — "That's the fork I know" — and they're serving snails. She muddles through the meal, eventually sending escargot sailing across the restaurant in a way that's totally endearing.
2. Revenge Is Sweet
Getting snubbed sucks. What's worse? When the people who make you feel like crap get away with it. So there's something cathartic about when Vivian — arms full of shopping bags — marches into the shop where a snobby saleslady previously refused to help her. "Big mistake. Huge," Vivian tells the commission-earning employee.
1. Chemistry
Sure, Roberts steals the show but no one could be her Prince Charming except Gere. The off-screen dynamic of seasoned actor (Gere) showing newbie (Roberts) the Hollywood ropes translated perfectly onscreen in terms of the rags-to-riches storyline. Their love scenes are nothing to sneeze at either.
Don't miss AMC Can't Get Enough Pretty Woman weeknights at 8/7c through Thu., Aug. 30.
Read More