Uncategorized
Story Notes for The Truman Show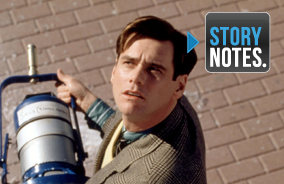 Weeknights during prime time on AMC, you can catch Story Notes — real time trivia and facts about your favorite movies! Below is the online version of the Story Notes for The Truman Show .
Award Notes
Andrew Niccol's script for The Truman Show earned him an Oscar nod for Best Original Screenplay.
The Truman Show won a Hugo Award and a Saturn Award, both given to the best sci-fi and fantasy films.
Ed Harris was nominated for a Best Supporting Actor Oscar and won a Golden Globe for playing Christof.
Peter Weir was nominated for an Academy Award for Best Director for this movie.
Jim Carrey won a Golden Globe for his performance. He won another one the next year for Man on the Moon (1999).
Laura Linney has three Oscar nominations, for You Can Count on Me (2000), Kinsey (2004) and The Savages (2007).
Biography Notes
Peter Weir had worked before with another comedian-turned-dramatic actor. He directed Robin Williams in Dead Poet's Society (1989).
Reality was also distorted in screenwriter Andrew Niccol's previous movie, Gattaca (1997).
Laura Linney's mother is a nurse. Her father was playwright Romulus Linney.
When he was a young boy, Jim Carrey's nickname was Jimmy Gene the String Bean.
Casting Notes
This was Jim Carrey's first time taking on a serious dramatic leading role. Carrey: "It was one of the best scripts I ever read. It works on so many levels."
The twins, Ron and Don, were cops hired to direct traffic on set. They had never acted in a movie.
Peter Krause (Lawrence) was on Sports Night at the time. He'd later star on Six Feet Under.
This was one of Laura Linney's first big film roles. Before this, she had played smaller parts in Absolute Power (1997) and Primal Fear (1996).
Marlon, played by Noah Emmerich, was Dr. Jenner on The Walking Dead (2010).
Joel McKinnon Miller is also in Men in Black II (2002) and Super 8 (2011).
Truman's mom is played by Holland Taylor, from Two and a Half Men and Legally Blonde (2001).
Natascha McElhone was also in Ronin in 1998. She plays Karen on Californication.
Marcia DeBonis (nurse) also played a nurse in The Devil's Advocate (1997).
Judy Clayton (travel agent) played one of Jim Carrey's clients in Ace Ventura: Pet Detective (1994).
Ed Harris (Christof) was also in charge of a control center in Apollo 13 (1995).
Philip Glass and Burkhard von Dallwitz won Golden Globes for Best Original Score for The Truman Show.
Harry Shearer voices several Simpsons characters, like Ned Flanders, Mr. Burns, and Principal Skinner.
Christof was originally played by Dennis Hopper, but he left due to "creative differences."
Ed Harris only had a few days to prepare between accepting the role and his first day on set.
Heidi Schanz (Vivien) played one of the victims (Pride) in Se7en (1995).
Paul Giamatti was also in Jim Carrey's next movie, the Andy Kaufman biopic Man on the Moon (1999).
Philip Baker Hall worked with Jim Carrey again in Bruce Almighty (2003).
Location Note
The Truman Show was mostly shot in Seaside, FL, a 90-acre planned community of over 300 cottages. Director Peter Weir said Seaside "looked like it had been built for our show."
Love Note
At the time the movie was shot, Carrey was married to actress Lauren Holly. They lived in a house on set during the shoot.
Plot Notes
According to Weir, there are six "Director shifts" per day on the show. Midnight to 4 a.m. is for beginners.
"How's it going to end?" is the tagline for The Truman Show
Pop Culture Notes
Entertainment Weekly named Truman one of the "Top 100 Greatest Characters of the Last 20 Years."
A number of people actually believe their life is a TV show. Psychiatrists have named this phenomenon the "Truman Show delusion" or "Truman syndrome."
The Truman Show movie has been compared to the sci-fi series The Prisoner (1967-1968). In both, a man tries to escape a seemingly perfect coastal town.
Roger Ebert compared The Truman Show to the fanaticism that led to the death of Princess Diana.
The Truman Show came out two years before Survivor and Big Brother started the reality TV explosion.
Press Notes
Esquire called The Truman Show (1998) "the movie of the decade."
The New York Times: "[Linney] can exclaim 'I made macaroni!' in fiendishly ecstatic fashion."
In 2012, The Washington Times named The Truman Show "The Best Jim Carrey Movie of All Time."
Entertainment Weekly: "The Truman Show brings to mind David Lynch directing a smiley-faced 1984."
The New York Times: "Carrey is charismatic enough to make Trumania a nearly plausible conceit."
Larry King predicted that The Truman Show would "revolutionize the art form."
Quotation Notes
Jim Carrey has said that being constantly watched by fans and paparazzi helped him relate to Truman.
Carrey: "As a kid I used to think, 'What if I was the center of the universe, the only real person?'
Director. Weir: "There's something alien about Jim Carrey. He's like Charlie Chaplin or Buster Keaton."
Writer Andrew Niccol: "I think everyone questions the authenticity of their lives at certain points. It's like when kids ask if they're adopted."
Peter Weir: "[Jim] had a quality most needed in the casting of Truman. Truman couldn't be quite normal."
"Director Peter Weir: "I believe the reality that we think we've lived is highly disturbed."
Noah Emmerich: "When you're eight years old you're not faking your best friend. He has to be false perpetually to the person who is authentically probably his best friend in the world."
Harris: "Christof had [an] unpleasant childhood… he wanted to create this idyllic world for another child."
Carrey: "I'm a lot like Truman. I'm the sort of guy who wants to make everybody happy."
Noah Emmerich: "It's unbelievable how quickly the real world caught up to this cynical dark fantasy."
Director Peter Weir: "Has TV completely robbed us of ordinary definitions of life and death?"
Jim Carrey: "Everybody talks about how dark [The Truman Show] is, but I see it as a hopeful movie."
Director Peter Weir: "Christof did love him in some kind of twisted way. He was his father in a sense, providing shelter and the context for a life that would be safe and useful."
Carrey: "It's not Shakespeare, but [Truman is] a more human character than any I've done. It's a movie about life, unrequited love, the need to accomplish something you've never been able to."
Script Notes
Truman's first name is a play on the words "true man." His last name is from studio city Burbank, CA.
Welles Park is named after Orson Welles. Most places in fictional Seahaven have stars' last names.
Director Peter Weir wrote a 10-page backstory that described the history of the show. For instance, The Truman Show was a frequent winner at the Emmys.
Lauren Garland is named after Lauren Bacall and Judy Garland.
Truman's "friends" are also named after Hollywood icons, like Meryl (Streep) and Marlon (Brando).
The original script had Truman living in a recreation of New York City. But Director Peter Weir changed it to an idyllic town to make the movie feel less "sci-fi."
In an earlier draft of the script, Truman wanted to go to Australia instead of Fiji.
Kirk is named after Kirk Douglas.
According to Peter Weir, the first season of the show was called "Bringing Up Baby."
Set Notes
The look of the beach was based on postcards from the 1950s.
Laura Linney took inspiration for playing Meryl from a 1940s Sears & Roebuck catalog.
There are around 300 extras in the movie, many of them from Seaside, Florida, where this was shot.
Tech Note
Cinematographer Peter Biziou used screens over his camera lenses to create a hidden camera effect.
Trivia Notes
Fiji is a nation in the South Pacific made up of 332 islands; only a third of them are inhabited.
Smell is the sense most directly tied to memory.
The average plane is hit by lightning about once a year, but planes are built to absorb the shock.
The Hague is home to the International Criminal Court, which prosecutes crimes against humanity.
Director Weir wanted to have a video camera installed in every theater where the movie was shown. At one point, the projectionist would cut to the live footage of the audience, then back to the movie.
The Santa Maria was the largest of the three ships that Columbus used to sail to the "New World."
The term for prisoners who come to prefer their captivity is "Stockholm Syndrome."
Read More