Uncategorized
Story Notes for The Last of the Mohicans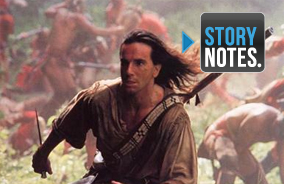 Weeknights during prime time on AMC, you can catch Story Notes — real time trivia and facts about your favorite movies! Below is the online version of the Story Notes for The Last of the Mohicans.
Award Notes
The Last of the Mohicans won an Academy Award for Best Sound.
Jodhi May is the youngest recipient of Cannes' Best Actress award for A World Apart (1988).
Biography Notes
Day-Lewis won a Best Actor Oscar for playing another driven frontiersman in There Will Be Blood (2007).
Day-Lewis's father was a poet and once served as Poet Laureate of the United Kingdom.
Madeleine Stowe was also in The Deerslayer (1978), another movie based on a Fenimore Cooper novel.
Wes Studi (Magua) played the title role in Geronimo: An American Legend a year after this (1993).
Casting Notes
Daniel Day-Lewis had only done independent movies at this point in his career. This was his first big-budget Hollywood movie.
Jared Harris (the lieutenant) plays British ad executive Lane Pryce on Mad Men (2009-12).
Steven Waddington is Maj. Duncan Heyward. He is the Duke of Buckingham in The Tudors (2007).
Wes Studi (Magua) is in Dances with Wolves (1990), two years before this movie.
Director Michael Mann wanted Madeleine Stowe to play Cora as soon as he heard her laugh. Mann: "She had this laugh, this wild spirit, this exuberance."
Jodhi May (Alice) starred in the controversial Sister My Sister (1994) two years after this.
Russell Means (Chingachgook) is an Oglala/Lakota Sioux Indian. This is his first acting role. Director Mann cast Means because of his prominence as a leader of the American Indian Movement.
Eric Schweig (Uncas) is an Inuit actor. This was his first big Hollywood movie.
Maurice Roeves (Colonel Munro) is a Scottish actor best known for his supporting roles on TV.
Patrice Chereau is General Montcalm. This is his first and only American movie. He's primarily a French opera, theatre, and movie director.
Finance Note
The Last of the Mohicans was a box office and critical success, opening as the #1 movie in America.
History Notes
The events in this movie take place 19 years before the start of the American Revolution.
Gen. Daniel Webb (Mac Andrews) is a real historical figure remembered as a timid and ineffectual leader.
The Huron Indians were allies of France.
At this time, the mortality rate for colonists moving to the frontier was about 50%.
Once families began being attacked on the frontier, many in this area fled to Albany, which had a stone fort.
Reverend Eleazar Wheelock's school was the first English-speaking school for American Indians.
Indentured servants came to America under contract to work for free, usually for seven years.
The Siege of Fort William Henry was a six-day attack on the British-held fort. The siege is for control of Lake George, a key position along the St. Lawrence Seaway.
Col. George Munro was a real figure who defended Fort William Henry, but he didn't have two daughters.
British forces in the fort numbered about 2,300. The French were attacking with about 8,000 men.
The French and Indian War is considered the first global conflict. It took place in Europe, North America, and India.
The punishment for sedition was death by hanging, and sometimes drawing and quartering.
General Marquis de Montcalm is an actual historic figure. He joined the army at the age of nine.
General Montcalm needed Colonel Munro to surrender before the summer ended. It was August and the upcoming cold weather would make it impossible to wage a war.
In North America, the British population outnumbered the French by about 20 to 1.
General Montcalm was known to spend seven to eight hours a day with his American Indian allies. He knew how valuable their contributions were to the war effort.
The Mohawk Indians were allied with the British.
It's unknown whether the real Montcalm turned a blind eye to the British or not.
War cries have been used since the beginning of man to intimidate and confuse enemies.
American Indians in the region were known to remove and sometimes eat the hearts of their victims.
Uncas was loosely based on the real-life founder of the Mohegans, who was also named Uncas.
The Mohegan and Mahican tribes are still in existence today.
Location Note
The Last of the Mohicans was shot in the Blue Ridge Mountains of North Carolina.This is one of the last remaining old-growth forests east of the Mississippi River.
Music Note
Original music was composed by Trevor Jones and Randy Edelman. Edelman also scored Gettysburg (1993) and Jones scored Notting Hill (1999).
Press Notes
The NY Times described The Last of the Mohicans (1992) as a "handsome, swashbuckling, peculiarly prescient epic."
Stowe was named one of People's 100 Most Beautiful People in the World (2012).
Entertainment Weekly: "[Stowe] has the blend of sensuality and yearning that works… like an elixir."
"I will find you!" was on Entertainment Weekly's list of the Best Romantic Movie Lines of All Time.
Prop Notes
Chingachgook's weapon is a gunstock war club, which resembles the butt of a gun.
The design of the canoes was taken from N.C. Wyeth's cover art on an early edition of the book.
Quote Notes
Madeleine Stowe: "It was really a wild time in American history. Everything was up for grabs."
Director Michael Mann on casting Daniel Day-Lewis: "One of the best ideas I've ever had."
Mann: "[Day-Lewis] makes Hawkeye come alive in a way that has a potential of being mythic."
Director Michael Mann says Cora and Nathaniel are "alive in the same way…they pursue truth."
Day-Lewis on working with director Mann: "You have to be insane in a certain way to try and make a film. We share the same insanity."
Day-Lewis: "I like the sensation of running. But it was not easy terrain, and we all took a few dives."
Daniel Day-Lewis on the movie: "The story itself makes me terribly sad because it's about a loss that is irreclaimable, and it didn't have to be that way."
Russell Means (Chingachgook): "Death is a change of worlds."
Director Michael Mann: "The frontier is conflict between past and present. We were trying to make a piece of history come alive."
Set Notes
Day-Lewis trained with a U.S. Army colonel to develop his shooting and hand-to-hand combat skills.
Daniel Day-Lewis stayed in character during the entire shoot. He slept in a tent every night and carried a musket wherever he went.
Cinematographer Dante Spinotti used minimal lighting to give the movie a natural look.
Some of the cast and crew spent a month in the North Carolina wilderness together before shooting began.
Madeleine Stowe was initially reluctant to star in this movie. It was only after she realized it was a love story that she agreed to audition.
Some of the extras used were trained in historic military combat for three months.
Director Mann is a perfectionist. He re-shot the waterfall scene nine days before showing the movie to reviewers.
Over 900 American Indians from all over the country were employed for the shoot.
Daniel Day-Lewis' commitment to his role and the strenuous shooting schedule took a toll on his health. He was treated for claustrophobia and "mild hallucinations" after this movie wrapped.
Source Notes
The Last of the Mohicans is based on the book by James Fenimore Cooper, published in 1826. It's part of Cooper's Leatherstocking Tales series, the first American books to be international bestsellers.
This movie takes place during the French and Indian War in the present-day Adirondacks, New York.
There have been over a dozen movie and TV adaptations of The Last of the Mohicans.
Director Michael Mann said he based this movie more on the 1936 adaptation than the 1826 novel.
James Fenimore Cooper took the name Mohican from two actual tribes: Mohegan and Mahican.
James Fenimore Cooper described Nathaniel as living by the code: "One shot, one kill."
Trivia Notes
British soldiers were not allowed to fire until a commanding officer ordered them to.
Sedition is the act of promoting a rebellion. It's a slightly lesser offense than full-out treason.
"Yengeese" is the word American Indians used for the English. It eventually became "Yankee."
Read More