Uncategorized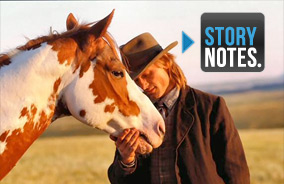 Weeknights during prime time on AMC, you can catch Story Notes — real time trivia and facts about your favorite movies! Below is the online version of the Story Notes for Hidalgo.
Award Note
Screenwriter John Fusco won the Western Writers of America Spur Award for Hidalgo.
Biographical Notes
Viggo Mortensen is related to the real Buffalo Bill on his mother's side.
Viggo Mortensen is fluent in English, Spanish and Danish, and learned the Lakota dialect for the movie.
Viggo Mortensen rode horses as a boy, but didn't interact with them much again until Lord of the Rings.
Director Joe Johnston had previously directed Jumanji (1995), October Sky (1999), and Jurassic Park III (2001).
Omar Sharif was well-known for being an expert bridge player until he retired from the game in 2000.
Hidalgo's cinematographer, Shelly Johnson, is also an award-winning painter.
In addition to the harmonica, Mortensen also plays piano and drums. He sings too.
Director Joe Johnston won an Oscar for creating the visual effects for Raiders of the Lost Ark (1981).
Louise Lombard was named one of the 50 Most Beautiful Women in the World by People in 1994.
Viggo Mortensen's ancestry is Danish and English.
Mortensen earned the nickname "No-Ego Viggo" because he's very down-to-earth for a movie star.
Viggo Mortensen is also a photographer. He published a book of horse photos called The Horse is Good. The Lakota say "the horse is good" when they address their horses.
Mortensen took photos of the Ghost Dancers on set and published them in a book called Miyelo. Miyelo means "It is I."
Blooper Note
Four wives is the maximum number a man can have under Islamic guidelines.
Casting Notes
Viggo Mortensen was cast based on his performance in The Lord of the Rings: The Fellowship of the Ring (2001).
C. Thomas Howell (Preston Webb) also stars in The Outsiders (1983) and Red Dawn (1984).
Annie Oakley is played by Elizabeth Berridge, who was Mozart's wife in Amadeus (1984).
Floyd Red Crow Westerman (Chief Eagle Horn) played Chief Ten Bears in Dances with Wolves (1990).
J.K. Simmons (Buffalo Bill) also appears in Spider-Man (2002) and starred in Law & Order (1994-2010)
Adam Alexi-Malle (Aziz) is also in Bowfinger (1999) and The Man Who Wasn't There (2001).
Five different horses play Hidalgo. The one used for most of the close-ups is named TJ. The others (RJ, Oscar,
Doc, and DC) were painted so that their spots would match TJ's.
Louise Lombard (Lady Davenport) plays Sofia Curtis on CSI: Crime Scene Investigation (2004-2011).
Malcolm McDowell (Major Davenport) stars in A Clockwork Orange (1971) and Caligula (1979).
Omar Sharif was cast while filming Monsieur Ibrahim (2003). Before that, he had taken a break from acting.
Harsh Nayyar (Yusef) made his movie debut as the assassin in Gandhi (1982).
Adoni Maropis (Sakr) was in Troy the same year as Hidalgo.
Saïd Tahgmaoui (Prince Bin Al Reeh) is also in Three Kings (1999) and Vantage Point (2008).
Silas Carson (Katib) plays four different characters in the Star Wars prequel movies (1999-2005).
Zuleikha Robinson (Jazira) is in The Merchant of Venice (2004) and plays Ilana on Lost (2009-2010).
Peter Mensah (Jaffa) plays the Horse Clan Leader in Avatar (2009) and was in 300 (2006).
Health Notes
The average human can go up to eight weeks without food, but only three to five days without water.
Quarter-cracks can be caused by overly dry hooves or thin hoof walls.
When Frank is cauterizes Hidalgo's wound, the scarring from the burn stops the bleeding.
Hidalgo's bleeding nose is a symptom of Exercise Induced Pulmonary Hemorrhage or EIPH.
Historical Notes
The Ghost Dance movement was founded by the Paiute prophet Wovoka (a.k.a. Jack Wilson) in 1889. Ghost Dancers believed the
sacred shirts they made for the dance would repel bullets.
About 500 soldiers descended on Chief Big Foot's camp at Wounded Knee.
Roughly 300 Native Americans were killed in the massacre.
"Buffalo Bill" Cody got his nickname for supposedly killing over 4,000 buffalo in 18 months.
The Statue of Liberty was given to the U.S. by France in 1886, so she's less than five years old in the movie.
Roughly 18 million Africans were delivered into the Islamic slave trade between 650 and 1905.
The British occupied much of the Middle East until the middle of the 20th century.
Sharia law, established in the eighth and ninth centuries, governs Islamic crime and punishment.
Deadwood was founded in 1876, during a gold rush in the Black Hills of South Dakota.
The O.K. Corral in Tombstone, Arizona was the site of one of the most famous gunfights in the Old West.
Horse racing began soon after horses were domesticated, around 4500 B.C.
Damascus is one of the oldest continuously inhabited cities in the world.
How-To Note
If you step in quicksand, relax and try to lie down on your back; your body will eventually float to the top.
Location Notes
Some scenes were filmed at Wounded Knee, which lies in the Pine Ridge Reservation in South Dakota.
Most of the scenes set in the Middle East were shot in Morocco.
Aden is a port city on the Red Sea, which was under British rule in 1890 and is now part of Yemen.
Composer James Newton Howard also scored The Hunger Games (2012) and The Dark Knight (2008).
Pop-Culture Notes
Mortensen also fights off a gang in Eastern Promises (2007), for which he got an Oscar nod.
The sandstorm scene has been compared to a similar scene in The Mummy (1999).
The look of the locust swarm is based on a scene in The Good Earth (1937).
In screenwriter John Fusco's Thunderheart (1992), the main character also has a vision of Ghost Dancers.
Hidalgo is ranked No. 3 in AMC's Top Westerns of the '00s poll.
Press Notes
Roger Ebert called Hidalgo (2004), "bold, exuberant and swashbuckling…a throwback to a more innocent time when heroes and their horses risked everything."
USA Today: "Omar Sharif stands out for his nuanced and warm performance."
The Associated Press: "Hidalgo himself… is no slouch in the acting department. He whinnies and grunts and looks soulful at all the right moments. You almost expect him to… talk."
The Washington Times: "The camera flat-out loves Mr. Mortensen. [His] face is an embarrassment of physical riches, from his sculpted cheekbones to… dimpled chin."
Prop Notes
The Colt Single Action Army revolver was nicknamed "the handgun that won the West."
The four colors on the Native American Medicine Wheel symbol represent each of the four directions.
The design team created edible locusts out of paper, sugar, onion skin, and a pretzel-like material. Each one took four
hours to make.
Quotation Notes
Frank Hopkins on Hidalgo: "Horsemen … marveled at [Hidalgo's] perfect acts, his stature and intelligence."
Screenwriter John Fusco has called the Ocean of Fire "the Super Bowl of endurance racing."
Mortensen: "As soon as they would roll camera, [TJ the horse] would do these remarkable things…reactions, sounds, little
frowns, eye rolls, ear twitches."
Viggo Mortensen: "Compared to the Arabian horses… Hidalgo looks like a little dog."
Mortensen: "Any ordeal clears and purifies your vision of yourself and how you fit into the world. Those are the stories I
am drawn to."
Screenwriter John Fusco: "My wife… worried that all I had was a guy, a horse, and 3,000 miles of sand… but that was a
great canvas for me to dig and create the story around it."
Zuleikha Robinson: "Jazira is a very strong character who is bound by her culture. She always tries to test her father's
boundaries, and so, they have a very interesting relationship."
Mortensen: "One of the [Native Americans on set] was telling me that I got the accent right. That meant more to me than a
good review of the film."
Mortensen: "All the horses I've met [are] tougher and have more heart… than I do."
Mortensen: "He's [like] I imagined a cowboy as a kid: an individualist, an adventurer with a free will."
Mortensen: "He's at a point in his life when whatever arrogance or confidence he had is pretty much gone. All he has is his experience with his horse."
Mortensen: "I did things that I would never do on horseback under normal circumstances… and which I'll never do again."
Joe Johnston: "An endurance race is a lot like making a movie. It took him 68 days… it took us 119."
Mortensen: "This movie shows you that when you spend time with anybody, no matter… their belief… you'll find some common ground eventually."
Producer Casey Silver: "The real race is this man's race to find himself… to find forgiveness within himself for his transgressions."
Script Notes
Pahaska, which means "long hair," is what the Lakota people called Buffalo Bill Cody.
Screenwriter John Fusco got the idea for Hidalgo when doing research for Thunderheart (1992). He was told stories about Hidalgo by an elderly chief, while living on the Pine Ridge reservation.
Screenwriter John Fusco has said he did not intend the movie to be seen as any kind of political allegory.
Set Notes
The New York docks are actually a parking lot in Southern California.
The start of the race was one of the most difficult scenes to film. Many of the horses started fighting each other.
Eight hundred horses were used in the movie.
A strong cross-wind created dangerous conditions for the beginning of the race. Director Joe Johnston: "[At times] the
wind would start blowing at noon and it would blow through midnight."
Twenty-five different animal species appear in the movie.
Al-Hattal is played by an Arabian show horse named TC Bey Cedar.
Mortensen did many of his own stunts and horse riding in the movie.
Screenwriter John Fusco named one of his horses Hidalgo while he was writing the movie.
120 real locusts were used in the locust storm scene, along with prop locusts and computer graphics.
Viggo Mortensen formed such a close bond with TJ (Hidalgo) that he kept the horse after the movie. He also bought two of the horses he rode in The Lord of the Rings.
Source Notes
Lady Anne shares her name with Lady Anne Blunt, a baroness who was an avid Arabian horse breeder.
The real Hopkins was known for taking care of his horses and finishing with them in good condition.
The real Hopkins claimed to have won by 33 hours. The writer felt a close race would be more dramatic.
Tech Notes
Computer graphics were used to cover the crew's tracks and give the desert a pristine look.
Digitally created leopards were used because horses and leopards are mortal enemies.
Trivia Notes
Annie Oakley could shoot a dime tossed in mid-air from 90 feet away.
Mustangs are wild horses of Spanish origin that live in the western part of North America.
Arabic coffee is made with the spice cardamom, which has a strong taste.
Muniqi are the largest of the five strains of Al Khamsa horses. The five strains are said to descend from the Prophet
Mohammed's five mares. Al Khamsa means "the five."
The Rub' Al Khali is the largest continuous expanse of sand in the world.
Sandstorms are a big problem in the Middle East. The city of Riyadh was engulfed by one in 2012.
According to Muslim tradition, horses were formed from wind.
A horse trekking through the desert would need about 20 to 40 gallons of water a day to stay hydrated.
It's harder to make butter from camel milk than cow milk, because it's harder to separate the cream.
Wild Bill Hickock and Calamity Jane were buried next to each other in South Dakota.
Flogging is still used as punishment in many Islamic countries.
Decapitation comes from the Latin word caput, which means "head."
The "thieves marketplace" is where raiders would gather from all over Saudi Arabia.
Putting an ear to the ground to hear horses in the distance is said to be a Native American technique.
A Muslim woman's veil is called a niqab.
Qadar, the concept of divine predestination, is one of the six articles of faith in Islam.
There is a superstition that if someone dies with their eyes open, they will take someone else with them.
Wardrobe Notes
Viggo Mortensen made his own hatband out of a hank of hair from a horse's tail.
Hidalgo costume designer Jeffrey Kurland worked on Inception (2010) and 14 Woody Allen movies.
Read More