Uncategorized
Story Notes for Geronimo: An American Legend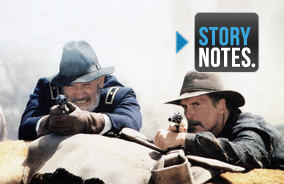 Weeknights during prime time on AMC, you can catch Story Notes — real time trivia and facts about your favorite movies! Below is the online version of the Story Notes for Geronimo: An American Legend.
Award Notes
Geronimo: An American Legend was nominated for an Oscar for Best Sound.
The Guinness Book of World Records once named Robert Duvall the most versatile actor in the world.
Earlier in 1993, Gene Hackman won his second Best Actor Oscar for Unforgiven.
Biography Notes
Geronimo was directed by Walter Hill. He directed his first Western, The Long Riders, in 1980.
Matt Damon actually dropped out of Harvard to take this role. He's still about 12 credits short of graduating.
Geronimo was one of Matt Damon's earliest movie roles. He was just 22 years old.
Wes Studi knows what it's like to be a soldier. He served in the Vietnam War.
Jason Patric's father was actor and playwright Jason Miller. His grandfather was Jackie Gleason.
Director Walter Hill is a big fan of John Ford's scenic Westerns like Stagecoach (1939), also shot in Utah.
Early in his career, Robert Duvall would rent horses by the hour in the Bronx. His riding skills earned him frequent work on TV Westerns.
Robert Duvall won a Golden Globe playing a Texas Ranger in Lonesome Dove (1989).
Robert Duvall would work again with director Walter Hill in 2006 on the AMC TV Movie Broken Trail.
After this, Matt Damon's next big role was Specialist Ilario in Courage Under Fire (1996).
Over a 5-decade-career, Gene Hackman has won two Oscars and been nominated for three more.
Casting Notes
Wes Studi (Geronimo) had his breakout role in The Last of the Mohicans (1992). He plays Magua.
Robert Duvall (Sieber) has one Oscar win and five more nominations after seven decades of acting.
Rodney A. Grant (Mangas) plays Wind In His Hair in Dances with Wolves (1990).
Patrick Swayze was also considered for the role of Gatewood. Casting Director Reuben Cannon: "The quiet, centered nature that Jason had really worked for us."
Kevin Tighe (General Miles) also worked with Director Walter Hill on Another 48 Hrs. (1990).
Finance Note
One hundred dollars in 1886 was as valuable as 2,300 dollars today.
History Notes
Geronimo: An American Legend (1992) is based on the story of Geronimo's capture in 1886.
The Chiricahua, an Apache sub-tribe, lived along the Arizona-Mexico border in the 1880s.
Geronimo became famous for his success as a warrior both in the U.S. and in Mexico. He knew troops could not cross the border and used that to his advantage during raids.
Five years earlier, Tombstone, Arizona was the site of the famous Gunfight at the O.K. Corral.
The blue stone is a part of the Apache creation story.
Geronimo actually surrendered to General Crook in Mexico in March of 1886.
Being "under the protection" of the U.S. Army didn't guarantee that the Apache would be safe.
At the turn of the century, the U.S. government banned many traditional Native American practices.
The real Apache medicine man at Cibecue Creek was arrested without incident.
Before he fought Native Americans, General Crook was a distinguished Civil War general for the North.
Geronimo left Turkey Creek with about 35 warriors and 80 women and children.
After Geronimo's escape, 5,000 troops were deployed to find him. That was one-fourth of the U.S. Army at the time.
Both Cochise and Victorio are famous Chiricahua Apache chiefs.
Geronimo is believed to have killed 76 men, women and children after leaving Turkey Creek.
General Crook resigned on April 1, 1886.
In the late 19th century, many Yaqui actually migrated to Arizona to escape the Mexican government.
Before the Civil War, cigarette smoking was considered unmanly. Real men smoked pipes.
When Gatewood finally found the Chiricahau, he was surrounded by 21 warriors.
Lt. Gatewood was denied the Medal of Honor because he had never actually come under fire.
At one point, there were 1,000 Apache scouts. After Geronimo's surrender, there were just 50.
Geronimo and his warriors were never given a trial. Miles said it would be "a mockery of justice."
Britton Davis actually resigned before Geronimo surrendered to General Miles.
Location Note
Geronimo was filmed almost entirely in Moab, Utah, just north of Arizona.
Music Note
"Get Off the Track!" was a popular anti-slavery song from 1844.
The music for Geronimo was composed by Ry Cooder, who worked with director Hill on The Long Riders (1980).
Plot Note
By giving the stone to Gatewood, Geronimo is showing that he trusts him.
Pop Culture Notes
Geronimo was part of a Western revival in Hollywood. In the next two years, Tombstone, Maverick, Bad Girls, and The Quick and the Dead were all released.
Director Hill says Geronimo wouldn't have been made without the success of Dances with Wolves (1990). Like that movie, Geronimo was a new, more historically accurate style of Western.
At the time, Jason Patric was considered one of the best young actors in Hollywood.
Press Note
Roger Ebert calls Geronimo "a film of great beauty and considerable intelligence."
Prop Note
A carbine is a short-barreled rifle that could easily be reloaded on horseback.
Quote Notes
Jason Patric: "This is an important movie for people to see because it shows both sides."
Jason Patric had never ridden a horse before working on Geronimo. Horse trainer Rudy Ugland calls Patric "just about the best student I ever had."
Wes Studi (Geronimo): "His outlook on life was clouded by personal tragedy and his need for revenge. He was a hero to some and a detriment to others among the Apache people."
Wes Studi: "We're telling the story of Geronimo the fighting man. We're not putting him on a pedestal and saying he never did anything wrong."
Director Walter Hill: "The Army is generally depicted as the enemy of the Apache but in many cases, the people who were most sympathetic to their plight were those soldiers."
Wes Studi says he wanted to show audiences that Geronimo wasn't all that different from them. Studi: "That given the circumstances, they may do the same thing — and feel good about it."
Robert Duvall doesn't actually drink or smoke outside of the movies. "I never got into any of that, dope or anything. Nothing. Doesn't interest me."
Wes Studi: "[Geronimo] finally realized … that he had to change his own way of thinking, and he did. His actions were hurting far more people than those who were directly fighting with him."
Director Walter Hill: "He stood up heroically against a technically superior force. At the very least, we should have grudging respect for that."
Set Note
Producers brought a medicine man on set to ask Geronimo's spirit for permission to make the movie.
On the first day of filming, a sandstorm forced the crew to stop shooting.
The shelters in the Chiricahua camp are called wickiups.
Source Note
Almost all the characters in Geronimo, including Davis and Gatewood, are based on real people. Britton Davis wrote a memoir about his experience called The Truth About Geronimo.
Trivia Notes
The San Carlos Apache Indian Reservation is located in southeastern Arizona.
A U.S. Marshal can serve a federal warrant anywhere inside the United States.
General Crook's nickname, "Nantan Lupan," was a mark of respect from the Apache.
Farming was foreign to the Apache. Before white settlement, the tribe lived as nomads.
Tiswin is a fermented drink made from corn or the pulp of saguaro cactus fruit.
Gatewood gives Geronimo tobacco. A traditional Native American gesture of respect.
Matt Damon rides the same horse that Nicole Kidman rode in Far and Away (1992).
Goyathlay is Geronimo's name in the Chiricahua language. It means "one who yawns."
Chiricahua were buried with their horses and weapons, so they could use them in the next life.
Matt Damon and Robert Duvall both starred in different versions of the Western True Grit. Damon played LaBoeuf (2010) and Duvall played Ned Pepper (1969).
The red mountains in the movie are part of Utah's Canyonlands National Park.
General Miles was searching for 35 Apache warriors in an area bigger than the state of Alabama.
Usen is the Apache word for "God." Apaches believe Usen does not care about the petty quarrels of men.
Read More