Uncategorized
Story Notes for Behind Enemy Lines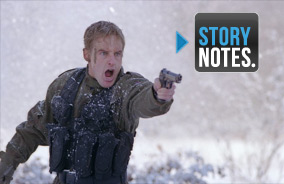 Weeknights during prime time on AMC, you can catch Story Notes — real time trivia and facts about your favorite movies! Below is the online version of the Story Notes for Behind Enemy Lines.
Biographical Notes
Wilson was actually sent to military school after being kicked out of high school.
Admiral Piquet is supposed to be French, but actor Joaquim de Almeida is Portuguese.
Sky reporter Aernout van Lynden did cover the war in Bosnia and won two awards for his reporting.
This isn't the first movie about a downed military investigator that Gene Hackman's starred in. He was also in
Bat*21 (1988) with co-star Danny Glover.
Director John Moore started his career directing commercials, including one involving a helicopter pursuit.
Moore went on to direct action movies like Max Payne (2008) and A Good Day to Die Hard (2013).
Blooper Note
It's actually a Hollywood myth that you can stand on a landmine until it's released. Modern landmines detonate as soon as they are stepped on.
Casting Notes
Owen Wilson was just coming off Shanghai Noon and Meet the Parents (both in 2000).
Wilson's partner (Stackhouse) is played by Gabriel Macht (The Spirit, Suits).
Former Marine Gene Hackman has played ten military roles on screen in his career, so far.
Charles Malik Whitfield played Otis Williams in the 1998 miniseries The Temptations.
David Keith was nominated for a Golden Globe for his performance in An Officer and a Gentleman (1982).
Burnett's dad is played by Leon Russom, best known as the head of The Company in Prison Break.
Polish-born actor Olek Krupa also appears in Eraser (1996) and Salt (2010).
Vladimir Mashkov (Sasha) is a famous Russian actor and director.
Director Moore says some of the Slovak extras were "the real deal. Mercenaries."
Joaquim de Almeida (Admiral Piquet) plays Felix Cortez in Clear and Present Danger (1994).
Actual Sky News war correspondent Aernout van Lynden plays himself. Director John Moore idolized Lynden and dreamed of
being a combat journalist as a teenager.
Owen Wilson admits that he was an unconventional choice for the lead in a movie like this. But producer John Davis says
they wanted to "take the action hero and turn it on its head."
The guy in the Elvis shades is Ismet Begtasévic. He was a set decorator on the movie.
Kamil Kollarik (Babic) is a local Serbian actor. He learned his lines phonetically because he didn't speak English.
This is the only American film role for actor Salaetin Bilal (Ejup). He's usually in Macedonian movies.
One of the snipers is played by director John Moore's brother.
Finance Notes
The jet scraps are actually two old Soviet MiG 21s that the production bought for $5,000.
Coco-Cola did not pay for its product placement in the movie.
Historical Notes
Behind Enemy Lines is set in 1995 at the end of the Bosnian War.
The bad guys who approach Stackhouse are part of the Bosnian Serb Army. They were just one of several sides involved in the
conflict.
Around 100,000 Bosniak and Croatian civilians were slaughtered during the Bosnian War. It was the worst genocide since
World War II.
Around the time of the movie, there were still two million unexploded land mines planted in Bosnia.
Most of the Bosnian Serb rebel forces were fighting just to get their homes back.
The Bosnian war ended in December, 1995 with a peace agreement signed in Paris.
Location Notes
They shot most of the aircraft scenes on the USS Carl Vinson. It took six months of negotiation with the Department of Defense
to get permission to film on the carrier.
Director John Moore shot most of the movie in Slovakia. Slovakia is only about 300 miles from the Bosnian border, so the
terrain is pretty similar.
Producers were so worried about one location, they tested the soil and air to make sure it wasn't toxic.
This whole town of Hac is a set, built for the movie.
The crew created a clearing by cutting down trees in a Slovak national forest.
Music Notes
"What'd I Say" by Ray Charles, 1959. The filmmakers were going to cut the scene the song was used in, but changed their mind
after adding the music.
"Buck Rogers" by Feeder, 2001.
"The Wanderer" by Dion, 1961.
Composer Don Davis also scored all three of The Matrix movies.
"The Rescue Blues" by Ryan Adams, 2001
Pop-Culture Note
Some of the flashback footage that's used is from the Bosnian War movie Savior (1998).
Prop Notes
About 18 footballs were knocked into the ocean shooting one scene.
At first, they shot the plane ejection scene with circular parachutes — which are closer to what pilots use — but you
can't steer them.
At one point, Wilson uses a Swiss Army Knife. American WWII soldiers called it a "Swiss Army Knife" because the German
name was too difficult.
Moore says about the SIG-Sauer SSG 3000 sniper rifle: "We went to great pains to get that. It's one of the better sniper
rifles in the world."
Quotation Notes
Director Moore says Gabriel Macht (Stackhouse) does a great job of "underacting" in the movie.
Moore says he was impressed by how fit Wilson was. "He burned out a few cameramen."
Producer Wyck Godfrey says Gene Hackman is "a real anchor for movies like this."
Director John Moore says the Bosnian War literally took place in urban shopping areas like the ones in the movie.
Owen Wilson jokes that most of this movie was creating "a bunch of ways to make running dramatic."
The tech advisor thought this ship set was "brilliant." He says he was "home…back on a carrier."
Producer John Davis says these pilots are "ordinary men who can do extraordinary things."
Set Notes
Director John Moore praised Wilson's "subtlety" in his scene with the two-star general. He says Wilson's character would have
to be restrained like that.
Owen Wilson rode in a jet at supersonic speeds to prepare for the role. He pulled around 6 Gs.
Owen Wilson separated his shoulder doing stunt work on the movie. He was back the next day shooting action sequences.
For one scene, Wilson scrambled up to a cliff to get the shot. He didn't even have contact with the crew.
Wilson went through some actual Naval survival training to prepare for the role.
One scene had to be changed because Department of Defense was against a two-star general like Reigart (Hackman) leaking
information to the press.
Director Moore was pulled out of the way at the last second when a tank burst through the wall.
Moore insisted on shooting during the winter so it would feel more natural. But that meant they only had about seven-and-a-half
hours of light every day to film.
The crew had to place a 46-foot statue up by helicopter.
For one scene, they made that ice by pouring three to four tons of molten wax over a wooden platform.
Aerial cameraman Dave Knoll (Top Gun, Apocalypse Now) was brought in for certain shots. Director John
Moore says he's "the best" in the world.
Source Notes
Behind Enemy Lines (2001) is inspired by real Air Force captain Scott O'Grady, who was shot down over Bosnia in
1995.
The real pilot, Scott O'Grady, was rescued by 43 marines in helicopters that were under fire. He was behind enemy lines
for a total of six days.
Symbolism Note
A spinning camera move is used in one scene to show how Hackman's character has lost control of the situation.
Tech Notes
The heat images of soldiers are actually one guy walking around holding a broomstick.
The production made all of the snow out of paper. At the time of filming, it was the first winter in 104 years that it
hadn't snowed in Slovakia.
Trivia Notes
Aircraft carrier runways are only 300 ft. long, 2000 feet shorter than a standard runway. Jets are launched from zero to 170 mph
in two seconds.
A Navy F-18 Super Hornet can attack from any angle with one of its 11 weapons systems.
Surface-to-air missiles can travel almost three times the speed of sound.
That ejection sequence had 20 cuts in just ten seconds.
Ejection seat systems are designed to shoot away from each other so they don't collide.
Control centers in ships use blue lights because they're easier on sailors' eyes during long shifts.
An Emergency Location Transmitter sends a signal to satellites after ejection.
You can hack into and reroute satellites. In fact, the Chinese government hacked into two U.S. satellites in 2007 and
2008.
Hackman came up with the idea for Reigart to smoke so he would have a weakness.
A "klick" is short for kilometer, so five klicks east is a little over three miles away.
There isn't a standard survival pack for pilots, but most contain gum, a compass, and a fire starter kit.
The producers had complete cooperation from the US Department of Defense. For one scene, they even turned around the
aircraft carrier so the crew could get the right shot.
Most of the helicopters in the movie are from the Slovak Air Force, but the rescue choppers are American-made.
Behind Enemy Lines premiered aboard the USS Carl Vinson, and its success led to two sequels.
Read More