Games, Polls & Quizzes
All Hail the Duke! AMC's Got Plenty of Ways to Pay Homage to John Wayne Online and On-Air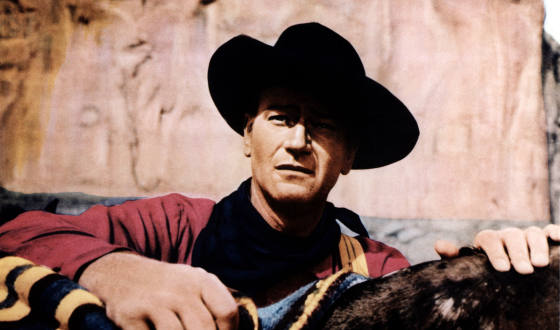 Saddle up, pardner… AMC's Crazy About the Duke starts this Fri., Aug. 10 at 9AM/8C. That means two full days of rustling cattle, shooting outlaws, and riding high with your favorite cowboy. Worried about holding your own while hanging with the Duke? Don't be. As Marshal Cahill says, "even grown men need understanding." So brush up on yours now with all things John Wayne…
ULTIMATE FAN GAME
John Wayne
Fun fact! Wayne named his son after one of his movie characters. Guess which one.
MOVIE RANKING LISTS
John Wayne's Best Movies
It's easy to see why the Duke's Westerns dominate the top spots. What's hard is deciding which one is the best.
John Wayne's Finest Westerns
It's a three-way showdown between The Searchers, Rio Bravo and True Grit for No. 1. Time for you to weigh in, too.
John Wayne's Best War Movies
Not only was he an iconic cowboy, John Wayne spent much of his career on movie battlefields as well. Which war flick is his best?
PHOTOS

John Wayne's Western Road Trip
Always dreamed of traveling with Wayne through the Wild West? Well, here's your chance.
John Wayne's Versatility
Time to hang up the ten-gallon hat and take a tour through Wayne's greatest roles outside of the Old West.
TOURNAMENT
John Wayne's Toughest Characters
Who will be the last man standing when John Wayne's alter egos take on each other?
FEATURES
Memorable John Wayne Quotes
It's the world according to John Wayne as seen through his top ten most philosophical statements.
Best John Wayne Movies You Haven't Seen
Red River. Rio Bravo. The Searchers. They're classics. But the actor's legacy includes more than the usual suspects.
Don't miss AMC's Crazy About the Duke, starting this Fr., Aug. 10 at 9AM/8C.
Click here for more AMC Movie Ranking Lists.
Click here for more Ultimate Fan Trivia Games.
Read More