Interviews
Q&A – Dominique McElligott (Lily Bell)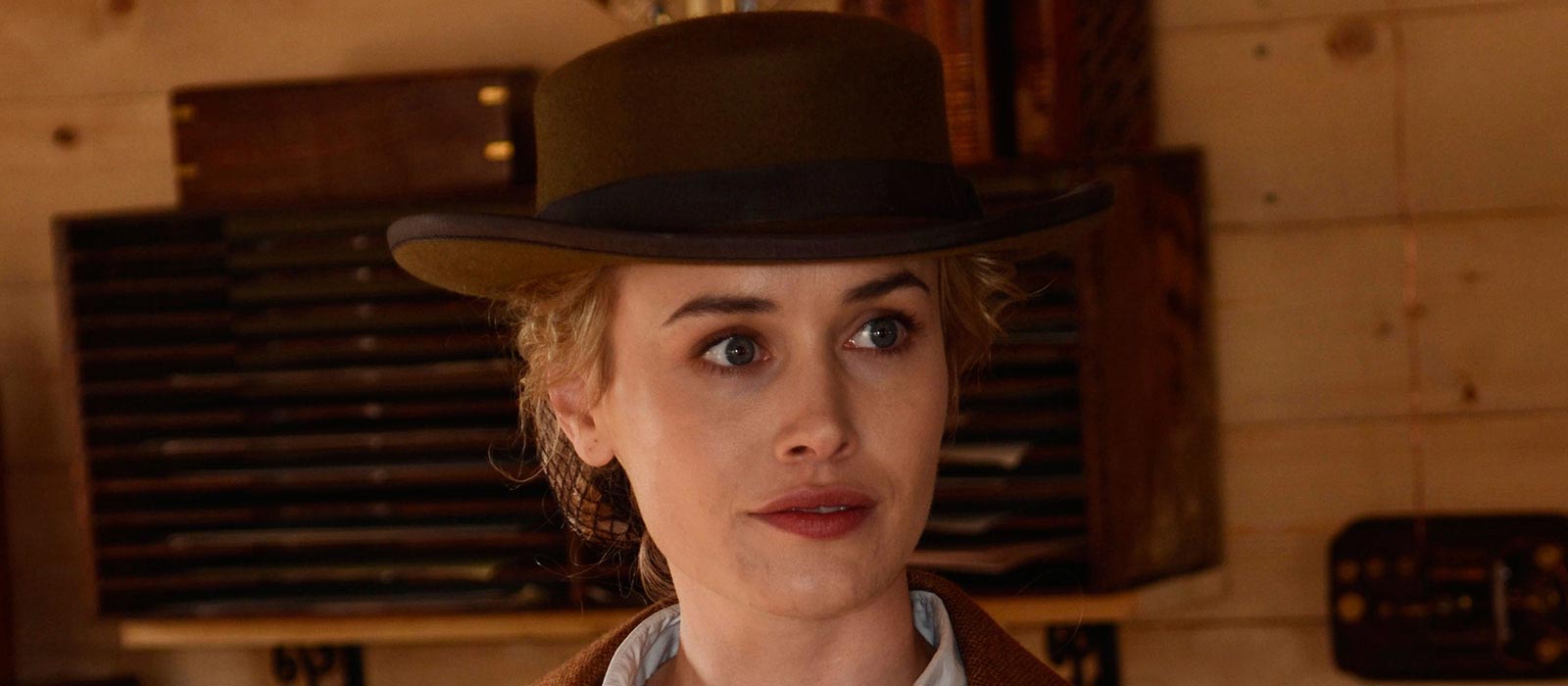 Dominique McElligott, who plays Lily Bell on AMC's Hell on Wheels, talks about the joys of wearing trousers and her character's love-hate relationship with Cullen Bohannon.
Q: Lily is working full-time for the railroad now…
A: When I arrived in Calgary and I read the script, my jaw dropped. I couldn't believe where Lily was. Her motivations have changed, and her ambition from her husband has become her own ambition… Lily's character has surprised me in terms of how cunning she's become and calculating and how determined and ambitious that she is.
Q: Is it nice not having to wear the heavy dresses and corsets?
A: I love wearing trousers. It makes everything easier. I'm not being dragged down by corsets and petticoats and cages and various different layers that those poor women had to tolerate. [Wardrobe] took it upon themselves to make Lily more adaptable to the landscape of Hell on Wheels. She's picking comfort over fashion and throwing caution to the wind in terms of what she's wearing.
Q: Lily always looks really put together despite her environment. What do you do to stay polished looking and clean when you're on set?
A: There are a lot of people looking out for us and scolding us if we walk out without an umbrella or if we aren't wearing protective clothing over our costumes. And every five minutes there's somebody with a makeup brush and a can of hairspray to make sure every hair stays in place. And you kind of want that, too, if you've gotten up an extra hour and a half early to be made up. [Laughs].
Q: Lily and Cullen have great chemistry. What's the trick to making that subtle but intense?
A: There's a kind of duality, that love and hate thing. It's such a fine line and our world is made up of polarities, so we just fight the whole time and there's that intensity, that tension. It's not any overt cooing and loving looks that constitutes our relationship. It's more of the kind of the flip side of that that can grow and evolve.
Q: Do you have the same sense of justice as Lily?
A: I think it's the woman's voice coming through. Lily has this different side to her that's feminine and caring and maternal, so that's coming out. I actually really quite like that about her, and I enjoy playing that side of her, that more gentle, softer, more sensual, feminine side.
Q: Last season you said you had a body double for Lily horseback riding.
Did you do any of your own stunts this season?
A: I did do one… It's pretty much just galloping across a field and then I stop and then I gallop again, but then they also had a stunt double do the exact same thing from a wider angle. They gave me a slower horse, so personally I think I was at a bit of a handicap. [Laughs] But it was still fun.
Q: What aspect of Lily's life do you think would be fun to live through?
A: I can see how attractive the frontier life is for her. Oh my goodness, the wildness, the variety, the excitement, the intrigue, the drama that happens on a daily basis. Anything that's too strict, I'm certainly adverse to all that kind of stuff. I don't like routine and I don't like rules. [Laughs] So I can see how Lily would find it attractive, definitely.
Click here to read an interview with Colm Meaney, who plays Thomas Durant on AMC's Hell on Wheels.
Read More