Games, Polls & Quizzes
Finally, a Faceoff Between Pacino's Two Iconic Mobsters – Michael Corleone and Tony Montana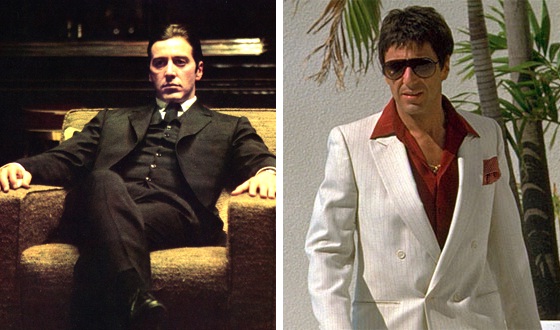 What would AMC's Mob Week be without epic faceoffs? And what could be more epic than man versus himself? Herewith, Al Pacino dukes it out with none other than Al Pacino by pitting two of his most iconic mob bosses against each other: Scarface's Tony Montana and The Godfather's Michael Corleone. Who will rule? The battle begins!
Round 1: Intimidation
Tony Montana's a paranoid junkie with an arsenal of weapons that include his "little" M16 assault rifle with an M203 grenade launcher attachment. That combination makes him one scary mafioso. Also, Montana's actions are unpredictable, at best. Sure, Don Corleone makes plenty of offers they can't refuse, but is it enough to save him here? Not really.
Winner: Tony Montana
Round 2: Intellect
Both the Don and Tony are good at forecasting potential problems that may arise from a given situation, which is important when running illicit operations on a massive scale. But when faced with adversity, Corleone can rely on his intellect for a solution — like when he adverted tax evasion accusations via blackmail. Montana's dependent on his gun.
Winner: Michael Corleone
Round 3: Connections
Tony Montana has ties to some of the most ruthless players in the cocaine business, including Alejandro Sosa, a major drug lord for the Bolivian cartel. However, Don Corleone's connections to Fulgencio Batista (the former president and dictator of Cuba), the Vatican, and almost every American politician make Montana's friends look like pencil pushers.
Winner: Michael Corleone
Round 4: Style
Michael Corleone is all about tailoring and coordination. With his basic black suits, white shirt, black tie and occasional fedora, he's a corporate mobster. And isn't the cool part of being bad all about swagger and bling? Few can top Tony Montana in that department. With his unbuttoned satin shirts displaying gold chains and chest hair, he's the epitome of gangsta.
Winner: Tony Montana
The Final Score: They're both still standing. So, it's up to you to make the call…
Don't miss AMC's Mob Week, airing through Sun., Aug. 5.
Read More