Uncategorized
Story Notes for Thunderheart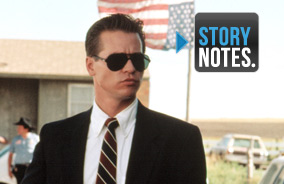 Weeknights during prime time on AMC, you can catch Story Notes — real time trivia and facts about your favorite movies! Below is the online version of the Story Notes for Thunderheart.
Award Notes
Sam Shepard got an Oscar nomination for playing test pilot Chuck Yeager in The Right Stuff (1983).
Thunderheart was nominated for two Political Film Society Awards, for Exposé and Human Rights.
Biography Notes
Kilmer is very connected with his Native American roots. He's even owned at least 12 buffalo.
Val Kilmer was in one of the most famous shootouts of all time, as Doc Holliday in Tombstone (1993).
Cinematographer Roger Deakins often draws from the visual style of classic American paintings for his films. Deakins has been nominated for nine Oscars, for movies like Fargo (1996) and No Country for Old Men (2008).
Alcoholism is a problem in eight out of ten families on the Pine Ridge Reservation.
Val Kilmer also plays an FBI agent in Run for the Money (2002), Mindhunters (2004) and Déjà Vu (2006).
Kilmer had a much easier time telling good guys from bad when he played Batman in Batman Forever (1995).
Graham Greene also played a detective in Die Hard with a Vengeance (1995).
Val Kilmer's real father, Eugene Kilmer, was a real estate developer.
Kilmer's father died in 1993, the year after Thunderheart came out.
Val Kilmer played a getaway driver in his next movie, The Real McCoy (1993).
Casting Notes
Val Kilmer (Ray) is part Cherokee on his father's side. Kilmer: "I grew up with stories that were real-life, romantic stories of the Wild West."
Fred D. Thompson became a U.S. Senator shortly after this movie. He ran for president in 2008.
Sam Shepard (Cooch) is a playwright as well as an actor. He won the 1979 Pulitzer Prize for "Buried Child."
Graham Greene had recently been nominated for an Oscar for Dances with Wolves.
Fred Ward was in The Player (1992) the same year as this movie.
Jimmy Looks Twice is played by Native American activist, poet, and singer John Trudell. He was at one time the Chairman of AIM.
Musician David Crosby, from Crosby, Stills, Nash & Young and The Byrds, appears in the movie.
Grandpa Sam Reaches is played by Chief Marvin T. Thin Elk, a tribal elder from the Rosebud Reservation.
This is the first role for Sheila Tousey (Maggie). She was later in Lord of Illusions (1995) and Ravenous (1999).
History Notes
The real life GOONs chose their name to spite critics who called them "the goon squad."
The FBI has had jurisdiction over crimes committed on reservations since 1885.
Pine Ridge residents lived under the constant threat of drive-by shootings in the 1970s.
The GOONs illegally used roadblocks to keep supplies from getting to AIM-led protesters in 1973.
There's a nod to the FBI murders at the center of director Michael Apted's documentary, Incident at Oglala.
Crazy Horse was the war leader of the Oglala Sioux who fought at the Battle of Little Bighorn in 1876.
The Stronghold was the fortified area where Native American forces gathered for the battle.
The Wounded Knee Massacre Monument was erected in 1903 by descendants of those who died. The surrounding battlefield was named a U.S. Historic Landmark in 1965.
"Do Not File" documents are too sensitive to keep in permanent FBI records.
Love Note
Sam Shepard was in a relationship with actress Jessica Lange for almost 30 years.
Location Notes
Thunderheart was mostly filmed in the Badlands and surrounding areas of South Dakota.
The Pine Ridge Reservation in South Dakota. Pine Ridge is the second-largest reservation in the U.S. and home to the Lakota Sioux tribe. According to a 2006 report, 97% of Pine Ridge residents live below the national poverty line.
Rapid City is the second-largest city in South Dakota. It's about 2 hours north of Pine Ridge Reservation.
Badlands National Park encompasses 244,000 acres and is home to one of the world's richest fossil beds.
Music Notes
"Badlands" by Bruce Springsteen, 1977.
Composer James Horner also wrote the music for Titanic and Avatar.
Pop Culture Notes
Arrows on the Prairie is a fake movie, but Sal Mineo did play a Sioux warrior in Tonka (1958).
Thunderheart was part of a renewed interest in Native American culture sparked by Dances with Wolves (1990).
Ray-Ban Aviators had a huge jump in sales after Kilmer and Tom Cruise wore them in Top Gun (1986).
Tonto, the Lone Ranger's sidekick, has been criticized for negatively stereotyping Native Americans.
Gary Cooper played a cowboy pitted against "Indians" in Westerns like Garden of Evil (1954).
Thunderheart was the second movie produced by Robert De Niro's Tribeca production company.
Val Kilmer and Sam Shepard's next movie together was the 2003 thriller Blind Horizon.
A documentary was made about John Trudell (Jimmy) in 2005. Kilmer and Sam Shepard appeared in it.
Prop Note
The gravestone is a replica of the real one, with "Thunderheart" replacing the name "Swift Bird."
Press Notes
The Chicago Tribune called Thunderheart one of the best movies of 1992. It's a fictional police thriller that uses real-life events as inspiration and background.
Entertainment Weekly called Graham Greene in this movie "a Native American Joe Mantegna."
The New York Times: "Sheila Tousey, making her film debut, conveys a quiet, stirring integrity."
Roger Ebert: "If there is an award for the most unsung leading man of his generation, Kilmer should get it."
Variety: "Thunderheart succeeds most in its captivating portrayal of mystical Native American ways."
Variety: "Dances with the Evidence could be the title of this pic."
The Washington Post: "Apted's study of modern man in conflict with his past is a powerful totem."
The NY Times said Dances with Wolves "looks like an utter confection beside this… harder-hitting drama."
The Washington Post: "The two stars ultimately fit together as well as Thelma & Louise."
Roger Ebert: "What's most absorbing about Thunderheart is its sense of place and time."
Quote Notes
Kilmer: "I've been to places… more desperate, but no place in the United States is so ravaged."
Graham Greene: "This is the most fun I've had in anything."
Director Apted: "In the Badlands there's this amazing juxtaposition of visual beauty and abject poverty."
Apted: "Ever since the cradle, I've been interested in the past, the search for identity and roots."
Screenwriter John Fusco: "Grandpa Reaches sees Ray as a young man who is materialistic and has lost touch with the earth and with himself."
Graham Greene: "I suggested that we make the guy funny, and [Apted] said OK."
Kilmer: "The stories that my father told me are quite vivid and got me interested in Indians."
Kilmer: "The remarkable thing about the Sioux, or most Native Americans, is their incredible power."
Apted: "I'd hate people to see Thunderheart as merely a political thriller. People should see that the story is… universal… and be able to bond emotionally with Native Americans."
Apted: "The FBI, the American government, is the villain of the piece. The FBI agent has to disassociate himself from the FBI to become heroic."
Kilmer: "This government has practiced genocide against the Native Americans. Without an honest review of history, the progress and future of that culture is doomed."
Script Notes
Screenwriter John Fusco became near-fluent in the Lakota language while living at Pine Ridge.
Kola is a Lakota word for "friend."
Wasichu is a Sioux word for non-Native Americans.
Wakalyapi means coffee.
Set Notes
Two hundred and fifty Native Americans worked as extras on the movie.
Filming took place over ten weeks, during which the cast endured temperatures over 100 °F.
A wicasa wakan is a Lakota priest or high-ranking medicine man.
Production designer Dan Bishop also created the 1960's-era sets for Mad Men.
Source Notes
ARM is based on the American Indian Movement (AIM), a group that fights for Native American rights. Thunderheart is inspired by conflicts between AIM and the FBI in the '70s.
Jack Milton is based on Dick Wilson, the tribal chairman of the Pine Ridge Reservation from 1972-'76. Traditionalists tried to impeach Wilson in '73.
The same year as Thunderheart, director Michael Apted made a documentary called Incident at Oglala. It examined the murder of two FBI agents at Pine Ridge, and the possibly unfair conviction of a Lakota man.
Screenwriter John Fusco lived on the Pine Ridge Reservation for five years researching the script. There, he met Frank Fools Crow, a tribal elder who was the inspiration for Grandpa Sam Reaches.
Maggie is based on activist Anna Mae Aquash, who was at one point the highest ranking woman in AIM.
The woman Maggie is based on, Anna Mae Aquash, was murdered in 1975.
The Oglala Lakota Nation Pow Wow is held once a year at Pine Ridge Reservation. Prizes are given for different categories, like costumes and dancing.
Ray is having a vision of the Wounded Knee Massacre, which occurred on Pine Ridge in 1890.
Chief Fools Crow, the inspiration for Grandpa Reaches, died at age 100, a year before filming.
Trivia Notes
Geronimo was an Apache leader who fought against the U.S. and Mexico in the Apache Wars (1849-1886).
The Lakota Sioux perform "The Keeping of the Soul" to help the deceased cross over to the spirit world.
The yearly murder rate on the Pine Ridge Reservation between 1973 and 1976 was 170 per 100,000 people. That's about 17 times higher than the national average at the time.
Flag burning is currently considered a Class 1 misdemeanor in South Dakota.
Sweat lodges are part of a purification ritual meant to cleanse the spirit.
Plantigrade means walking with the whole sole of the foot on the ground.
The Sioux Nation encompasses three sub-nations: the Lakota, Dakota and Nakota.
The real AIM symbol is a peace sign that can also be viewed as a Native American's head, inside a circle.
Tobacco is usually offered tied up in small bits of cloth. Different offerings require different amounts of "ties."
Contaminated water on reservations can be caused by toxins from farming, mining and open dumps.
Code 5 means a stakeout.
Many dogs are lactose intolerant, so it's not always a good idea to give them milk.
The word "pow wow" comes from the Narragansett word powwaw, which means "spiritual leader."
The women do a "fancy shawl" dance, which originated in the northern U.S.
Some Lakota believe that wronged spirits can come back to wreak havoc on those that caused them harm.
A pin test uses the markings on a bullet to match it to a weapon.
"Sensitive operations" are often performed undercover, but not in this case.
Some form of chanting is practiced by many religions, from Roman Catholicism to Tibetan Buddhism.
Many Native Americans go on vision quests as a way to search for their path in life. Questers will go out alone and often naked into the wilderness to commune with the spirit world.
Native Americans made up 26% of the Sioux Falls Penitentiary population around the time of this movie.
Parole conditions usually include staying in one area, seeking employment, and not committing any crimes.
There are roughly 25 companies mining for uranium and coal in the Black Hills of South Dakota today.
In 2010, the EPA spent $2.5 million to clean up contaminated water on Native American reservations.
Instead of "goodbye," the Sioux say "travel well."
Wardrobe Note
Ray's clothes are a symbol of his journey: as he gets closer to his heritage, he loses his suit and tie.
Read More