Uncategorized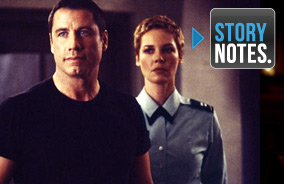 Weeknights during prime time on AMC, you can catch Story Notes — real time trivia and facts about your favorite movies! Below is the online version of the Story Notes for Basic.
Award Note
Harry Connick, Jr. has three Grammys for his work as a jazz singer and composer.
Biography Notes
Director John McTiernan also made Die Hard.
Connie Nielsen is a Danish-born actress who speaks eight languages.
Samuel L. Jackson played another sergeant — Nick Fury — in multiple movies starting with 2008's Iron Man.
Harry Connick, Jr. and Connie Nielsen both had recurring roles on Law and Order: SVU.
The year Basic was released, Travolta started filming Be Cool (2005), a sequel to a 1995's Get Shorty.
Travolta made a career comeback when he appeared with Jackson in Pulp Fiction (1994). Travolta was nominated for a Best Actor Oscar, and Jackson was nominated for Best Supporting Actor.
Sam Jackson is the highest-grossing actor of all time. As of 2011, his movies have made over $7.4 billion.
Casting Notes
As of 2012, Samuel L. Jackson has been in over 100 movies. He shot five the year before Basic was filmed.
Tim Daly played pilot Joe Hackett on Wings (1990-1997).
McTiernan on John Travolta: "[Audiences] like it when he's a little bad. It's why I wanted him in Basic."
Connie Nielsen (Osborne) made her U.S. debut as a demon seductress in The Devil's Advocate (1997).
Brian Van Holt (Ray Dunbar) plays Bobby Cobb on Cougar Town.
Taye Diggs (Pike) got his start as a Broadway actor. He played Benny in the musical Rent.
When Basic was made, Harry Connick, Jr. (Vilmer) was also on Will and Grace (from 2002-2006).
Giovanni Ribisi played a medic who died in battle in Saving Private Ryan (1998).
Margaret Travolta is John's younger sister.
Roselyn Sanchez got her first big break as a Secret Service agent in Rush Hour 2 (2001).
Dash Mihok (Mueller) got his big break as Benvolio in William Shakespeare's Romeo + Juliet (1996).
History Note
"Don't Ask, Don't Tell" was repealed in 2011, eight years after this movie was made.
Location Notes
The first scene after the credits end was shot in Panama during an actual rainstorm. But most of the movie was shot in Florida.
The base scenes were shot at Cecil Field, a decommissioned airfield in Jacksonville, Florida.
Music Notes
"Natural Blues" by Moby, 1999
Composer Klaus Badelt also wrote the score to the first Pirates of the Caribbean movie in 2003.
"Black Betty" by Player, 2003
Pop-Culture Notes
Basic (2003) is John Travolta and Samuel L. Jackson's first movie together since Pulp Fiction (1994).
Many military investigation thrillers have used multiple perspectives. Courage Under Fire (1996) and A Few Good Men (1992) are the best-known examples.
Press Notes
The Toronto Star: "Travolta is a vital presence that constantly holds our attention."
Richard Roeper: "[Basic] had a lot of fun taking us from one corner to the next and then spinning us around until we got dizzy and didn't know where we were. I like that."
Quotation Notes
Travolta: "I had to go to Ranger School to earn that tattoo." He trained with actual Rangers for three days to prepare for the movie.
Travolta: "I don't believe you have to like or love a character. You have to want to watch him."
Screenwriter James Vanderbilt wanted to fool a certain type of moviegoer. "…those who say 'I know who the killer is' in the first ten minutes."
Director McTiernan on Brian Van Holt (Dunbar): "As soon as I saw him I thought, 'I gotta get this kid in this movie.'"
Travolta on working with Nielsen: "We tune into the same radio stations… [we're] totally in tune."
Travolta: "I would like to hope and to think that there are covert guys out there working for us."
Jackson doesn't mind dying in movies. "I just don't want to go out like some punk."
Travolta: "The murder of an officer and the murky investigation seems anti-military, but it's not. I think the movie ultimately proves that the military system works."
John McTiernan: "Laughing is theatrical indulgence. The story has gotten so insane." So he lets the scene be "insane."
Travolta on the military: "The way men keep their individuality and still obey orders is a puzzle to me."
Connie Nielsen on her character: "She is the only person who is not pretending to be someone else."
James Vanderbilt said Travolta's character is "not the best guy with a gun. He's the best guy with his mouth."
Script Notes
Hardy is a good person to be stuck with. He's named after teen detectives, the Hardy Boys.
Screenwriter James Vanderbilt had Taye Diggs in mind for Pike early on in the writing process.
Set Notes
Connie Nielsen said Travolta teased her a lot behind the scenes.
Jackson improvised a lot of his lines here. Most of them weren't PG-13.
Giovanni Ribisi (Kendall) is a Method actor, and he stayed in character — and in bed — between every shot.
Roselyn Sanchez (Nunez) wore 15-pound sandbags to make her seem more masculine.
McTiernan wanted to give the audience the sense of moving "deeper and deeper into the jungle."
McTiernan had to ask Travolta and Nielsen to tone down their sexual tension.
About 90% of this movie was shot in the dark.
John McTiernan directed Roselyn Sanchez (Nunez) to play this scene like a "Las Vegas showgirl."
Travolta improvised picking up the magazine to add humor to one scene.
Giovanni Ribisi (Kendall) didn't take a bath for a week to get into his role.
John McTiernan really enjoyed working with Travolta and Nielsen on the fight scene. McTiernan: "Take two cats, get a nice, dark closet, throw them in, and slam the door closed."
McTiernan says Jackson's look is inspired by Western director Sergio Leone.
Screenwriter James Vanderbilt's goal was to make Osborne the hero, not a naïve "hot girl."
Source Notes
Basic was influenced by Rashomon (1950), the Kurosawa classic about shifting perspectives.
Trivia Notes
The Rangers are the Army's elite special operations unit.
"Black hat" refers to Army Airborne instructors. They wear black baseball hats.
Rangers are trained to survive on one or two meals a day.
U.S. Ranger School is a 61-day course. It's the most intense training the Army has to offer.
It can rain for five to six days straight in the tropics. McTiernan used rain to give the feeling of being in a "strange, enchanted place."
The first rule in the original Ranger handbook, written in 1756, is "Don't forget nothing."
There are nine steps in the standard "Criminal Interrogations and Confessions" manual. Developing a rapport comes before all other steps.
According to the FBI, signs of lying include garbled words, stiff hand gestures, and sweating.
The Panama Canal is 51 miles long and about 500 feet wide.
From the original Ranger handbook: "Tell the truth about what you see and what you do."
From the original Ranger handbook: "Half the party stays awake while the other half sleeps."
Demerol is a pain reliever similar to morphine. "Anabolics" refers to steroids.
Travolta's last name is Italian. His father says it means "high voltage."
The original Ranger handbook has advice about keeping prisoners, "We keep 'em separate… so they can't cook up a story between 'em."
A court-martial is a military tribunal with a hand-selected jury (as opposed to randomly selected).
The punishment for murder in the Army is the death penalty.
All military personnel must undergo at least one drug test every year.
The maximum sentence could be upwards of 65 years in prison.
CID is the Criminal Investigation Command, the military's internal crime unit.
Panama is a major drug trafficking zone. Cartels take advantage of its shipping infrastructure.
The final rule of the original Ranger code: "Let the enemy come till he's almost close enough to touch and finish him with your hatchet."
The Day of the Dead ritual is celebrated to honor and uplift the spirits of the deceased.
Read More