Games, Polls & Quizzes
Five Ultimate Fan Games Test Your Knowledge of All Things The Matrix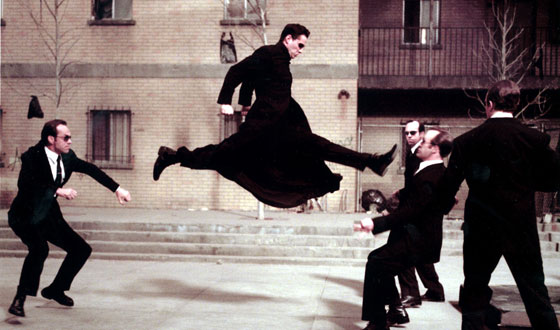 It's hard to believe that there was ever a time when the world hadn't heard of squiddies, bullet time or Carrie-Anne Moss. And surely your knowledge of The Matrix universe goes deeper than that! These five quizzes will separate the truly enlightened from the drones.
The Matrix
The Wachowskis approached Hugo Weaving to play Agent Smith after seeing his performance in which movie?
The Matrix Reloaded
The fight sequences in this sequel required intense choreography. Which actor had to undergo six months of training to perfect a single kick?
The Matrix Revolutions
Laurence Fishburne was a busy guy in 2003. What Oscar-nominated movie did Fishburne also star in the same year as The Matrix Revolutions?
The Matrix Trilogy
The term "matrix" was adopted from the novel Neuromancer, written by which scifi author?
Keanu Reeves
Reeves had tough competition for the role of Neo. Guess which big star actually turned down the role!
Don't miss AMC's Can't Get Enough The Matrix, all weekend long starting on Fri., Jun. 29 at 8/7c.
Read More