Uncategorized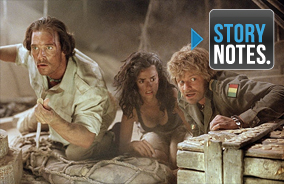 Weeknights during prime time on AMC, you can catch Story Notes — real time trivia and facts about your favorite movies! Below is the online version of the Story Notes for Sahara.
Award Notes
Composer Clint Mansell won a BMI Film Music Award for this movie.
Cinematographer Seamus McGarvey (The Avengers) won an Irish Film and Television Award for Sahara.
McConaughey and Cruz were both nominated for Teen Choice Awards for their roles in Sahara. And together they were nominated for the 2005 Choice Liplock Award.
Biography Notes
Director Breck Eisner is the son of former Disney CEO Michael Eisner. This was his first feature film.
Penelope Cruz started acting at 16 but broke through in the 2000s with movies like Blow and Vanilla Sky. Three years after Sahara, she won an Oscar for Vicky Christina Barcelona.
Eisner's next feature, The Crazies (2010), was also about toxins poisoning a water supply.
William H. Macy was nominated for an Oscar for Fargo in 1997.
Lambert Wilson of (Massarde) starred in another movie called Sahara with Brooke Shields in 1983.
Steve Zahn's next movie was Bandidas (2006), also starring Penélope Cruz.
Blooper Note
"Petricola Pholadiformis" is actually the False Angel Wing clam, which can be found on U.S. beaches.
Casting Notes
Penélope Cruz (Eva) initially thought she was too young to play a World Health Organization doctor. A real WHO doctor told her that doctors that go to dangerous locations are more likely to be young.
Glynn Turman was playing Mayor Royce on "The Wire" (2002-2008) when he was cast as Frank.
Matthew McConaughey campaigned for years to play Dirk Pitt, the hero of 21 books by Clive Cussler.
Steve Zahn's first big role was as Winona Ryder's wisecracking friend in Reality Bites (1994).
Rainn Wilson (Rudi) was cast based on his work on Six Feet Under.
William H. Macy from Fargo and Magnolia was the only actor considered for the role of Sandecker.
Lambert Wilson from (Massarde) played The Merovingian in the two Matrix sequels.
The Tuareg were mostly played by a troop of horse riders who do stunt shows throughout Morocco.
Modibo is played by French actor Paulin Fodouop. This is his only American movie.
Delroy Lindo is best known for roles in Malcolm X (1992) and Get Shorty (1995). Lindo was born in England but has lived in the U.S. since his late teens.
British actor Patrick Malahide (U.S. Ambassador) is in Billy Elliot (2000) and Game of Thrones.
Tom Cruise, Hugh Jackman, and Christian Bale were all considered for the role of Dirk.
William H. Macy was cast to bring an indie film element to this big budget action movie.
William H. Macy was the last of the four main actors to sign on to the project.
William H. Macy co-founded the Atlantic Theatre Company with David Mamet.
Finance Notes
Sandecker's "boat" is a Hunton Gazelle, which costs almost half a million dollars.
McConaughey was paid $8 million for the movie, while Zahn made $2.3 million, and Cruz $1.6 million.
History Notes
The actual CSS Texas was captured by The Union when Richmond fell.
Jefferson Davis was the president of the Confederacy until he was captured by the Union in 1865.
The Germans used flare guns to launch grenades during WWII.
In the early '90s, when Sahara the book was written, Mali was in a state of rebellion and unrest.
Chernobyl was one of the worst nuclear accidents in history, causing 100,000 miles of radioactive fallout.
The radiation exposure from Chernobyl was 400 times more potent than the nuclear bombings in WWII.
President Jefferson Davis actually had 4 Confederate half dollars made.
Location Notes
Sahara was shot over 100 days in Morocco, Spain, and the U.K.
The Lagos Museum Sandecker where gives a speech is actually the Natural History Museum in Barcelona, decorated with Nigerian artifacts.
A scene was filmed in Rissani, a donkey-trading town just south of the Atlas mountains.
The catacombs is an ancient Portuguese cistern where Orson Welles shot much of the movie Othello (1952).
The abandoned house Frank and Eva walk through is a real home in Morocco. Three families live in this one house.
The scene where Eva, Dirk and Al crawl through a tunnel into the plant, was filmed in a factory in England that produced Concorde jet engines until the Concorde was retired.
The desert is the Morocco's Merzouga Dunes, a popular tourist destination due to their accessibility.
The scene where Carl brings a bottle of water to Massarde was shot at the hotel where the cast stayed while they were in Spain.
Sahara is set in Mali and Nigeria, but the actual filming took place in the U.K., Spain, and Morocco.
The reservoir they're in was completely dry when the location was chosen the previous summer.
Love Note
McConaughey and Cruz started dating after they met on set. The relationship lasted a little over a year.
Music Notes
"We're an American Band" is by Grand Funk Railroad from 1973. Breck Eisner felt that early '70s American classic rock personified the characters in the movie.
"Never Been Any Reason" by Head East, 1975, was also featured in McConaughey's first movie, Dazed and Confused (1993).
Sahara's music is by composer Clint Mansell. Many of the songs use vocals by Malian singers.
In 2009, Alabama began printing the title of the song, "Sweet Home Alabama" as an official slogan on license plates.
Eisner calls Mamady Keïta, a Malian singer, "the voice of Mali" in the film.
"Magic Carpet Ride" by Steppenwolf, 1968.
"Stay with Me" by Faces, 1971, was also heard at the end of Wedding Crashers (also 2005).
The song "Right Place, Wrong Time" is by Dr. John, released in 1973.
Pop Culture Notes
Matthew McConaughey has appeared shirtless in roughly 64 percent of his movies.
Sahara has been compared by many critics to the Indiana Jones movies and The Mummy (1999).
Press Notes
Critics called Sahara (2005) "a spirited good time," with lots of "gloss, humor and thrills."
Variety: "Eisner shows himself to be a solid helmer of complex and beautifully staged action sequences."
After Sahara, Matthew McConaughey was named People Magazine's Sexiest Man of 2005.
Roger Ebert: "I enjoyed this movie on its own dumb level, which must mean… in my own dumb way."
The New York Times said Penélope Cruz had a "fiery, physical intensity."
Prop Notes
Five detailed Confederate coins were made for the movie, along with 15,000 gold discs for this scene.
The production saved about $50,000 by borrowing scrolls from another movie.
Quotation Notes
McConaughey: "I was looking for a character that could wrestle with crocodiles in the morning and dance with the queen at the ball that night. That kind of Renaissance man [is] Dirk Pitt."
Steve Zahn has said that making Dirk and Al's friendship believable was just as important as the action scenes.
Director Eisner: "I don't know why [it was called] Panama. I just kind of made it up."
Rainn Wilson on his first day: "I didn't understand how much goats urinate."
Penélope Cruz on Eva: "I like her personality a lot. She's up for just as much adventure as the boys."
Cruz: "Usually it's 'the couple and the friend,' or two guys, two girls. In this case, they're all [equal]."
Eisner: "[Dirk]'s highly trained, of course, but when he gets into a scrape, he loves to wing it."
McConaughey: "[Dirk and Al] become funnier… as they react the same way to many different situations."
McConaughey: "While [Dirk] always has a plan, he also plans on the plan never going as he planned it."
Zahn: "Dirk just couldn't survive without Al – that's just plain and simple."
McConaughey: "Dirk Pitt is the luckiest man alive."
Macy: "Sandecker was a Navy man for many years, then left the service under dubious circumstances. He's somewhat bitter about that and he's resolute that he'll never work for the government again."
Cruz: "It's something that connects with everyone. We all want to experience this kind of adventure."
Cruz: "She's no damsel in distress. She's very active. In fact, she rescues Dirk on more than one occasion."
McConaughey: "Dirk's sharing a secret that he wouldn't share with just anybody."
Random Note
In the background there's an extra in a green shirt and hat that's in almost every shot.
Script Notes
Breck Eisner got the idea for the scene where Al asks Dirk how to tie a tie from his dad trying to teach him how to tie a tie as a kid.
Eisner wanted Kazim to be modern and suave, instead of an Idi Amin style of dictator.
The plane Dirk and Al find the remains of, was crashed by Kitty Mannock, a female pilot attempting to break flight speed records. A scene explaining this origin story (with Clive Cussler's daughter as Kitty) was cut from the film.
Originally, the guys were going to crash the plane into a jeep, which would drive them to the gas station. It was decided the plane crashing into the gas station would be simpler.
Set Notes
The ship is a 200 foot replica of the Civil War ironclad CSS Texas.
McConaughey learned hand-to-hand combat techniques during 2 weeks of Navy SEAL training.
McConaughey had travelled up the Niger River and trekked through Mali as a tourist before the movie. Director Breck Eisner used McConaughey's pictures from his travels as research for Sahara.
McConaughey substituted real tequila for the apple juice that was supposed to be in the bottle.
Dir. Breck Eisner said the scene where Dirk and Eva are flirting is the moment when he knew the chemistry between these two was working.
The mosque is based on the Great Mosque of Djenné in Mali, one of the most famous landmarks in Africa.
Matthew McConaughey did many of his own stunts during the boat chase. Dir. Breck Eisner: "[He] would have done every stunt in the movie if the insurance company had let him."
The boat that veers off into the sand ran over a $250,000 camera.
It was actually cold and rainy the day this was filmed. The actors were freezing in their wet clothes.
While shooting in the desert, the cast and crew endured sand storms and swarms of locusts.
There were 3 identical racing camels for each actor that would each run only 200 yards at a time. Eisner said: "In order to get a camel to run you have to yell its name, hit it and kick it."
The real U.S. Ambassador to Morocco came by while they were filming the Ambassador scene. When asked how the fake embassy looked, he said he wished the actual embassy was that nice.
Steve Zahn said that carrying this truck bed liner was his least favorite thing to film.
Strong winds knocked McConaughey off the plane while they were filming.
The military vehicles were supplied by the Moroccan army. They got them from the U.S.
The heat from the mirrors used was so strong, smoke rose from McConaughey's shirt.
McConaughey had to wear a back brace after jump-kicking the bad guy off the tower.
The Texas ship is the same boat used at the beginning of the movie, shipped all the way from the U.K. to Africa.
Over 150,000 rounds of blank ammunition were used in the movie.
There were 250 horses and hundreds of extras used in the shot of the Tuareg looking down from the hills.
Because of footprints left in the sand, many of the desert shots had to be done in one take.
Steve Zahn was really sick while filming the scene where the boat drives down the river past a town. Most of the cast got sick at some point during filming.
The ship was supposed to be more deeply buried, but sandstorms kept blowing the sand away.
When Eva, Dirk and Al are riding camels across the desert that was the first day of shooting with all three of the movie's stars together.
Source Notes
NUMA is a real agency founded by Sahara author Clive Cussler. It's funded by profits from his books.
Al is based on author Clive Cussler's best friend from the Korean War. In the book, he's described as being 5'1″ and "built like a tank."
In the book Sahara, the CSS Texas was also carrying Abraham Lincoln on board as a prisoner.
It was actually cold and rainy the day the hut scene was filmed. The actors were freezing in their wet clothes.
The cast had a hard time working with the camels, which are notoriously finicky animals. Breck Eisner sayd: "A camel is a stubborn beast of an animal."
Steve Zahn was very comfortable handling the weapons in Sahara. He's a war history buff.
The camel wouldn't stay still. They had to film McConaughey swinging off his neck several times.
Al is playing a game called "keepy uppy" with the kids.
The scene where Dirk tells Modibo the water is toxic was rewritten at 1 AM the night before shooting and took 29 takes to get right.
Author Clive Cussler is a vintage car collector. His cars, like the 1936 Avions Voisin, feature in his books.
Technology Notes
Cinematographer Seamus McGarvey designed a "Sahara gold" filter to create the feeling of heat.
The solar energy plant is all computer graphics. There are 350 CGI shots in the movie.
The ship set was balanced on a platform and shaken using a joystick control.
Both a miniature and life-size model of the helicopter were used for the explosion.
The plane was pulled by a truck and propelled by a go-cart attached underneath it.
The ship set was balanced on a motion base that was shaken back and forth using a joystick control.
Trivia Notes
The coin would have had to travel 5000 miles to get from Richmond, Virginia to Labbezanga, Mali.
Monterey Bay, south of San Francisco, CA, is home to one of the largest underwater canyons in the world.
The most expensive coin in the world is the Flowing Hair Dollar (1794), sold for $7.85 million.
Rainn Wilson's TV show, The Office, premiered about 2 weeks before Sahara.
There is roughly 100 times more groundwater than surface water in Africa.
Holland & Holland is a luxury gun maker in England. They've made guns for royalty like Prince Charles.
The Tuareg are a seminomadic people. Their territory includes areas of Libya, Algeria, Niger, and Mali.
Only the camel wrangler was able to jump from a camel onto the train, so he doubled for all the actors.
Active Civil War cannonballs are still found throughout the U.S. today.
Muslims in Mali are called to the mosque to pray 5 times a day.
Wardrobe Note
Three hundred individual costumes were designed for all the Tuareg seen here.
Read More