Uncategorized
Story Notes for Open Range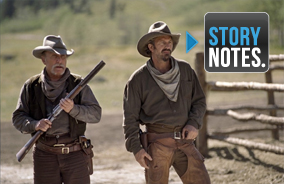 Weeknights during prime time on AMC, you can catch Story Notes — real time trivia and facts about your favorite movies! Below is the online version of the Story Notes for Open Range.
Award Notes
One of the stuntmen, Chad Camilleri, was nominated for a Taurus Award for the movie.
Annette Bening was nominated for a 2004 Satellite Award for her role in this movie.
Open Range was honored with a Bronze Wrangler at the 2004 Western Heritage Awards.
Biography Notes
Kevin Costner and Robert Duvall have starred in some of the biggest Westerns of all time including Dances with
Wolves, Lonesome Dove and True Grit.
Robert Duvall worked with cattle as a teenager on his uncle's ranch.
Open Range's composer, Michael Kamen, also scored Die Hard, Lethal Weapon, and X-Men.
Sir Michael Gambon is speaking in his native Irish accent.
It would take a lot to mess with Abraham Benrubi (Mose): he's 6'7″ and about 300 lbs.
This was the third movie Costner directed. His first, Dances With Wolves, was nominated for 12 Oscars.
The cinematographer for Open Range, James Muro, was hand-picked by director Kevin Costner. Costner took a chance
on Muro after he worked as a cameraman on Dances With Wolves.
Diego Luna (Button) was in three other movies in 2003 including the award-winning Nicotina.
Casting Notes
In addition to starring, Kevin Costner directed and produced the movie.
This was Robert Duvall's first role in a Western since he played Gus on Lonesome Dove (1989).
Diego Luna took this role two years after his breakout success in Y Tu Mamá También (2001).
Michael Jeter won an Emmy in 1992 for his role on Evening Shade. Costner says he "comes out of the finest tradition of
supporting actors."
James Russo (Sheriff Poole) appears with Costner in The Postman (1997).
Sir Michael Gambon (Baxter) plays Professor Dumbledore in the last six Harry Potter movies.
Dean McDermott (Doc Barlow) is a Canadian actor who went on to marry Tori Spelling. He got the part because he was the only
actor to audition with a limp.
Annette Bening (Sue) was nominated for an Oscar for American Beauty (1999) four years before this role.
Robert Duvall is the only actor that Kevin Costner had in mind for the role of Boss Spearman. He says if Duvall had turned
down the part, he might not have made the movie at all.
The dog is actually played by two terrier mixes named Goldie and Boomer. They used two dogs so they wouldn't get too tired
or cold from doing multiple takes.
Herb Kohler is a very successful businessman and friend of Costner.
Tim Koetting (Bartender) plays a deputy in the Western comedy Shanghai Noon (2000).
Peter MacNeill (Mack) is a popular Canadian character actor. He's best known for his role as a detective on the TV show Queer as Folk (2002-2005).
Cliff Saunders (Ralph) thrilled Costner with a video-taped audition. Even before it was over, Costner says "he got the
part."
Julian Richings played Death on the TV show Supernatural (2005).
Finance Notes
Production spent over one million dollars to build a Canadian town from scratch since Costner didn't like any of them.
Five dollars might not seem like much, but in 1882 it equaled a whole month's rent for a house.
Health Note
Typhus is a disease people usually get from lice or rats. It still exists today.
History Notes
Cowboys dug drainage pathways around camp during storms.
Some of the biggest trades in the 1880s were blacksmithing, saddle-making, and construction.
Irish immigrants played an important and mostly forgotten role in settling the American West.
Barbed wire, invented in 1874, basically shut down the open range by fencing in properties. By the turn of the century,
free-grazing was dead.
Federal Marshals are almost as old as the U.S. They were created by the First Congress in 1789.
A typical cowboy breakfast was eggs, sausage, potatoes, and coffee.
Wanted posters weren't plastered around as much as movies show them. When they were, they were usually directed at law
enforcement instead of citizens.
Cattlemen usually bought herds cheap and sold them for a major profit after driving them north.
It was considered "taboo" for women to hang out in saloons in the Old West.
How-To Note
Make a horse think he's getting a treat while roping him.
Location Notes
Open Range was shot entirely in Canada, mostly on ranches near Calgary.
Canada offered several pre-existing "Western towns," but Costner didn't like any of them.
The town and surrounding areas were all shot on the Stoney Nakoda First Nations Indian Reservation.
The script doesn't specify where the story takes place, but Costner insisted on finding landscapes where "you couldn't see a
fence, road, or another person."
The Rocky Mountains appear in the background in several scenes.
Costner found a location while riding on his horse one day in between filming.
Love Note
Annette Bening is married to Warren Beatty. They met on the set of Bugsy (1991).
Music Note
Even though it's an American Western, the whole score to Open Range was recorded in Prague by an orchestra that mostly
couldn't speak English.
Pop-Culture Notes
Yahoo! ranked Open Range as the third best Western movie of the 2000s.
Costner says Michael Jeter reminded him of Western character actors like Walter Brennan and Ward Bond.
IGN, Total Film and Guns & Ammo say the shootout scene is one of the best of all time.
Press Notes
Roger Ebert says that Sue is probably "the first good woman" Charley's ever known.
USA Today says the shootout was "one of [2003's] most memorable scenes" in any movie.
USA Today says that Open Range is "an authentic, old-fashioned epic."
Prop Notes
A Lichtleiter is a German device that uses light and mirrors to look into the body.
Kevin Costner takes a prop from every movie he works on to remember it by. For Open Range, he kept the bottle of
chloroform.
Charley's gun is a Colt Single Action Army revolver, nicknamed the "Peacemaker." Boss uses a J. Stevens & Company
12 gauge shotgun, also called a "scatter gun."
Quote Notes
Costner on respect: "There's a code that has to carry you through a day on the open range.
Screenwriter Craig Storper wanted to make a movie about "the evolution of violence in the West."
Costner says people react harder to animals dying in movies because they are "defenseless."
Costner says the dog's death scene was hard for him because he's "a great lover of animals, dogs in particular."
Duvall says he has a lot of respect for Costner. He's a big fan of Dances With Wolves and he was impressed that
Costner gave him top billing on Open Range.
Annette Bening calls Sue "a woman of real substance and simplicity."
Costner says that rain was such an important part of telling the story that it's "a character" in the movie.
Screenwriter Craig Storper: "These characters don't seek violence." "But the notion that it's sometimes necessary… is the
Western's most fundamental ideal."
Costner says that Charley picking up the mud is "our sex scene. It does a lot without doing anything."
Costner says everyone's swept dirt under the rug. It's "immortal."
Costner says the "love" and "friendship" of the movie is "just as recognizable in any era, any century."
Costner: "We're headed now where all Westerns need to go — the shootout." Costner says it would be a mistake not to end a
Western with a gunfight. It's the tradition.
Costner says Charley is "a good man who thinks he's bad."
Costner compares Annette Bening to Katharine Hepburn and Diane Keaton. "She's all the great ones."
Costner says Bening's performance in this movie is "timeless. This is how I'll always see her."
Costner wanted the pace to move at "the rhythms of the time."
Robert Duvall: "The English have Dickens, the Russians have Tolstoy, we have Westerns." Costner calls them our "oldest
genre" and says making the movie was "a privilege and a thrill."
Costner: "I think if I never made another movie, I'd always be happy this was my last one."
Script Notes
Kevin Costner says he really loves the "country's fillin' up" line. In the 1880s, the actual U.S. population had grown to
over 50 million people.
Costner wanted to add some humor into the movie by including comedic scenes.
In a scene cut from the movie, Charley had already killed one injured man.
Costner wanted to show what a shootout does to a community. The bloodshed doesn't just disappear. People have to pick up
the pieces.
Set Notes
Duvall accepted the role of Boss Spearman within 24 hours of reading the script.
Duvall got bucked off a horse and broke six ribs while practicing his riding for this role.
This location was so far from civilization that they had to spend $40,000 to build a road just to get there.
A lone tree was planted by the crew so the audience would remember a certain spot later.
Night scenes were difficult to shoot because the sun rose after only five hours of darkness.
Costner was excited that Robert Duvall improvised some of his dialogue. Costner: It's "easier if you feel
like the words you're saying are going to live on forever."
No animals were actually harmed during the movie.
To create the flood, the crew pumped 32,000 gallons of water down the street every minute. A massive holding tank at the
bottom recycled the water back to the top through underground pipes.
Costner says the elements of Mother Nature "work for the movie but against us… trying to get it done."
The idea for the marshal playing the fiddle was proposed by an actor auditioning for the movie.
They used "hunting" horses throughout the shootout because they weren't scared of gunfire. Cinematographer James Muro says
it gave the movie a "documentary" feel, like "you were there."
Costner intentionally filmed the gunfight in giant wide shots.
Source Notes
Screenwriter Craig Storper based the movie on the novel The Open Range Men by Lauran Paine. Paine wrote over 900 books,
including hundreds of Westerns.
Professional wranglers handled 225 head of cattle on the set of Open Range.
Symbolism Note
Boss Spearman represents civility and honor in the lawlessness of the West.
Technology Notes
This is the Old West, but the filmmakers mocked up the fight with computer-generated models. It's highly choreographed.
Costner even calls it "a ballet."
There is only one part of the shootout shot in slow motion. Costner tried to avoid slo-mo because it took away from the
realism of the battle.
Trivia Notes
A bit is 1/8th of a dollar, so two bits is 25 cents.
It's still legal to carry a gun into a bar in several states in the U.S.
To this day, soldiers often find comfort in holding onto a good luck charm before going into battle. It's even been
acknowledged by the U.S. Department of Defense.
The first modern chocolate bar was created by an Englishman, Joseph Fry, in 1847.
Cuban cigars would have been legal in the U.S. back then. They weren't banned until 1962.
In most Westerns a shootout becomes a spectator sport. Open Range makes a point of showing the townspeople
clearing out.
The bluebonnet became the official flower of Texas in 1901, around 20 years after Open Range takes place.
The filmmakers were disappointed that Open Range earned an R rating. Costner speculates it was because the
violence in the movie is "original."
Firing two of the same pistols like Charley does is sometimes called shooting "akimbo style."
Wardrobe Notes
Kevin Costner was thrilled with the costumes for the movie. He says they "captured the time" without being "flashy."
Annette Bening had to wear a corset the whole time she was in character.
Read More