Games, Polls & Quizzes
What Are Your Favorite War Movies and How Well Do You Know Them?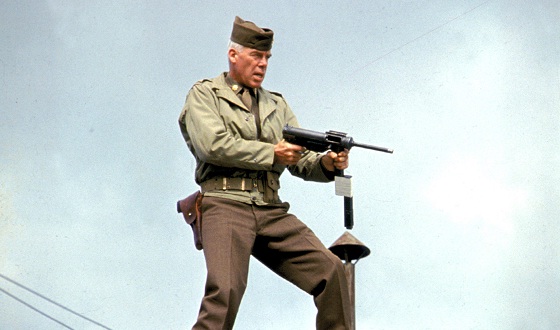 Starting this Fri., Mar. 25 at 9AM/8c, AMC celebrates Memorial Day with War Heroes Weekend — four days of unforgettable movies about the battle lines. Highlights include The Dirty Dozen, Letters From Iwo Jima and Apocalypse Now Redux, all of which appear on this War Movies You'll Never Forget List that lets you rank your favorites within the genre. Want to get right to some trivia games on these great movies? You're in luck.
The Dirty Dozen
Airs Fri., May 25, at 8PM I 7c
In this classic pic, a group of military prisoners are sent on a mission. Which of the stars actually served in WWII? Ernest Borgnine? Charles Bronson? Lee Marvin? Someone else?

Patton
Airs Fri., May 25, at 1PM I 12c
George C. Scott won an Oscar for his role as the famous war general. Which legendary Western star tried out for the role prior to Scott?

Midway
Airs Fri., May 25, at 11:30PM I 12:30C and Mon., May 28 at 5pm
Midway features several Hollywood legends — Henry, Fonda, Charlton Heston, James Coburn. But which famous Japanese actor plays Admiral Yamamoto?

Letters From Iwo Jima
Airs Sat., May 26, at 11PM I 10C
Clint Eastwood earned his fourth Oscar nomination for Letters From Iwo Jima. Which movie garnered his first?

Apocalypse Now Redux
Airs Sun., May 27, at 12:30PM I 11:30C
The script was nominated for an Oscar for Best Adaptation From Another Medium. What literary classic is Apocalypse Now based on?

World War II Movies
Which of the following American war movies is almost entirely in Japanese?

War Movies
Oliver Stone is no stranger to directing war movies. Which three flicks comprise his Vietnam trilogy?

Click here for the AMC War Heroes Weekend on-air schedule.
Read More