How Actresses Can Save the Movie Industry for Women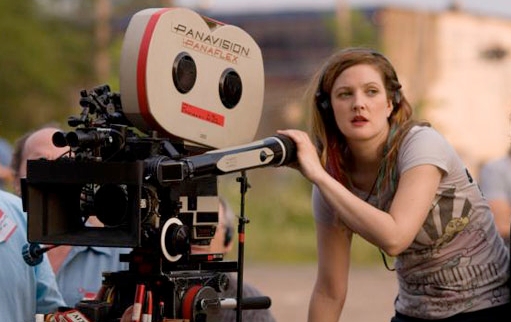 "Opportunity is missed by most people because it is dressed in overalls and looks like work."
Thomas Edison is not the first person I think of when it comes to advice for women, but this one rang true. Women, we know, are not afraid to work. But often, particularly in the film industry, women function as support staff. They work in development (the "D-girls"), or as agents, publicists, casting agents, executive assistants, designers. The women who currently have the most potential to change the face of the movies we watch are the most familiar faces — the actresses who can use their star-power currency to "fund" projects.
Some actresses vote with their choices of roles; some create their own production companies; and some step up behind the camera. Here are three who have made great strides for women in movies by bringing terrific and varied female images to the screen.

Drew Barrymore
For the under-appreciated Whip It,
which had cult success and strong, realistic
female characters, Drew Barrymore drew on her success as an A-lister to
raise money to produce, direct, and costar in a film written by Shauna
Cross (What to Expect When You're Expecting). Barrymore founded her production company, Flower Films, in 1995 with Nancy Juvonen, and their slate has included the Charlie's Angels movies, as well as Never Been Kissed and Donnie Darko,
among others. If the studios can use the star power of actresses to
fund movies, there's no reason that actresses can't use that same star power
to drive their own projects. (This is hardly gender-reliant, as proven
by James Franco, who has veered from big-budget films like Spider-Man to awards bait like Milk and festival fare like Francophrenia.)
How She Can Save Movies:
By aiming high, producing her own movies where she chooses writers and
directors to create both the kinds of roles she wants to play and those
she wants to see on screen, and in general calling the shots.
Charlize Theron
Another
example of a big star who time and again takes on interesting roles
that expand the spectrum of female images we see on the big screen. She
is not afraid of being a bitch — and that is a very good thing. She
earned an Oscar for throwing her model-blond beauty under the bus to
play a real-life serial killer (Monster) by crawling under that woman's blemished skin. Last year's Young Adult,
with a Diablo Cody script and directed by Jason Reitman, pushed the
actress into darkly comic territory. It wasn't an easy sell because her
husband-stealing singleton was so unsympathetic, but Theron voted with
her celebrity status before jumping on the bigger budget Snow White and the Huntsman. It's likely that she took less money for her indie role in Young Adult and, in the long run, her performance will be recognized as one of the peaks of the Oscar-winner's career.
How She Can Save Movies: By
blazing an unexpected career trail that opens the door to different
kinds of women performers and roles as she continues to play ugly (both
inside and out) when the character is juicy and the story is good.

Julianne Moore
Moore
is an example of a star who harnesses her power to act as a development
catalyst, enabling a number of talented women to come together — as in
the Oscar-nominated dramedy The Kids Are All Right, with
director/co-writer Lisa Cholodenko. Annette Bening got a best actress
Oscar nom in the movie about the trials and tribulations of marriage and
family in a household anchored by two Mommies, but it was Moore who
committed to the part of a lesbian mother first. She exemplifies why intelligent actresses seeking broad spectrum roles that are complex and sexually active — OMG! — over the age of 40 have a personal motivation to see that projects like this get made. Otherwise, they can be relegated to a
mother-and-wife character hell, where the talented actress never gets to
carry the narrative "ball" and demonstrates little change from the movie's beginning to its
end.
How She Can Save Movies: By using her appeal and star power to help bring non-mainstream movies the audiences — and awards — they deserve.
For
actresses, the biggest danger is that during their prime money-making
years they are encouraged to repeat their successes — Jennifer Anniston
in romcoms, for example, or Angelina Jolie as an action femme fatale.
That is the path to more money and status. The risk comes in harnessing
the power of being an A-list brand and making the leap to create movies
with lasting impact for women behind the scenes and in the theaters.
Read More