Uncategorized
Story Notes for Overboard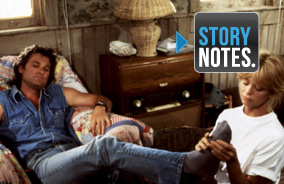 Weeknights during prime time on AMC, you can catch Story Notes — real time trivia and facts about your favorite movies! Below is the online version of the Story Notes for Overboard.
Award Notes
Goldie Hawn won an Oscar for her acting in Cactus Flower (1969).
Goldie Hawn has been nominated nine times for Golden Globe Awards, all for comedic acting.
Biography Notes
Real-life couple Kurt Russell and Goldie Hawn have made three movies together. This was their third. They met on the set of a 1968 Disney movie and started dating during 1984's Swing Shift.
Goldie Hawn got her big break as a bikini-wearing dancer on Rowan & Martin's Laugh-In (1968-1970).
Overboard was one of director Garry Marshall's first movies. He launched his career in TV sitcoms and created the iconic series Happy Days
Goldie Hawn was never in the Navy, but she played an army recruit in Private Benjamin (1980).
In real life, Russell and Hawn have lived in a cabin in Ontario and on a ranch in Colorado.
Kurt and Goldie really do eat what he hunts.They have a New Year's Day tradition where he hunts elk and she cooks elk stew.
Russell and Hawn's first date was on Valentine's Day. Russell says they hit it off right away.
Goldie Hawn didn't set out to be a comedic actress. Before acting, she was a professional dancer and even ran a ballet school.
Kurt Russell started as a child actor and signed an exclusive contract with Disney at age 15. It's said that Walt Disney's dying words were "Kurt Russell" (written on paper).
Goldie Hawn was actually 41 when they made this movie.
Edward Herrmann (Grant) won an Emmy for Outstanding Guest Actor on The Practice (1997).
Kurt Russell is an avid hunter. He was best man at fellow hunter Ted Nugent's wedding.
Harvey Miller was also a writer on The Odd Couple, which was produced by Garry Marshall. He cameos in many of Marshall's and sister Penny's movies.
Screenwriter Leslie Dixon also wrote the family comedies Mrs. Doubtfire and Freaky Friday.
Roddy McDowall (Andrew) was nominated for an Oscar for playing Octavian in Cleopatra (1963).
Edward Herrmann (Grant) also spent time on a yacht as William Randolph Hearst in The Cat's Meow (2001).
Casting Notes
You may recognize the butler's voice: it's Roddy McDowall from the Planet of the Apes movies. He's both an actor and executive producer on this movie.
Edward Herrmann (Grant) has played rich guys like Nelson Rockefeller, FDR, and Richie Rich's dad.
Dean's friend Billy is played by Mike Hagerty, the building super (Mr. Treeger) on Friends (1995-2001).
Dr. Korman is played by Harvey Alan Miller, screenwriter of Private Benjamin.
Frank Campanella (Captain Carl) helped Robert De Niro with his Italian for The Godfather: Part II.
The sheriff is played by Kurt Russell's dad.
The Coast Guard spotter is played by director Garry Marshall's son, Scott.
How-to Notes
When hanging a spoon from your nose, breathe on it to create the moisture that will make it stick.
The safest way to remove super glue from skin is to use nail polish remover.
Location Note
Overboard was shot in Mendocino, California, where East of Eden and The Majestic were also filmed.
Love Note
Kurt Russell and Goldie Hawn never married, and they say they don't plan to.
Music Note
Overboard's music was composed by Alan Silvestri. This same year (1987), he also scored Outrageous Fortune.
Composer Alan Silvestri was Oscar-nominated for Forrest Gump and The Polar Express.
Pop Culture Notes
Overboard (1987) is a classic "screwball comedy" like the ones made in the '30s and '40s. At the 2012 Oscars, actress Reese Witherspoon called it her favorite movie.
Lifestyles of the Rich and Famous was a popular TV show that ran from 1984-1995. Each episode ended with Robin Leach's signature send-off, "Champagne wishes and caviar dreams."
Other romantic movies about amnesia: The Vow, Desperately Seeking Susan, and 50 First Dates
Garry Marshall went on to make hit romantic comedies Runaway Bride and Valentine's Day. Looking back, he says Overboard (1987) is "still one of the funniest pictures I ever made."
A remake of Overboard is being planned with Jennifer Lopez in the lead role. Goldie says "Good luck to them, really."
When Overboard came out in 1987, "Pee-wee's Playhouse" was airing on Saturday mornings.
Quotation Notes
Goldie Hawn says she was surprised when her comedy career took off. "I'm not that funny!"
Goldie Hawn: "Men are much simpler mechanisms than women. Nothing changes them. That's why I think…we should run the world."
Russell: "Sometimes there's people who meet and really are destined to love each other forever. I feel that's kinda the way Goldie and I are."
Kurt Russell on relationships: "I think ultimately if you love each other, that's all that matters."
Kurt Russell says Overboard and Captain Ron are the two movies everyone seems to have on their boats.
Neurology expert Harold Klawans says, "There are more amnesia cases in the movies than have been published in all of medical literature."
Random Notes
Dr. Death is also a character in The Best of Times, a movie Kurt Russell did the year before (1986).
Hawn and Russell actually make their own wine. The label's called "Gogi," after Russell's nickname.
Script Note
The plot of Overboard was influenced by the 1974 Italian movie, Swept Away. Swept Away was remade in 2002, starring Madonna.
Set Notes
The rocking motion of the yacht kept causing members of the crew to fall asleep while shooting.
The filmmakers didn't "dress up" the bowling alley. Even the sign on the TV is the real thing.
Director Garry Marshall liked letting his actors improvise. Kurt Russell was good at it.
Jeffrey Wiseman (Joe) was so rowdy on set that the director would often shout, "Jeffrey, stop it!"
While they were filming Overboard, Hawn and Russell hosted a BBQ for the whole cast and crew.
Goldie Hawn and Kurt Russell's own young kids were always with them while making Overboard. Their youngest, Wyatt, took his first steps on the Overboard set.
Trivia Notes
Screwball comedies like this often revolve around the war between the classes. Other examples are It Happened One Night (1934) and My Man Godfrey (1936).
Only 1% of single fathers are widowers.
The foam in a home fire extinguisher is often just sodium bicarbonate (baking soda).
There are two kinds of amnesia: retrograde and anteretrograde. She has retrograde amnesia, where she can't recall the past but can make new memories.
The minimum wage was $3.75/hour in 1987. That means Hawn's getting paid for 6.6 hours per day.
Dean's two dogs are a bluetick coonhound and a golden retriever mutt.
One nanogram of urushiol, the oily allergen in poison oak, is all it takes to cause a rash.
Most children can read by the end of first grade (age six).
In 1995, Empire magazine named Goldie Hawn one of the 100 Sexiest Stars in film history.
The current seven Wonders of the World are the Taj Mahal, Machu Picchu, Chichen Itza, the Colosseum. Brazil's giant statue of Christ the Redeemer, Petra in Jordan, and the Great Wall of China.
According to a 2012 survey, about 6.8 million Americans work two or more jobs.
These days, communication problems are the No. 1 cause of divorce.
Salmon poaching is such a big problem that the government offers rewards for turning in poachers.
Wardrobe Note
Joanna's chic swimsuits were created by costume designer Wayne Finkelman.
Read More