Uncategorized
Story Notes for One Flew Over the Cuckoo's Nest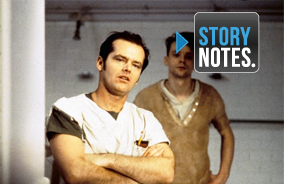 Weeknights during prime time on AMC, you can catch Story Notes — real time trivia and facts about your favorite movies. Below is the online version of the Story Notes for One Flew Over the Cuckoo's Nest.
Award Notes
Nicholson won an Oscar for his performance. When he accepted, he said, "This proves there are as many nuts in the Academy as anywhere else."
Fletcher won the Best Actress Oscar and a Golden Globe for her performance.
Brad Dourif (Billy) was nominated for an Oscar and won a Golden Globe for Best Acting Debut.
Cuckoo's Nest won Oscars for Best Picture, Director, Screenplay, Actor, and Actress. It was the first movie to win all five of the major awards since It Happened One Night in 1934.
Biography Notes
The script for Cuckoo's Nest was written by Bo Goldman. Goldman was only paid $8,000, but he was thrilled because it kept him in Hollywood "a few more weeks."
A year later after the movie's release, Sydney Lassick played Mr. Fromm, the English teacher, in Carrie (1976).
Cuckoo's Nest's score was composed by Jack Nitzsche. He was recommended by Michael Douglas's good friend, Art Garfunkel.
Jack Nicholson is a huge basketball fan in real life. He usually sits courtside at L.A. Lakers games.
Will Sampson (Chief) was 6'5″.
Actor Brad Dourif doesn't really have a stutter. He voiced Chucky in Child's Play (1988).
Director Milos Forman followed Cuckoo's Nest with the movies Hair (1979) and Ragtime (1981). He won a second Oscar in 1984 for another story about madness, Amadeus.
Ken Kesey, the author of Cuckoo's Nest, went on a famous road trip in a converted school bus. He and his group of Merry Pranksters were known for their street theater and open use of LSD.
Casting Notes
Louise Fletcher was cast as Nurse Ratched after filmmakers saw her in Thieves Like Us (1974).
Jack Nicholson had wanted to be in Cuckoo's Nest ever since Ken Kesey's book came out. He even tried to get the rights to the book when Kirk Douglas already had them.
Many of these actors are familiar now, but Jack Nicholson was the only recognizable face in 1975. He had already starred in Chinatown (1974) and Five Easy Pieces (1970).
Dean Brooks (Dr. Spivey) was the actual superintendent of Oregon State Hospital.
William Redfield (Mr. Harding) played Felix Unger's brother Floyd on The Odd Couple.
Sydney Lassick got the role of Cheswick in part because he wore a rope as a belt to the audition.
Will Sampson (Chief) had never acted before Cuckoo's Nest. Director Milos Forman said it was a "nightmare" trying to find a Native American tall enough to play Chief.
Nurse Pilbow is played by Mimi Sarkisian. This is her only movie, but she was also in the play.
Mel Lambert (Harbor Master) is not an actor. He's a car salesman. He got the part when he happened to sit next to producer Michael Douglas on a plane.
Nathan George (Washington) won a 1969 Obie Award for the play No Place to be Somebody.
Louise Fletcher only got the role of Nurse Ratched a week before shooting began. Anne Bancroft, Colleen Dewhurst, Geraldine Page and Angela Lansbury all turned down the role.
William Duell (Sefelt) acted on Broadway for almost 50 years, including two productions of 1776.
Finance Notes
Despite trashing the hospital, the production only had to pay $250 a day to shoot there.
Earning almost $300 million, Cuckoo's Nest was the 7th highest grossing film of all time when it came out.
Health Note
The main side effects of electroshock are confusion and memory loss.
History Notes
The English translation of "a rolling stone gathers no moss" dates to John Heywood's Proverbs in 1546. It was also a symbol of '60s counter-culture, even referenced by Bob Dylan in "Like a Rolling Stone."
Electroshock therapy was introduced in 1938 and became popular in the '40s and '50s. The movie shows exactly how they administered it in the '60s.
Harsh treatment in some institutions led to an anti-psychiatry movement in the '60s.
Location Note
Almost all of One Flew Over the Cuckoo's Nest was shot at Oregon State Hospital in Salem, Oregon.
Music Note
Producer Michael Douglas says Nitzsche's work in the movie is "one of the best scores" he's heard.
Plot Notes
Bibbit's insecurities about girls are a big part of his character throughout the movie.
The scars on McMurphy's forehead mean that he's had a lobotomy. Director Milos Forman wishes he had made that more clear.
McMurphy couldn't beat the system. The Chief realized his only real escape was death.
Pop Culture Notes
AFI lists Nurse Ratched as their No. 5 movie villain of all time.
One Flew Over the Cuckoo's Nest (1975) is ranked No. 20 on AFI's Top 100 Movies of the 20th Century.
Rocky Marciano, the heavyweight boxing champ from the '50s, won all 49 of his fights.
President Barack Obama says One Flew Over the Cuckoo's Nest is his favorite movie.
The movie takes place in 1963. The L.A. Dodgers beat the N.Y. Yankees in the World Series that year.
Press Notes
The New York Times says Nicholson "slips into the role of Randle with such easy grace that it's difficult to remember him in any other film."
Roger Ebert includes this movie in his list of "Great Movies" and Variety says it's "brilliant cinema theater."
Quote Notes
Vincent Schiavelli said, "You had to be in this movie who you would be if you were insane."
When Nicholson first arrived on set, he was disturbed by how realistic the rest of the cast was. He ran outside and asked, "Do they ever break character?"
Jack Nicholson says his character's tragic flaw is that he thinks he's "…irresistible to women. He expects Nurse Ratched to be seduced by him."
Director Forman on casting Nurse Ratched: I wanted "somebody who is the personification of evil."
At first, Director Milos Forman didn't want to shoot the boat scene. He thought the whole movie should have the "claustrophobic feel" of the mental institution.
Producer Michael Douglas says that Director Milos Forman "was a conductor. He played the group like a symphony and had a clear picture in his mind of exactly what he wanted."
Director Milos Forman had always admired "how wonderful" the fist fights were in Hollywood movies. He was "very, very nervous" about shooting a fight scene of his own.
Nicholson says he normally doesn't "have much trouble slipping out of a film role. But here I don't go home from a movie studio, I go home from a mental institution."
Producer Michael Douglas says bringing some "girls in the picture" was "a breath of fresh air."
Producer Michael Douglas says everybody was ready for the party scene."They needed a break. It was a tough long picture."
Producer Michael Douglas: "The sign of a really good actor is a listener. And Jack is extraordinary."
Screenwriter Bo Goldman says Nurse Ratched has a "doctorate in the institute of passive aggression."
Set Notes
The Indian war dance wasn't in the script. It was Nicholson's idea.
Dean Brooks read the report on McMurphy for the first time as the cameras were rolling.
Producers set up a game lounge in the hospital so the cast and crew could relax between shooting.
Nicholson really tried to lift the water fountain. He had scrapes on his arms.
Director Milos Forman lived at the Oregon State Hospital for four weeks before shooting. He spent most of the time just observing.
Cuckoo's Nest was shot by teo cinematographers: Haskell Wexler and Bill Butler. Wexler worked one day longer on the movie, so he got the credit of director of photography.
Louise Fletcher got so into her role, she started commanding the patients off screen too. When they would all go out to dinner, Fletcher told everyone where to sit.
Sydney Lassick (Cheswick) got so into his role that producers became concerned. Doctors said, "If things get out of control, we have the proper medication."
Director Forman would roll the cameras when the actors didn't know it so he could capture the "real moment."
Forman cast most of the actors by putting them in group therapy auditions.
Source Notes
Kirk Douglas bought the rights to Ken Kesey's book, One Flew Over the Cuckoo's Nest, in 1961. He tried to get the movie made for a decade before giving the rights to his son, actor Michael Douglas. Douglas teamed up with record executive Saul Zaentz to produce the movie in 1975.
One Flew Over the Cuckoo's Nest was also made into a Broadway play. Kirk Douglas played the lead role of R.P. McMurphy.
Nurse Ratched didn't have a first name in the book. Louise Fletcher chose "Mildred" herself.
In the original 1963 production of the Broadway play, Gene Wilder played Billy Bibbit.
Sports Note
Basketball was actually invented in 1891 by a YMCA teacher, Dr. James Naismith, in Massachusetts.
Symbolism Notes
McMurphy represents change and the counter-culture movement of the 1960s. He symbolizes freedom, and the institution symbolizes oppression.
The initials for R.P McMurphy spell out RPM, or "revolutions per minute." As a rebel inside the institution, McMurphy is trying to create a "revolution" every minute.
By giving themselves up to the institution, the patients are conforming to society's rules.
Louise Fletcher says Nurse Ratched's old-fashioned hair style shows how uptight she is. It's also no coincidence that it resembles the horns of the devil.
Water is a symbol for life and transformation.
Trivia Notes
The movie title comes from a Mother Goose nursery rhyme called "Vintery, Mintery, Cutery, Corn."
The author of the book, Ken Kesey, wrote Cuckoo's Nest while working at a mental institution.
Producers offered the role of McMurphy to Gene Hackman and Marlon Brando before Nicholson.
Nicholson made sure Crothers (Turkle) was cast because they were good friends in real life. Nicholson gave the filmmakers a list of friends he wanted in the movie. Several made it in.
State mental hospitals generally make their own rules about whether or not sex is allowed.
Read More